We just ran the October solicitation for The Goon #7 and the second Goon Omnibus. But it's the upcoming two issues that currently concern us. We don't know how, we don't know why, though we may suspect who. But the upcoming issues of The Goon #5 and 4, will be published out of order.
This Wednesday will see the publication of The Goon #5 by Eric Powell from Albatross Funnybooks. Some people, whose last copy was The Goon #3, will wonder where #4 went. Did they miss it? Did it not get delivered? Are they ridiculously forgetful? Whereas in fact The Goon #4 will actually be out on August 21st.
Now don't worry about spoilers, each issue features a self-contained story. And you are quite able to read them in the published order instead of the intended chronological order. But hopefully this will keep some folk placated…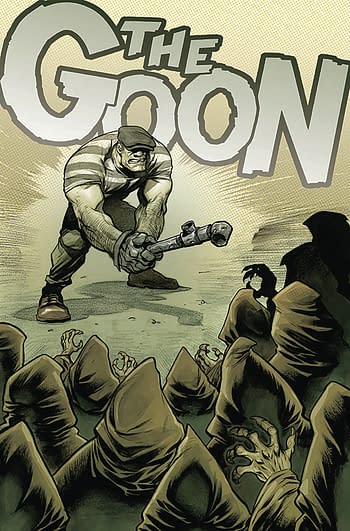 GOON #5
(W) Eric Powell, Tom Sniegoski (A) Brett Parson (CA) Eric Powell
The gangs that have sprung up on Lonely Street in his absence continue to give The Goon fits, and now the drunken reprobates have started drinking something called Beezlebooze with monstrous effects! And who is the mysterious crime figure called Dapper calling the shots from the shadows?In Shops: Jul 31, 2019
SRP: $3.99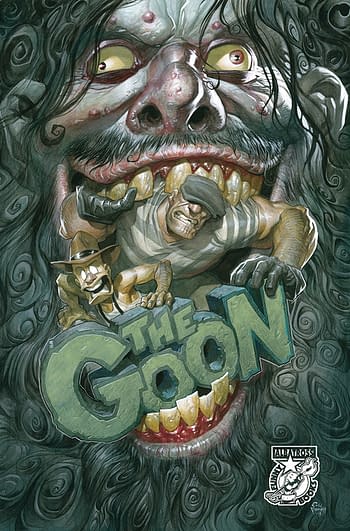 GOON #4
(W) Eric Powell (A/CA) Eric Powell
Greedy Gut's gaggle of hobo ghouls is out to make trouble for Goon as he tries to solidify his Machiavellian grip on the town. Also, Franky makes a ham sandwich. DRAMA!In Shops: Aug 21, 2019
SRP: $3.99
Enjoyed this article? Share it!