Fan2Sea Cruise Brings Terrifying World Of Frank Miller's Sin City To Life With On-Board Casino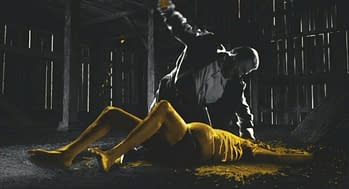 As if being trapped on a boat with thousands of *shudder* comic book fans weren't a frightening enough concept, ill-conceived comic con themed cruise Fan2Sea has announced a partnership with Frank Miller to "bring Sin City to life" in a special cruise ship casino. Billed as "the premier comic book and entertainment vacation cruise" to distinguish itself from all of those lesser comic book and entertainment vacation cruises, Fan2Sea is going all in on the Frank Miller, also offering a Dark Knight Returns and Dark Knight III panel featuring Miller, Klaus Janson, Brian Azzarello, and Andy Kubert. But the really hot Frank Miller action will take place in the Sin City Casino, which features "special felt, poker chips, and slot machines themed after each major storyline in the Sin City saga."
The press release does not clarify whether voyagers will be under constant threat of criminal violence, gratuitous sex, drugs, and prostitution as part of an attempt to make the Sin City experience truly authentic, but we like to believe that's the case, because if not, what's the point of this whole thing? Fans who survive the experience with only minor injuries or disfigurement can purchase souvenirs such as Sin City themed glasses, flasks, lighters, and more. The cruise will sail for Cozumel, Mexico on January 19th, and tickets start at just $399, which pays for "meals, taxes, port fees, panels, parties, and more.
Get your tickets now at the Fan2Sea website, or from a dealer in a dark alley in the seediest part of town.