It's comic book addition time. We've had Action Comics #1000 and Detective Comics #1000, January will bring us Wonder Woman #750 and February will have The Flash #750, when you add their ongoing series up together. And another excuse for a bumped up 80-page anthology with variant covers running through the decades for $7.99.
Joining series writer Joshua Williamson are Geoff Johns, Marv Wolfman, Francis Manapul, Rafa Sandoval, Jordi Tarragona, Stephen Segovia, David Marquez, Bryan Hitch, Riley Rossmo, Scott Kolins and Michael Moreci. The Flash #750 also features a variant cover for each decade the character has been published:
1940s variant cover by Nicola Scott
1950s variant cover by Gary Frank
1960s variant cover by Nick Derington
1970s variant cover by José Luis García-López
1980s variant cover by Gabriele Dell'Otto
1990s variant cover by Francesco Mattina
2000s variant cover by Jim Lee and Scott Williams
2010s variant cover by Francis Manapul
The Flash #750 contains by an original story, "The Flash Age," that kicks off a new arc for series writer Joshua Williamson and artists Rafa Sandoval and Jordi Tarragona. Barry Allen's life is being torn apart by a supercharged Speed Force as the story Williamson's been building toward since issue #50 comes to a head when a new threat appears on the horizon: the deadly Paradox. Destined to destroy the Flash's legacy, Paradox sends his herald, Godspeed, to trap the Flash family,
"The Flash is one of my favorite DC characters," says Williamson, "so it's an honor to work on The Flash #750 with so many returning Flash legends! It's a showcase of awesome talent, each telling a story that celebrates what we love about the Flash and the Flash family. And what a perfect place to kick off our next epic storyline "The Flash Age!" 2020 is going to be a big year for The Flash. It all starts in this massive issue."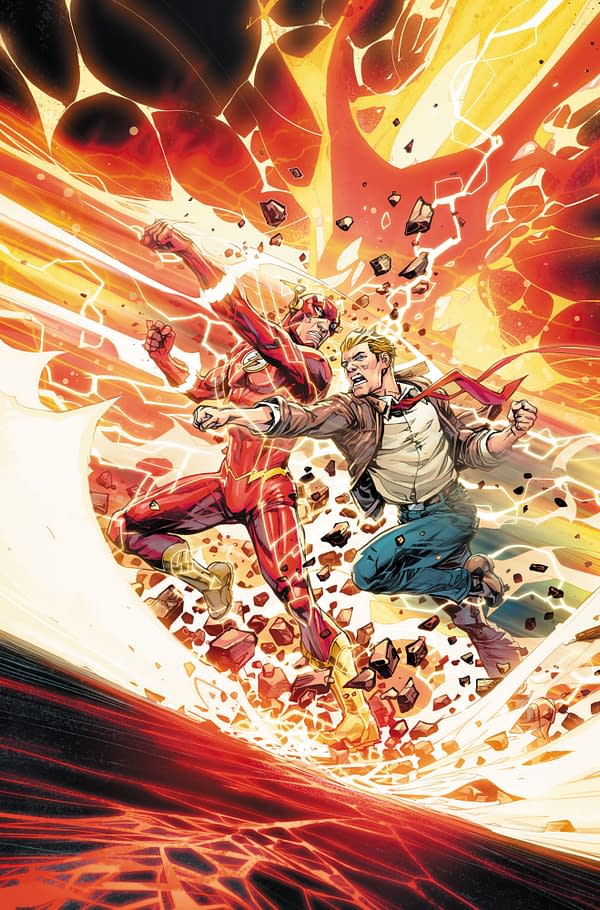 So what other books may be getting similar treatment? Today's Superman #17 would have been… Superman #1009 so we missed that one. Batman is on #847 so we may get an #850 special, but it also has a #100 coming up this summer so DC won't want to miss that, the same month as Batgirl #50. Talking of which, Batgirl has just passed #195 if you add them up, might they want a Batgirl #200 instead? Nightwing will reach #400 next year. Supergirl has missed her 350th, currently on #358, all told. We also missed one for The Green Lantern, currently on #608 if you add them up. Aquaman must be around #300 depending if you include certain mini-series – if not maybe that may be next? Anyone else want to do some mathematics on the subject?
Enjoyed this article? Share it!