This Tuesday, Forbidden Planet in London will be, as many other stores are, opening at midnight to sell the first issue of Dark Nights: Metal #1 by Scott Snyder and Greg Capullo.
One difference between that and many other stores, is that Forbidden Planet is on British Summer Time. Which means midnight will be five hours before midnight in New York. So do watch out on your social media for spoilers on every DC Comics title out that week, from Forbidden Planet customers and other participating stores in the British Isles.
They have their own exclusive Bill Sienkiewicz cover – okay, shared with Jetpack Comics in the states, but mostly their own.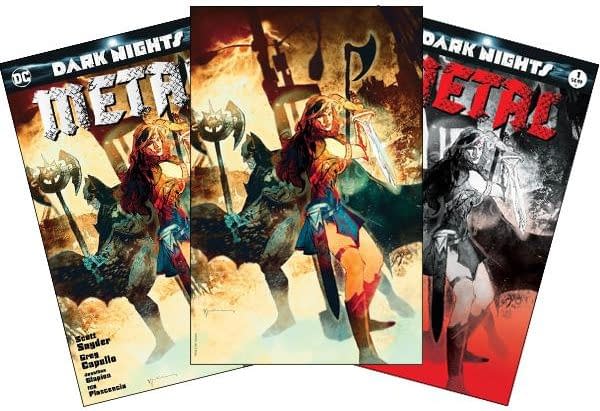 £8.99 for colour, £9.99 for black and white, £29.99 for colour/black-and-white/virgin set.
Forbidden Planet will also have two signed Batman Prints by Jock, previously only available at their Newcastle store. Two high-quality giclee prints feature the cover art from All Star Batman #6. Both measure 24 x 36 inches and are printed on 300gms smooth cotton rag paper. The Signed All Star Batman #6 Print is limited to 100 Worldwide and costs £49.99. Also available is the Variant Edition, limited to 50 Worldwide and costing £54.99.
All customers will get a free Forbidden Planet variant Batman comic that they'be probably had in the back for ages.
And a free raffle for one of two super DC grab bags, featuring T-Shirts, the Jim Lee variant cover version of Batman: Rebirth Vol. 1 – I Am Gotham and a Metal Ashcan edition signed by John Romita Jr., Adam Kubert, Scott Snyder and Greg Capullo.
Enjoyed this article? Share it!