Fran Krause's Deep Dark Fears Hits The Shelves Today Webcomic Deep Dark Fears by Fran Krause looks like it may be the latest big mainstream comic book success story, hitting bookstores today from Ten Speed Press. Krause will be signing copies at Skylight Books in Los Angeles tonight. The strip, and book, takes those mad fleeting fears that pass through all of our brains, captures them and illustrates them, for permanent recall. Some are Fran's own, some are those submitted by readers but all of them are disturbing. And yes, lots of them involve dismemberment, gouging, maiming, far more than they do death. But there are many bloodless fears too.
No matter how irrational. Or internal. Many focus on the the living with the consequences of a careless moment and how that is the real fear. But not everything involves eye sockets. There are some modern equivalents too. Or just the common narcissist view of the world. I get the feeling this will be given by many a teasing friend to another into the holiday period… It could be a test of a relationship. If they remain friends with you after receiving such a volume, then you know they will be your friend for life. You just have a new fear to add to the list.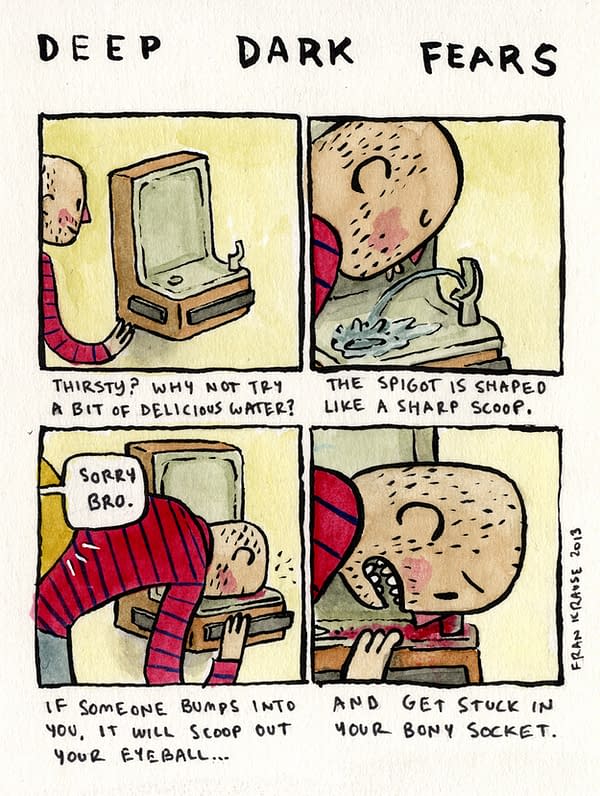 After giving them a copy of Deep Dark Fears for Christmas – what will they feel able to give you in return? And will it have a skull and crossbones somewhere as a warning label? There you go Fran, you can have that one. Available here in the US, here in the UK, here in Canada. This! This one! This one!!!!