A few weeks ago, Bleeding Cool put out an appeal for American comic book creators of note to get their agents in touch with France's Asterix Magazine for the 60th Anniversary of the character, creator by Rene Goscinny and Albert Uderzo, and still the best selling comic book in the world, with each issue selling more copies than anything else. The most recent Asterix book had a five million print run for its first issue – they were literally unable to print any more – and it sold out fast. Despite all this, Asterix is still relatively unknown in the US, and this appeal was an attempt to help change that for the character's 60th year.
So, Frank Cho stepped up to the plate. And he has also decided to share his tribute with Bleeding Cool. While he is best known for his action-adventure comic books and 'good girl' art – and parodies – it is worth remembering that his biggest work to date, Liberty Meadows, is an accomplished cartoon strip in the classical style.
Which sees him bring all his skills to this work. With Asterix and Obelix drinking their success with Dogmatix – and a couple of very un-Uderzo-like Gaulish babes…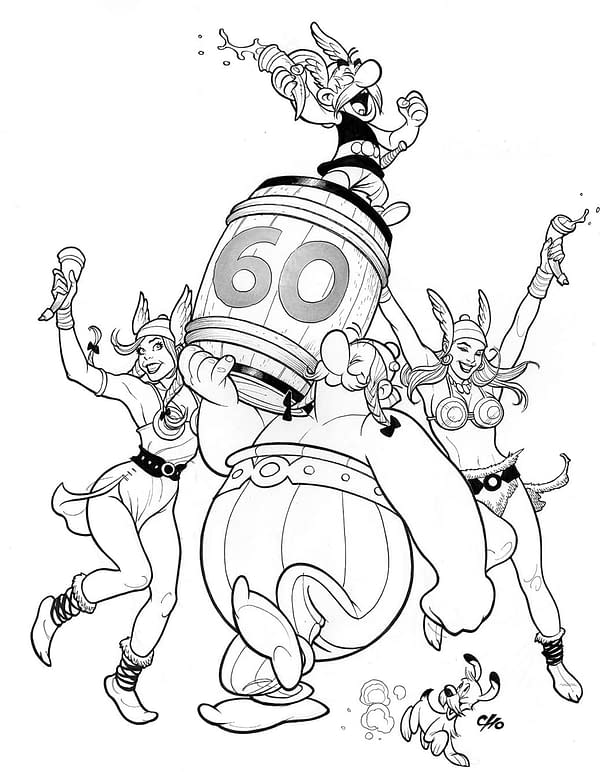 Well, I mean, people have to know it's Frank Cho, after all.
Enjoyed this article? Share it!