This weekend, Frank Cho is at Kansas City Planet Comicon, his first show of the year and, as ever, he is delighting his crowd with his original blank cover sketches, for those who pony up. And he is sharing a select few online, too… where this married Spider-Man/Mary Jane vignette plays out in reference to the Milkshake hashtags of 2017…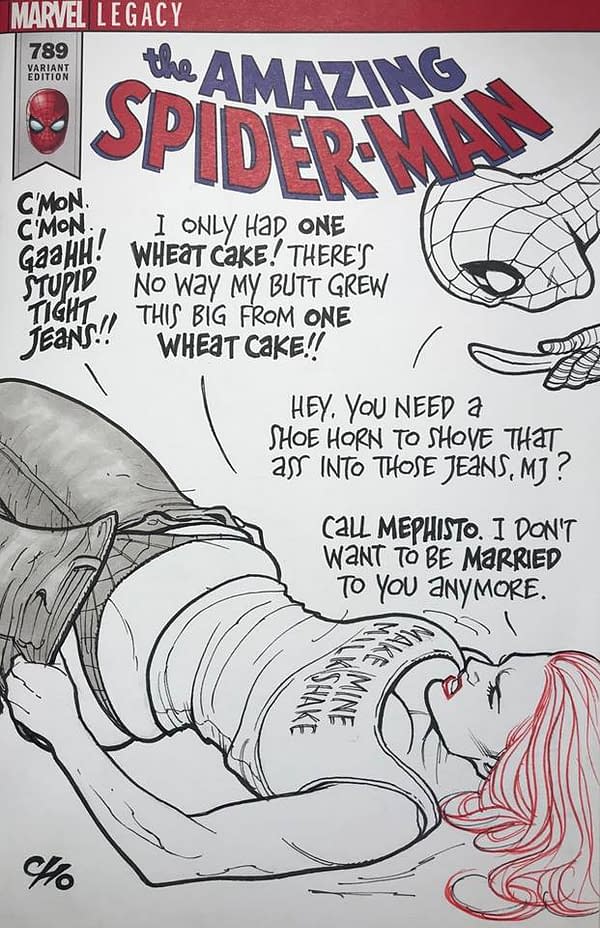 This is how the year is shaping up for him, convention-wise, if you want to commission your own…
February 16 – 18, Kansas City Planet Comicon
March 17, Las Vegas Torpedeo Comics
March 24 – 25, South Carolina Comicon (Greenville)
April 20 -22, Lake Como Comic Art Festival (Italy)
April 29, Baltimore Spring Fling
July 18 -22, San Diego Comic-Con
September 8 – 9 – Singapore STGCC
September 28 – 30, Baltimore Comic Con
October 4 – 7, New York Comic Con
Oh, and it looks like after a self-imposed exile, and the conclusion of his Skybourne series for Boom Studios, Frank Cho is returning to Marvel (a bit) — with this in-progress Totally Awesome Hulk cover…
But for his own outrage, Cho has recently discovered an online seller who is fabricating his work...
Help me shut this criminal down. This con artist, borncre8ive-studio, is selling forged, traced and fake art, including my jungle girl drawings.

Report him to eBay authorities and shut him down permanently.
Outrage!!!!
Enjoyed this article? Share it!