Could Gabby Rivera Write A New LGBTQ Power Pack Comic For Marvel? #C2Ccon2017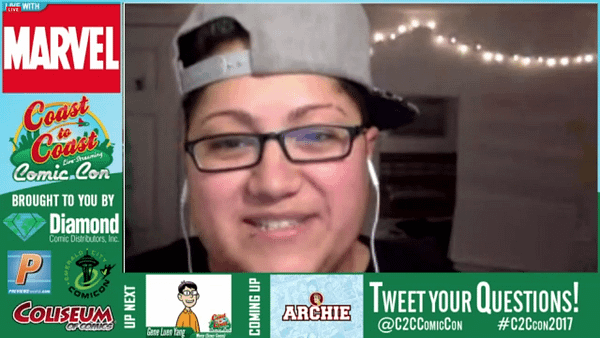 Writer Gabby Rivera and editor Will Moss have been talking to Coast-To-Coast Comic-Con, talking about their new Marvel Comic America. "A badass Latina who like girls and punches things and is able to travel through dimensions on a journey to find herself. Get ready for soft pinks, blues and oranges like you've never seen before. Get on the America train, y'all."
She specifically has her X-Men watchlist, and she wants Storm. Classic Storm. Mohawk Storm. All the Storms… But their big Marvel bad guy is yet to be revealed.
She says would also like to write a middle school/elementary school aged superteam, based on the LGBT kids she works with, throwing that energy into the Marvel universe. Will says "pitch a new Power Pack". She said she will…
As for Ms America Chavez, while Secret Empire won't appear in her series, she will appear in Secret Empire…
Keep up to date with Bleeding Cool's other Coast To Coast Comic Con coverage right here.