Gendercrunching December 2016 – The Year In Genderetrospect
By Tim Hanley
The year closed with DC's overall percentage of female creators dropping slightly while Marvel's rose, though DC's was still the higher of the two. We also take a look at the year as a whole and how things are trending at the Big Two.
DC COMICS
DC's female representation slipped down for the second straight month, but they posted their third highest total of female creators this year nonetheless. In December 2016, DC put out 83 new comics with 792 credited creators, 645 men and 147 women. Here are their stats: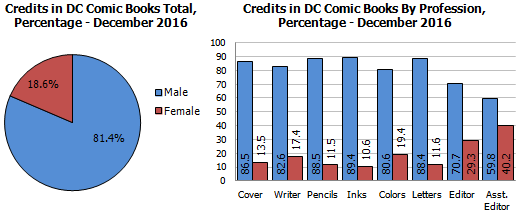 DC's overall percentage of female creators dropped 0.8%, not a huge fall but somewhat noticeable. The losses came at the back end of the chart; female cover artists, writers, pencillers, and inkers all posted gains from last month. But female colorists dropped just a tad, letterers stayed the same, and editors and assistant editors both slipped down a couple of points. The drops outweighed the gains, and DC ticked down overall.
The Past Year at DC: Two straight months of drops is usually a bad sign, but DC's on one of its highest runs for female creators ever:

The past three months are DC's best for female creator representation since this project began, apart from the two "Convergence" months in 2015. Despite the drop, DC is ending 2016 strong.
MARVEL COMICS
Marvel ended the year with a big gain, stopping a streak of drops. In December 2016, Marvel released 85 new comic books featuring 811 credited creators 668 men and 143 women. Let's look at the numbers: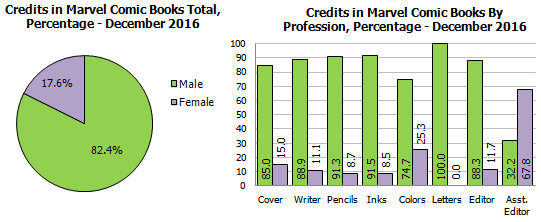 Marvel's overall percentage of female creators shot up 2% from November, a nice jump to end the year well. Female pencillers and inkers fell a few percentage points and editors dropped just a tad, while letterers remained at 0% yet again. But everything else was up, including a 6% gain for female colorists and an 8% gain for assistant editors. The big gains overcame the small losses, giving Marvel its highest total since the summer.
The Past Year at Marvel: The publisher's 17.6% was a decent showing, but still below its previous highs:

At the same time, December's total was Marvel's fourth highest of the year. Time will tell if this was a momentary bump or the start of a new trend.
2016 IN REVIEW
Speaking of trends, let's look back at another year of data and see what direction things are heading in as we enter 2017. Overall, the numbers for female creators at both DC and Marvel were higher than last year's, and we'll go through both publishers' averages for the year as well as how the numbers have changed by category.
First up is DC's total percentages for female credits over the year, all twelve months of data added together and converted into a percentage, relative to last year's showing: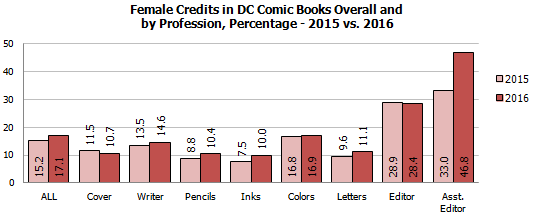 Overall, DC's total percentage of female creators rose nearly 2% from last year, a solid jump. There were slightly fewer female cover artists and editors in the mix in 2016 than in 2015, but everything else went up and every single category hit double digits. Now, a lot of this overall gain comes from female assistant editors, who rose considerably, but so many gains across the board certainly contributed.
Now let's turn to DC's mega-chart, the numbers for female creators in all nine categories laid out with trend lines to show what direction the numbers moved in over the course of the year and where things are heading as we enter 2017. You can get a decent sense of it below, or you can click to embiggen: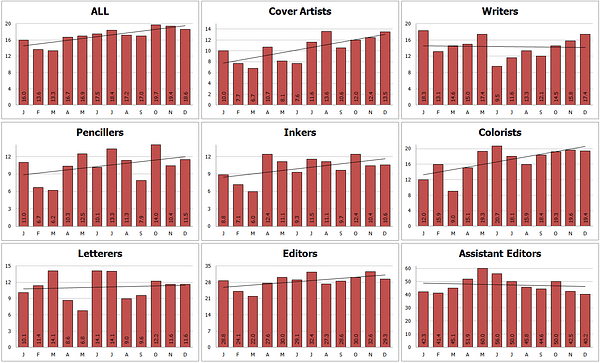 We'll go through each category individually.
ALL: Trending upward. The latter half of 2016 was much higher than the first, and DC's entering 2017 with some of its highest ever totals for female creators.
Cover Artists: Also going upward. The numbers took a hit starting with "Rebirth" in June, but they weren't so high to begin with and have been growing impressively since.
Writers: Trending down a bit for the year overall, though clearly on the rise since the low of "Rebirth" beginning. It's just now nearing the level it was at to start the year.
Pencillers: Up and down, clearly, but heading in a positive direction all together.
Inkers: Also all over the map, but trending upward overall. The second half of the year was clearly higher than the first.
Colorists: Upward yet again. The numbers have plateaued at a solid level over the past few months.
Letterers: The slightest of positive trends, and also leveled out recently.
Editors: Some ups and downs, but overall upward for the year. The past two months are near the year's highs as well.
Assistant Editors: A slightly downward trend overall, and a more pronounced decline ever since "Rebirth" began in June.
All together, most of the trend lines are moving in a positive direction, and the negative lines are slight. This bodes well for DC's female creator numbers to continue to grow in 2017.
Let's turn to Marvel, and their overall average of female creators for the year for the thousand or so comics they put out relative to last year: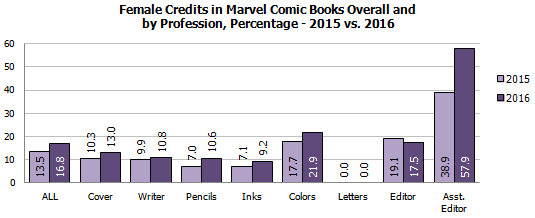 Marvel's overall percentage of female creators is up over 3% from last year, a big jump that's reflected across the board. Everything rose except the constant 0% for letterers and a small decline for female editors. It was noticeable gains everywhere else. Much like with DC, female assistant editors are doing a lot of the heavy lifting here, but growth across the board shows that this is a much wider change than just one category.
Now to the mega-chart for female creators over the past year. Again, click to embiggen: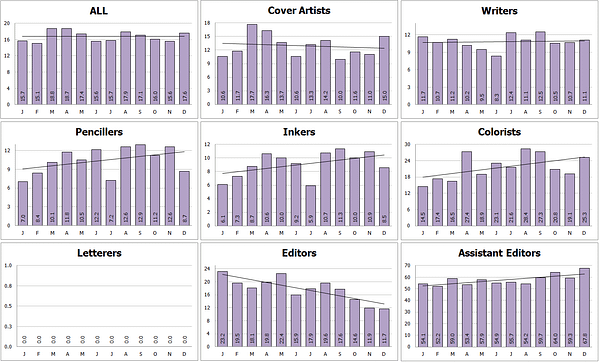 And again, we'll look at each category:
ALL: Despite the growth compared to 2015, the trend for the year as a whole is pretty flat. Some strong numbers early in the year were followed by declines later on, and things generally evened out overall.
Cover Artists: Trending down a bit. Marvel's got into variant covers even more than usual in 2016, and they seemed to be bringing in women to do them less often as the year went on.
Writers: A very slight upward trend, but not a lot. It was a pretty tight range across the year, with just a small net gain.
Pencillers: Definitely trending upward, even with a couple of notably low months.
Inkers: Much like the pencillers, heading upward. The past five months for both categories have been especially high, apart from December.
Colorists: Some ups and downs, but heading up overall. The autumn wasn't great, but December was a big bounce back.
Letterers: Very even over the course of the year, since there were none of them yet again.
Editors: Clear downward trend. You don't even need a trend line for this one. Things headed down steadily, and the numbers halved over the course of the year.
Assistant Editors: Going up. The numbers were strong to begin with, and only grew as the year went on.
Overall, 2016 was a mixed bag for Marvel. Things were better all together than in 2015, but the numbers by category tended to be higher earlier in the year and several categories are on the decline for the year as a whole. There's some definite growth in interior art, though, and all together the trends are pretty evenly split. Going into 2017, we've got no clear indicators on what direction Marvel's female creator numbers might be heading overall.
To learn more about this statistics project and its methodology click here, and to see the previous stats click here. You can visit Tim at Straitened Circumstances and follow him on Twitter @timhanley01. His first book Wonder Woman Unbound is available now, and his new book Investigating Lois Lane: The Turbulent History of the Daily Planet's Ace Reporter was released in March 2016.