Robbie Reyes is probably the coolest Ghost Rider ever, especially with that hellfire powered car! Looks like the newest Avenger is going to have some trouble with some long term goals, though, since the old Ghost Rider doesn't cotton well to exorcisms!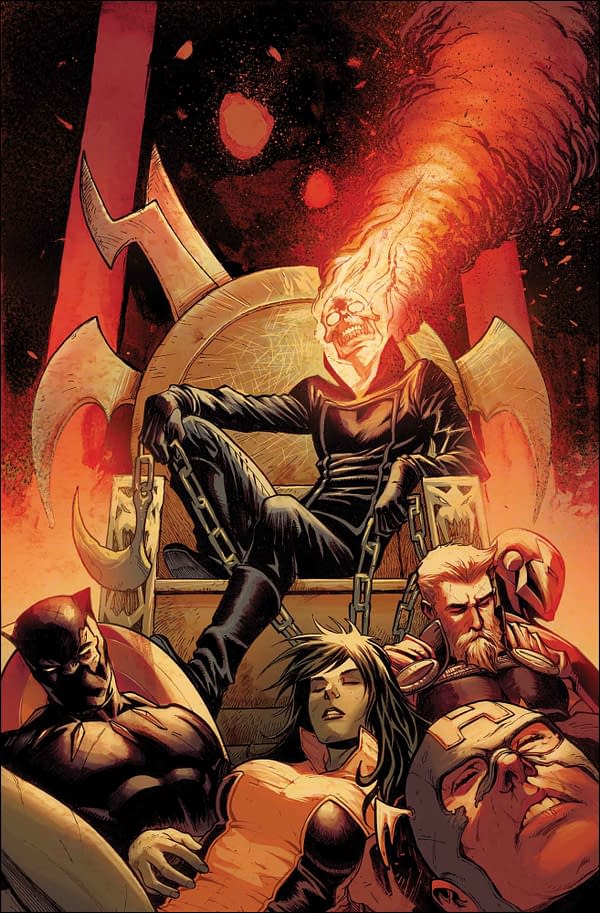 AVENGERS #22
JASON AARON (W) • STEFANO CASELLI (A/C)
CARNAGE-IZED VARIANT COVER BY JUNGGEUN YOON
THE CHALLENGE OF THE GHOST RIDERS STARTS HERE!
Robbie Reyes wants to get rid of the flame-headed monster inside him. So it's time to do the common sense thing: perform an exorcism on his car. Only problem is, Johnny Blaze, the king of Hell, has some plans of his own for the newest Ghost Rider and his Avengers friends.
32 PGS./Rated T+ …$3.99
There is something so seriously '80s metal about Ghost Rider- I'm not sure what influenced what the most. Still, I can see the cover from Avengers #22 plastered on an album featuring a whole ton of guitars.
And how cool does a car exorcism sound? Jason Aaron, thanks for bringing that possibility to light. I'm going to do it the next time my check engine light comes on!
For more information on the upcoming slate of Marvel comics for July, check out our comprehensive coverage list here!
Enjoyed this article? Share it!