Getting Past The 9 To 5 Grind With Kickstarter
Caleb Thusat writes for Bleeding Cool:
For so many years I spent my life focused on what "had" to be done.
Work, pay your bills, work, clean your house, work, work, work…. For over eight years, I worked a data entry position. A mind-numbing, creativity killing, data entry position. All the while, my mind saying, "fight through this crappy job, and you will get to something better." These were dangerous waters to tread.
My job paid well for what it was, and the comfort of being paid a decent salary with solid benefits was the chokehold on my creativity. I worked this 9-5 job year after year, fitting creativity in wherever I could.
But, it wasn't enough. I was starved for more, and drowning in repetition.
Working my day job was like holding my breath underwater, and every time I had the chance to be creative, I would gasp for air. I produced a number of short films and a few full length features over the years. A screenplay here, a short film there. But, those gulps were never quite enough. And over time, they grew more and more shallow; fewer and further between.
Last year I attended Wizard World Chicago as a spectator. I attended panels on the creative writing process and getting into the comics industry. I was inspired by one panel that featured a number of people who had "rebooted" their careers and found new jobs in creative fields. I thought to myself, "I can do this too!"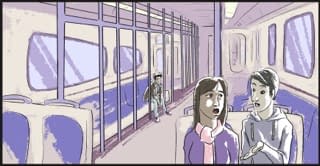 I immediately went home and wrote three issues of three different comic series. I also wrote full story-arcs and character bibles. I had some experience with Kickstarter from working on a few indie horror projects, so I was excited to bring my ideas to crowdfunding as soon as I found an artist that could match the style I wanted.
I was fortunate to find a number of artists that were interested in my comic book ideas through a freelancing classifieds website, and I finally settled into an agreement with Katrina E. Kunstmann. She was willing to work up the art I needed for the Kickstarter for a reasonable price, and her artwork was exactly what I was looking for, so we dove in.
It should be noted that I did all of this while still working my 9 to 5, crap job. I had had enough of going nowhere and being in a creative rut. If you give yourself the motivation to create, you can achieve anything. My motivation was clear. To alter my life. Early this year, I launched my first comic book, Alter-Life, on Kickstarter. I planned updates and made certain to have plenty of great artwork and content. I even went as far as to hire three additional artists to contribute variant covers exclusively for the campaign. There were highs and lows; peaks and valleys. Every project has a snag here and there, but Alter-Life was fully funded from a nearly 50% spike in the last few days. As fate would have it, the very same day my Kickstarter ended, I was let go from my data entry position I had held for eight years.
I took this as a sign. I was meant to write these stories.
Losing my job this year was like being pulled from that deep, dark water.
I can breath once again.
Now, I am a writer. I get as much creativity out as I can.
And sure, I have a part-time job now for a newspaper to help pay the bills. But, they encourage creativity, and support their employees' endeavors. I am so grateful for the way this year has treated me in my professional life, and I thank all of you that have supported me as my friends, as my family, as my fans, and as my backers.
The moral of the story, my fellow creators, is that you should never settle. Sure money is great, and it's all to easy to get comfortable in your misery.
But you can only hold your breath for so long… This year I attended Wizard World as an Artist in Artists Alley. I sold my first issue of Alter-Life and promoted my new, buddy-roadtrip-zombie-superhero comic, ZED that is currently on Kickstarter until September 1st.
Music has been a vital part of keeping me going all these years. Here are a few lyrics from the great Sam Cooke. I send them out to all of you writers, artists, musicians, and creators working that 9 to 5… gasping for that breath:
"There been times that I thought I couldn't last for long
But now I think I'm able to carry on
It's been a long, a long time coming
But I know a change gonna come, oh yes it will" BLEEDING COOL GOAL:
Anyone who Backs ZED and sends me a message stating that they came to my project from the Bleeding Cool article, will get their name in the first issue in a Special Thanks section. Five lucky Bleeding Cool Readers will also get their likeness drawn into the comic as a ZOMBIE. The amount of you pledge does not matter. As long as you tell me you came to the project via Bleeding Cool, you will get a Bleeding Cool Reward!!