Graham Ingels' Take On Calamity Jane, Wild Bill Hickok #1 at Auction
Wild Bill Hickok became Avon Publications' longest-lived series, but the title character took a back seat to Calamity Jane on his series debut
---
Stories of the American West held a strong fascination for the reading public in the 19th century, and that interest has endured to the present day. Avon Publications started their Wild Bill Hickok comic book title at a time of rising interest in such stories as the media landscape and comic book trends were changing. Wild Bill Hickok #1, cover-dated September-October 1949, features the launch of a 28-issue Wild Bill Hickok series running 1949-1956, and is highlighted by a cover drawn by legendary artist Graham Ingels. This debut issue is a desirable collectible for fans of Hickok, Ingels, and Wild West lore, and it's up for auction in the 2023 March 12-13 Sunday & Monday Comic Books Select Auction #122311 at Heritage Auctions.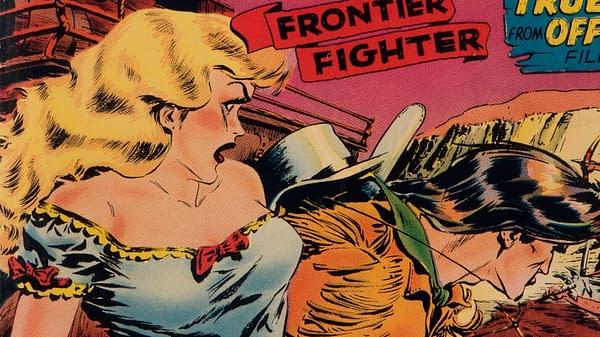 This cover offers up an interesting snapshot of the comic industry of this 1949 moment. Though the title was clearly started to take advantage of the rising popularity of Westerns across all media, Wild Bill is relegated to a small inset on this cover, and the focus is instead on a beautiful woman. As a "the story behind the cover" feature in this issue explains, this is Calamity Jane, and despite the cover's "true stories from official files" claim, bears no resemblance to photographs of the historical figure. Coincidentally, the Ingels-drawn figure here bears a more general resemblance to Doris Day, who would play Calamity Jane on film a few years later.
A legendary historical figure in her own right, Calamity Jane is best remembered for her connection to Wild Bill Hickok, although the details of this association and her life are perhaps the subject of more speculation than fact. But like Hickok, she too enjoyed a legend through fictional exploits that have echoed in eternity in American history. Artist Graham Ingels is best remembered for his work at EC Comics.
Wild Bill Hickok would become Avon's longest-lived series. There are only 23 entries for this issue on the CGC census, but there's a raw copy of Wild Bill Hickok #1 (Avon, 1949) Condition: VG+ up for auction in the 2023 March 12-13 Sunday & Monday Comic Books Select Auction #122311 at Heritage Auctions. Bidders who are new to Heritage Auctions should check out their FAQ on the bidding process and related matters before placing a bid.

Affiliates of Bleeding Cool buy from and/or consign to Heritage Auctions.