Grimm Fairy Tales 2020 Annual Review: Modern Comics for Vintage Fans
Search "Zenescope" on Twitter, and you'll find a comics community, with professionals included, that assume Zenescope Entertainment's Grimm Fairy Tales is… well, fully porn. It's understandable to an extent, with the covers that lean heavy on the J. Scott Campbell, aesthetic. Founders Ralph Tedesco and Joe Brusha have spoken at length about how said covers are a marketing technique to create a niche in the market, while the stories inside reflect something different. Grimm Fairy Tales is a superhero comic, and one of the longest-running indie comics of the genre in the medium. With their latest effort, Grimm Fairy Tales 2020 Annual, the company dips further into the genre than ever before.
New readers may struggle to catch up here, especially because of what Grimm Fairy Tales has been in the past. It started, under Tedesco and Brusha's pen, as a reinvention of the classic tales that slowly wove together into an epic about Sela Mathers, the Guardian of the Nexus. Various writers have had their runs at Zenescope, with Raven Gregory notably turning the title into a dark fantasy saga for a time. Now, with Dave Franchini, once a salesman for the company, rising up the ranks to editor and writer, the title feels tailor-made for fans of the late 80s and early 90s offerings from DC and Marvel. The Grimm Fairy Tales 2020 Annual spins out of the main series, picking up in the middle of a battle that lasts the full issue. Those who missed the lead up will be a little lost, but an extended flashback at the beginning does some work to orient the reader.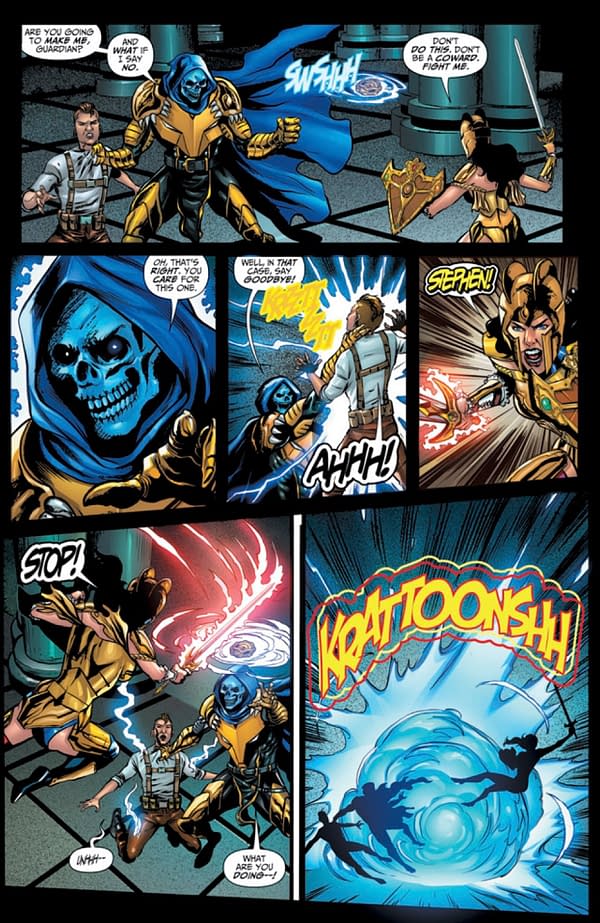 Every panel is a new quip in old-timey, fantasy dialogue as the characters threaten each other while fighting, fight, and then insult how the other fights. It's Saturday morning cartoons turned into a comic that feels purposefully created for fans of an era gone by where superhero costumes didn't try to not look silly. Where villains looked like characters you couldn't wait to play in the video game adaptation, and where the art is hyper-detailed heroes and baddies battling each other from beginning to end. Julius Abrera and Jorge Cortes are the perfect teams for this throwback feel, with linework that can almost make the reader hear the rub of spandex and clink of metal against the craziest armor you've seen since classic George Perez. Letterer Taylor Esposito has been on the title ages, surviving different eras and pens, and his bombastic style fits in with the latest direction with flare.
Overall, Grimm Fairy Tales 2020 Annual, and the current series, is the exact kind of comic that folks on Twitter dismissing it would love. It doesn't break any barriers as a superhero comic, and it doesn't have that dark, indie edge like their miniseries offer, but it offers a warm, classic appeal that satisfies.
Grimm Fairy Tales 2020 Annual is out now, and the company is expected to talk about the future of their titles in this week's Beach Con.