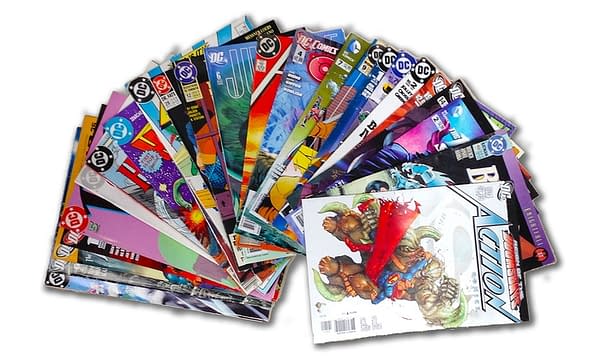 Take a look at this Groupon listing…  Comic Book Bundle with 25 DC Comics Titles, 25 Marvel Titles, or 50 Marvel and DC Comics Titles – that's $25 or $40.
With over 10,000 sold that's over half a million back issues of Marvel and DC sold this way. The kind of thing you might see in a quarter bin, but here going for a buck. And an awful lot of them sold…
One reviewer stated, "I bought the combination bundle. Almost all comic books arrived in a plastic sleeve with a price of $2.50 – $6.00 on each one".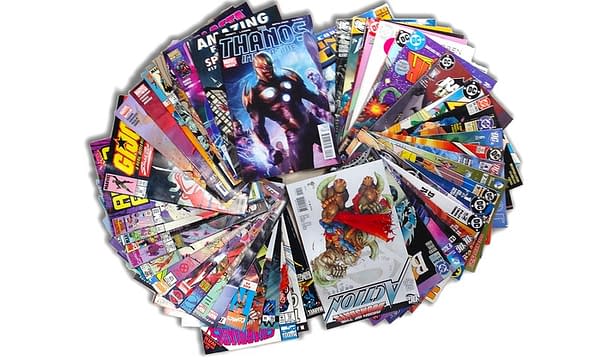 Is does feel like the remains stores that have gone out of business. But it's been running since Christmas 2014 so this is not Hastings liquidation.nSomeone is making money. Just not exactly sure who.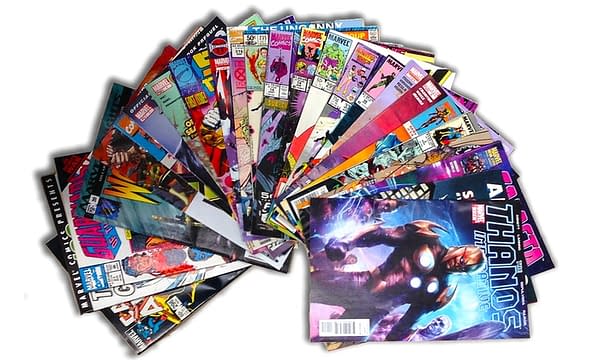 The range of titles is quite wide, from eighties back issues to more modern fare. And there are some content concerns…
Bought these comic books for a 6 year old they are very violent and very revealing. Would be great for teenagers 13 and up.

I would caution parents looking to gift these comics. the majority of the 50 bundle I purchased are quite mature and not appropriate for my son at 10 years old. wish I knew that going into the purchase.

Incredibly random, which I suppose was the point. Bought them for my 9 yr old son but there was a ton of variation in the maturity of content. I decided to put them away for now

I am a 6th grade teacher and I was able to use most of them in my classroom library. Some of the comic books were too graphic for kids though.

Sorry I bought it for my 8 years son thinking it would be ok…but the graffic was too scary~~
Intruiging…
Enjoyed this article? Share it!