Today sees the end of the Harley Quinn/Poison Ivy series, that started as a kind of Thelma and Louise adventure of these non-monogamous girlfriends, with a Poison Ivy transformed by a) the events of Heroes In Crisis and b) DC's Year Of The Villain which saw her picked by Lex Luthor, transformed into yet again another new version of herself, but in competition with the old. There is no conclusion for Poison Ivy fighting herself in this series, more that this is ner new status quo. Which also means splitting up from Harley Quinn as Ivy is, basically not herself…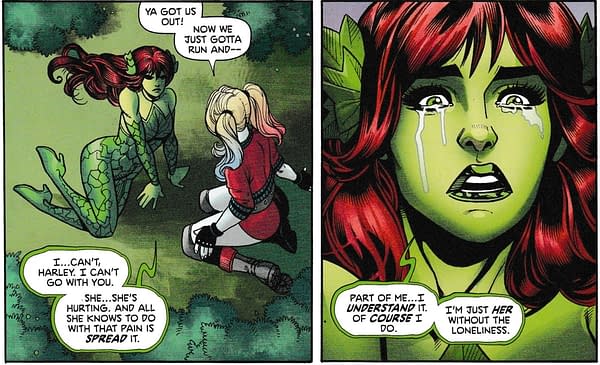 So we need a kiss goodbye. A kiss that will sum up these characters feelings for each other, even as they part for what may be the last time, a kiss that will last the decades, that will express their loss, their pain, their lives, their longing, and something that they can hold onto as long as they are apart, a kiss that will…
…or just a peck on the forehead. Has DC Comics gone all Adventures Of Jenny Spark on us again?
Harley Quinn/Poison Ivy #6 is published today from DC Comics. I bought mine from Piranha Comics in Kingston-Upon-Thames. Piranha Comics is a small south London comic store chain with a small south-east store in Kingston-Upon Thames's market centre, which runs Magic The Gathering nights on Fridays, and a larger south-west store in Bromley, which also runs Magic nights and has an extensive back issue collection and online store. If you are in the neighbourhood, check them out.

Enjoyed this article? Share it!