Has DC Comics Forgotten Batman and Robin Live Together?
There have been a lot of comic book publishers and groups who have put out socially relevant messages at this current time of trial. But today's DC Comics titles have a new one that asks more questions than it answers. The following image appears in a number of titles, demonstrating social distancing or two metres or six feet in terms of Batman and Robin.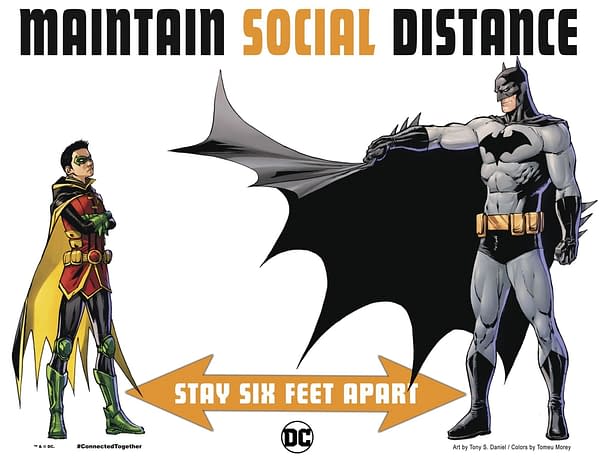 But this is Bruce Wayne and his son Damian Wayne. They both live in Wayne Manor. And while the coronavirus pandemic has not affected the DC Comics Universe, with the only lockdown Gotham has been suffering from was imposed by the Riddler in Batman #92.
But this image is set in a reality where this is a thing for DC Comics characters. So why are they socially distancing? Do they not live together as a family? Or is Wayne Manor so large that it counts as separate domiciles? What about Alfred? Has he been furloughed? So many questions to ask. No answers expected. But this follows a number of such messages from DC Comics as part of their #StayConnected promotional campaign.
Previous messages have encouraged DC Comics readers to stay in their Fortress Of Solitude or in their Batcave, without considering that many of their readers may not have such huge ice crystalline structures in the Bermuda Triangle, or large subterranean cave dwellings beneath some of the most expensive real estate in Gotham, funded by a hundred billion dollar Wayne foundation.
But could it be an indication by DC Comics that things are not so rosy between Batman and Robin? Just before Father's Day as well? Could it be that if the Joker is going after the Wayne fortune that Damian may decide to follow the money? Or maybe another message will make things all better. We'll keep checking in to see how things are going.