How Ares Joined the Wrong Side of War of the Realms (Journey Into Mystery #2 Preview)
A lot of people are probably wondering how Ares came to be the villain hunting down Thor's baby sister in War of the Realms tie-in, Journey Into Mystery. Sure, the guy is a dick… but would he really throw in with Malekith and his forces? Well, War of the Realms: Journey Into Mystery #2 sheds some light on his motivations, as seen in this preview, where Sindr confronts Ares after murdering his comrades…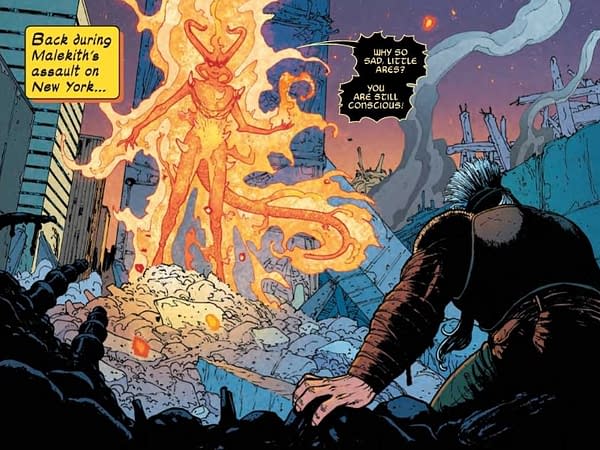 But Ares isn't too concerned. There's just one thing that he wants.
And Sindr shows remarkable insight into why…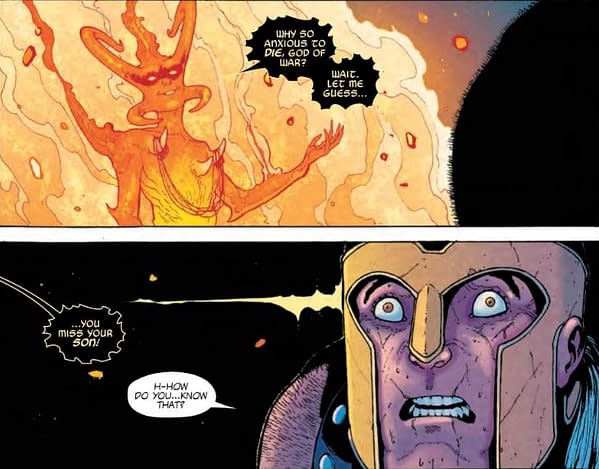 It seems she has an offer for him, so long as he's willing to do one little thing for her…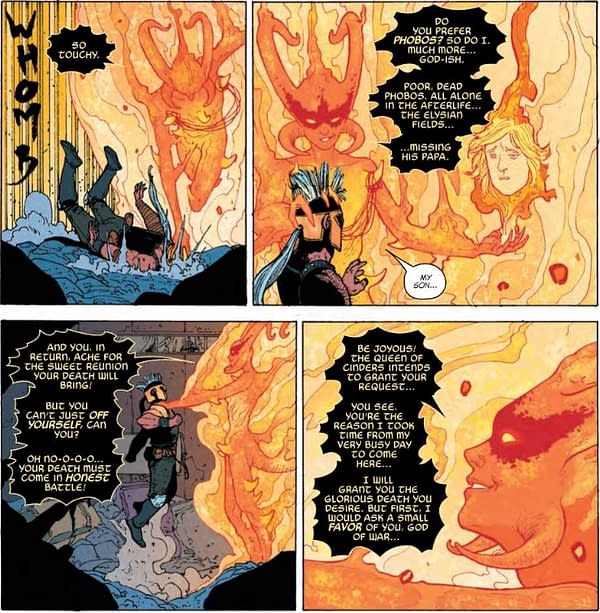 And now we're all caught up. Check out the rest of the preview below.
War of the Realms: Journey Into Mystery #2 hits stores on Wednesday.
War of the Realms: Journey Into Mystery #2
(W) Clint McElroy, Justin McElroy, More (A) Andre Araujo (CA) Valerio Schiti, David Curiel
THE McELROYS TAKE MILES MORALES AND COMPANY CAMPING!
Looks like Balder and his babysitting team have more than fire goblins and foul diapers to worry about! A marshmallow-roasting campout in the Midwest goes up in flames when deadly shape-shifting aliens make a campfire appearance! But the real danger is barreling down the highway behind them. Ares, the Greek God of War, is hot on baby Laussa's trail. If Balder the Brave, Wonder Man, Sebastian Druid, Kate Bishop, Miles Morales and Deathlocket are going to stay ahead of him…Kate's gonna have to teach one of them to drive.
Rated T+
In Shops: May 08, 2019
SRP: $3.99