Looks like DC Comics are looking to up their numbers again on Batman #75. There have just let retailers know that they will be able to order an additional blank variant cover for Batman #75 to get sketches and whatnot drawn directly on the front cover.
BATMAN #75 BLANK VAR ED YOTV THE OFFER
DC COMICS
(W) Tom King (A) Tony S. Daniel (CA) Blank Cover
"City of Bane" begins! Bane's minions have moved into Gotham City, taken control and are ruling with an iron fist-including rounding up any villain who refuses to sign onto Bane's program-and Batman is nowhere to be found. At least not the Batman anyone knows. It's like someone has replaced the real Gotham City with a twisted funhouse-mirror version of it. Meanwhile, the real Bruce Wayne is on a spiritual quest to regain his fighting spirit after his showdown with his father in the desert. Can the people of Gotham hold on until their protector is strong enough to come to their rescue? Plus, what does Lex Luthor's scheming mean for Gotham City when Bane and the villains are already in control? This extra-sized anniversary issue kicks off a new multi-part storyline that ties together all the threads of the first 74 issues of Tom King's epic BATMAN run!
FOC/OIC Date 6/24/2019 Est Ship Date 7/17/2019 $4.99
Letting people commission comic book skeches like this one by Neal Adams.
While Marvel C0mics are making 'virgin' art covers for House Of X and Powers Of X by Mark Brooks, presumably using the cover below split into left and right hand sides, one copy of each available to retailers who order five hundred copies of each.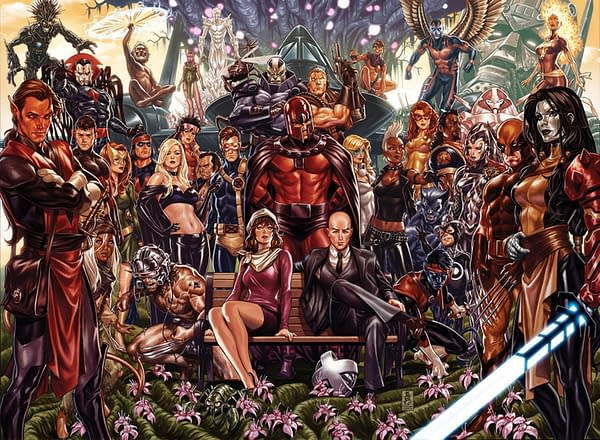 HOUSE OF X #1 (OF 6)
(W) Jonathan Hickman (A) Pepe Larraz
FACE THE FUTURE! Superstar writer Jonathan Hickman (SECRET WARS, AVENGERS, FANTASTIC FOUR) takes the reins of the X-Men universe! Since the release of Uncanny X-Men #1, there have been four seminal moments in the history of the X-Men. Giant-Sized X-Men. X-Men. Age of Apocalypse. New X-Men. Four iconic series that introduced a new era for Marvel's mutants and revolutionized the X-Men. In House of X, Charles Xavier reveals his master plan for mutantkind…one that will bring mutants out of the shadow of mankind and into the light once more.
Rated T+In Shops: Jul 24, 2019 Final Orders Due: Jul 01, 2019 SRP: $5.99

POWERS OF X #1 (OF 6)
(W) Jonathan Hickman (A) R. B. Silva
FEAR THE FUTURE! Superstar writer Jonathan Hickman (INFINTY, NEW AVENGERS, FF) continues his revolutionary new direction for the X-Men. Intertwining with HOUSE OF X, POWERS OF X reveals the secret past, present and future of mutantkind, changing the way you look at every X-Men story before and after. You do not want to miss the next seminal moment in the history of the X-Men!
Rated T+In Shops: Jul 31, 2019 Final Orders Due: Jul 08, 2019 SRP: $5.99
And they're adding an additional Rob Liefeld cover to the reprint/repackaged comic Major X #0….
MAJOR X #0
(W) Rob Liefeld, Eric Stephenson (A/CA) Rob Liefeld
Representing the classic Wolverine (1988) #154-155 with an all-new Major X frame short story written & drawn by Rob Liefeld! Deadpool accepts a hit from a mysterious group of overzealous techies called the Watchtower. His intended target? Wolverine! There's a bounty on Logan's head, and Deadpool plans to collect! But will the Watchtower prove too morally questionable for even the Merc? The beginnings of the hit Major X series can be found in these classic stories! In Shops: Aug 07, 2019 SRP: $4.99
Tick those numbers up, tick tick tick…
Enjoyed this article? Share it!