Doomsday Clock, the unauthorised sequel to Watchmen set in the near future of the DC Universe, has tried to be careful to show – or not to show – certain aspects. For a while, the previews showed Superman – but not enough to determine whether or not he was wearing red trunks. Or Batman for that matter. That was a reveal saved for Action Comics #1000.
Well, we also haven't seen Clark and Lois's son, Jonathan Kent, Superboy. Which may have been because Brian Bendis was to age him up in Action Comics. And may still de-age him. Either way, his appearance in Doomsday Clock would have given that away. The Adventures Of The Super Sons, with Jonathan Kent and Damian Wayne working together is set before the Bendis Superman run and over on Reddit, writer Peter Tomasi stated that #12 will be it for some time, saying 'I've just turned in the final script to Adventures of Super Sons #12. So it will be quite a while before I get back to the boys.'
But what's this Scott Snyder has tweeted?
Coming up in JUSTICE LEAGUE #24…

Art by who else, @JorgeJimenezArt pic.twitter.com/WLfJ4HxC0F

— Scott Snyder (@Ssnyder1835) March 22, 2019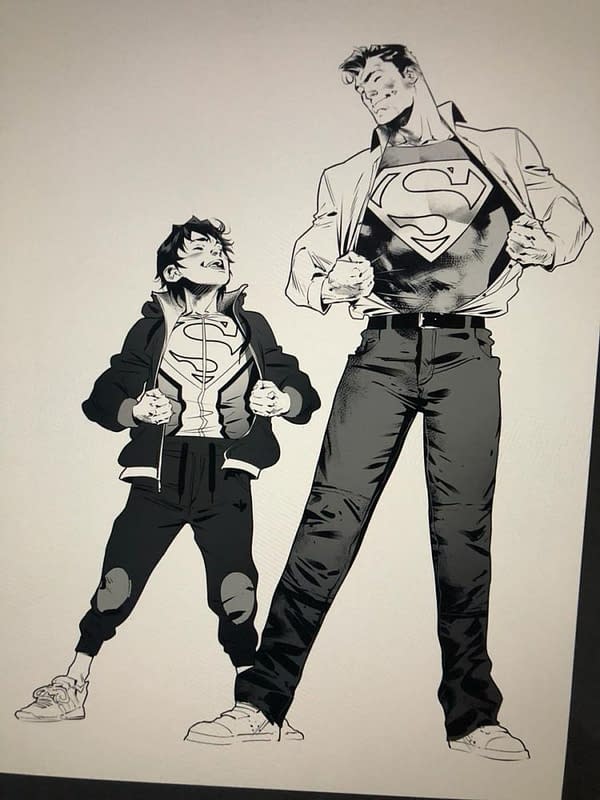 Art by Jorge Jimenez for Justice League #24? Looks like it… with a much younger Jonathan Kent/Superboy. Does this mean all of the Snyder Justice League stories are also set before the Bendis Superman run? Or is something else coming up??
JUSTICE LEAGUE #24
(W) Scott Snyder (A/CA) Jorge Jimenez
"The Sixth Dimension" chapter five! The League's plan is in full swing, but one member of the team isn't on board with their message and sides with the World Forger! Betrayed, there's only one person who can turn the tide of this battle. Can Superman find the strength to escape his prison planet and save the Justice League, or is the League doomed to live out their days trapped in the Sixth Dimension?!In Shops: May 15, 2019
SRP: $3.99
Oh and while we're at it, here's a new replacement cover for Justice League #23…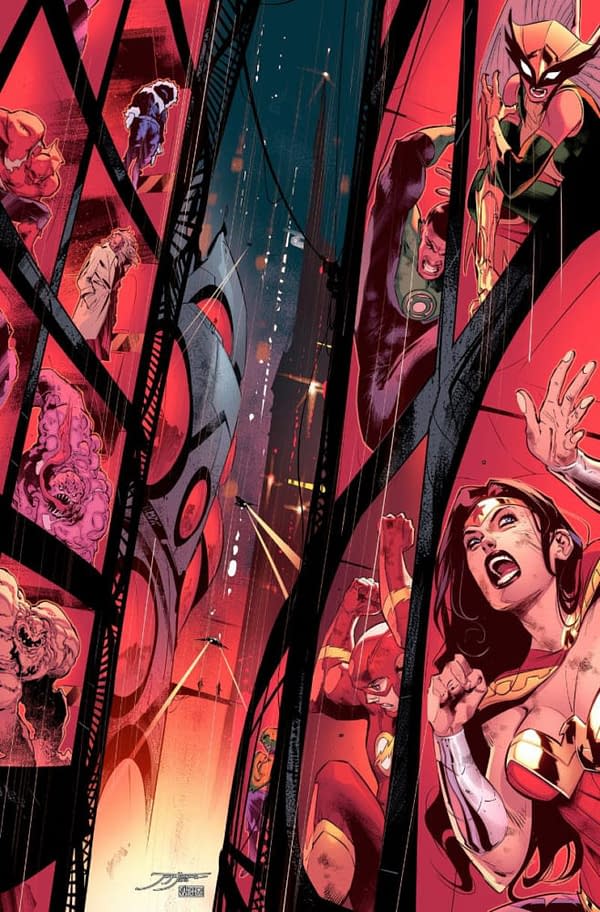 JUSTICE LEAGUE #23
(W) Scott Snyder (A/CA) Jorge Jimenez
"The Sixth Dimension" chapter four! Our heroes have been banished to the prison planet of villains by the World Forger. Stuck with no way of escape, the team hatches a plan to defeat the World Forger and get back to their dimension with the help of a new ally, but where is Superman?!In Shops: May 01, 2019
SRP: $3.99
Enjoyed this article? Share it!