"I Have Always Wanted To Tell My Own Stories With My Own Characters!" – Welcome To Ian McGinty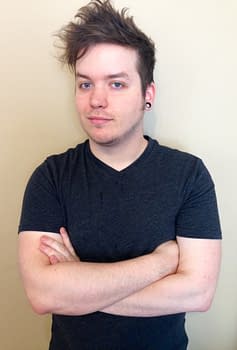 Ashleigh Jay, thirteen year old reporter for Bleeding Cool, talked to Ian McGinty, creator of Welcome To Showside, the new series from Z2.
Ashleigh Jay: Where did the idea for this book/series come from?
Ian McGinty: WELCOME TO SHOWSIDE sort of came out of the blue for me one day when I was doodling at my kitchen table, a rare event in of itself with my schedule on other stuff, and I drew a little fish looking kid standing in line with all these huge, scary monsters. They were waiting on this portal made out of squares, pixel portals, and I thought about who THAT kid was. Why is he so small and young? What could he be doing? Much later, when I was asked to pitch an idea for a comic series, something about that kid stuck with me so I came up with this idea connecting him, Kit, to other monsters and to his friends, Moon and Belle. I plotted out all the adventure they could have running around town, battling demons, eating mallobutterwaffles, really fun stuff and I was pleasantly surprised to see that this little tiny doodle I did for fun started to spin off into a fully finished comic and, much later, an animated pilot.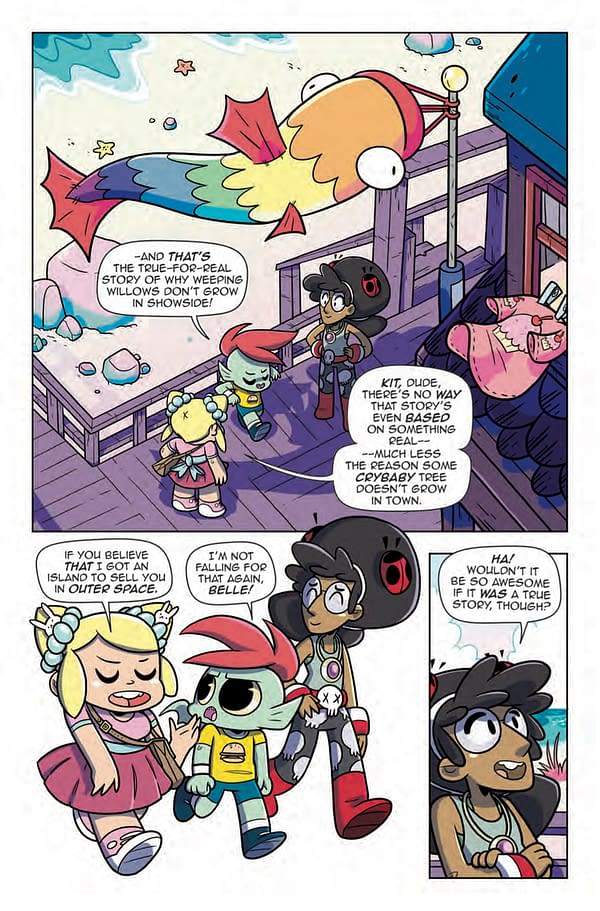 AJ: Why did you decide to tell this story?
IM: I've worked on licensed properties like Adventure Time and Bravest Warriors for about three years now, and it is something I quite enjoy. It's cool to be able to take existing characters and add mythos to them or slightly change their design, but I have always wanted to tell my own stories with my own characters. It's why I wanted to be a comic artist!
I also wanted to be able to see other artists I admire do their own versions of my characters, which is why WELCOME TO SHOWSIDE features backups by other rad comic book people. Mostly, though, I had a story I wanted to tell about friendship overcoming issues of legacy and expectations, and I wanted to draw cool monsters and goofy creatures along with it!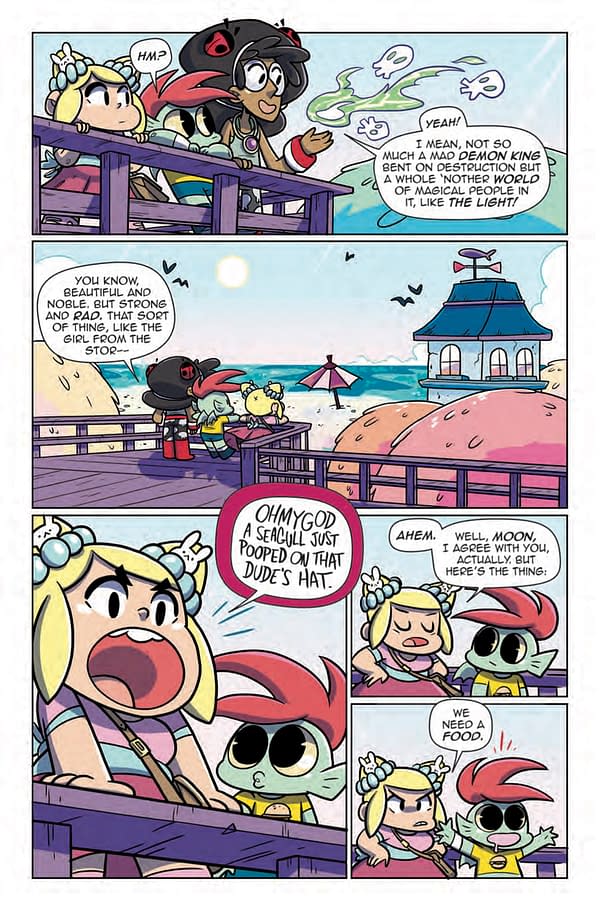 AJ: Can you tell us about the characters in this story?
IM: Definitely! WELCOME TO SHOWSIDE revolves around Kit and his best friends, Moon and Belle, and some of the monsters they hang out with. Kit is a little demonic boy whose father is the Great Shadow King, the most ruthless and powerful creature in the universe. The Shadow King wants Kit to assume the throne and take over the earth, starting with the town of Showside, but Kit isn't into it. He'd rather skateboard and have fun with Moon, the great grandniece of a very powerful sorceress, and Belle, the youngest daughter in a long line of Southern Demon Hunters. There's also Teenomicon, Moon's whiny spellbook, and Boo, a cute, floating squid monster. Also, a kid named Baked Beans! The kids deal with a lot of conflict in town, especially with the world of humans and monsters clashing from time to time, and they have to battle various demons from the Nexus sent by Kit's dad to challenge him and bring him home. Added to that issue is the thoughts of their families and varying opinions about humans and monsters coexisting (Belle's father, for example, is a legendary demon hunter and doesn't believe people can be friends with them). It can get pretty crazy, but the kid's friendship hopes to be strong enough to overcome anything thrown at them.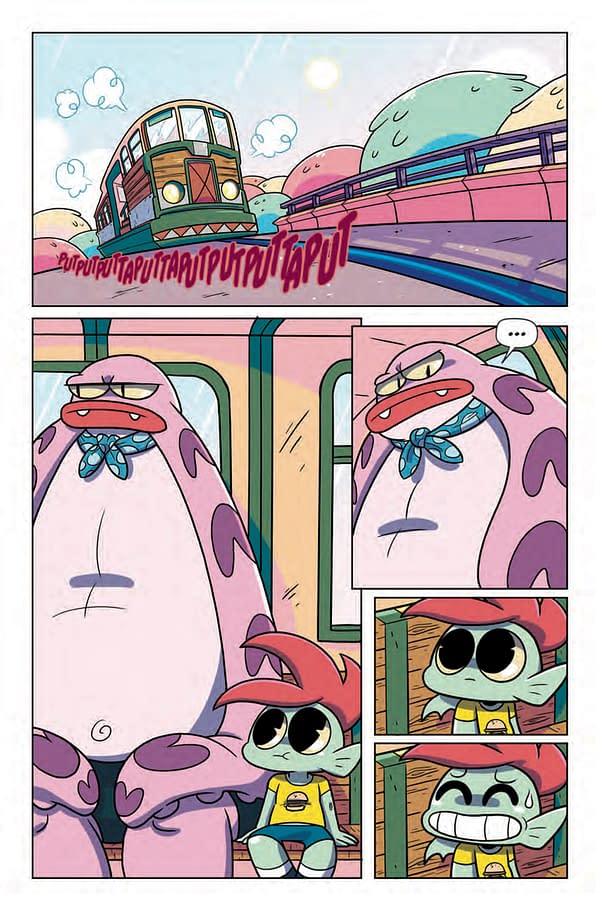 AJ: How much research did you do for this series?
IM: A good amount, actually. Most of my research came from looking at tons of different all-ages comics and horror comics, and I tried to come up with a way to combine those two very different genres into one all-ages/horror type book. Beyond that, which was pretty extensive, I've come at WELCOME TO SHOWSIDE with the idea that there aren't any rules or limits with characters and monsters, so long as the book is fun and cute and, most importantly, makes readers connect with the world.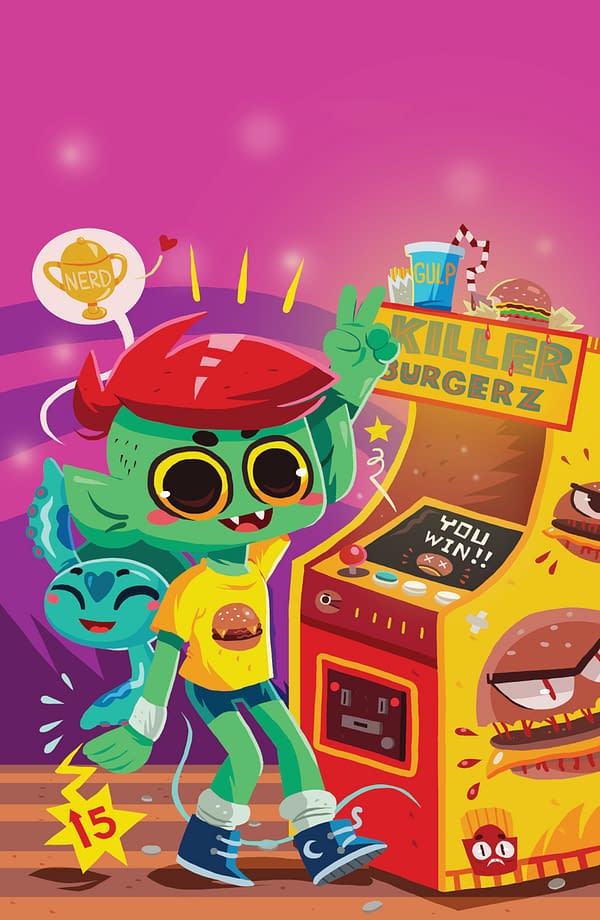 AJ: What is your favorite thing about the series?
IM: I think it's the relationship and backstories of the main characters, of which I won't be getting too far into until later in the series. The mythos surrounding Kit, especially, is pretty heavy and I've only hinted at some of the insane stuff to come, so stick around! I think people will be really surprised as how SHOWSIDE explores pretty dark elements, like Adventure Time does, and I'm hoping people jump on the bandwagon in that regard. I have to admit I also love Boo because he is incredibly adorable.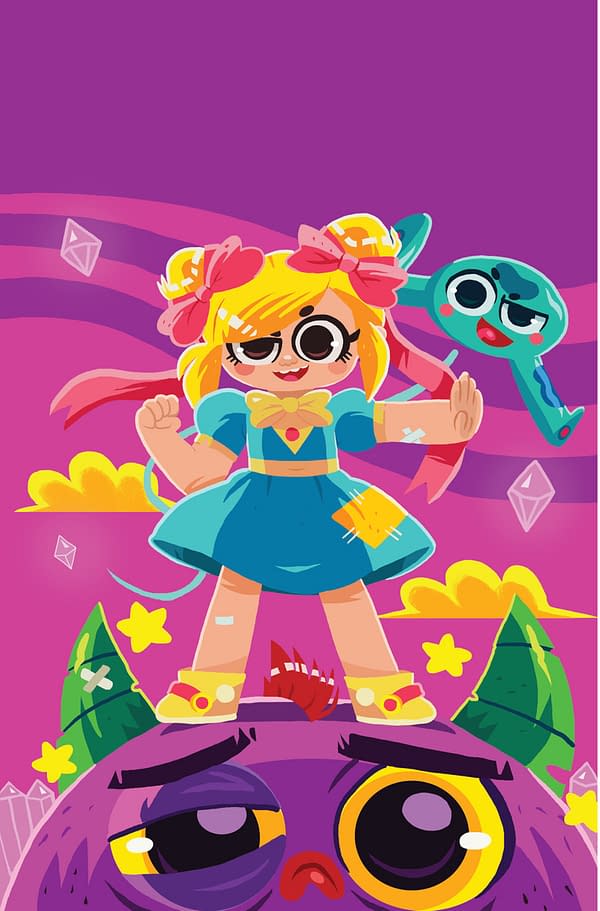 AJ: What do you want to tell readers about this book (series)?
IM: Well, not only is WELCOME TO SHOWSIDE releasing as a comic book on October 28th, but there is also an animated pilot coming out the day before the comic on youtube! We've been working on it for almost a year and, I gotta say, it came out fantastic. It stars Henry Rollins as Frank, a giant flaming skull with nerd glasses, and I actually voice Kit myself. Super fun and funny, it'll be available for free from Modern Prometheus Productions! So just google "welcome to showside" on the 27th and there you go! As for the comic, look out for some really neat monsters and adventures with the kids (especially Joshua the Crystal Kitten, a favorite of mine). Cool!
(We'll save you the googling – Rich)
AJ: What other series/books do you think are similar to this one and would you recommend to readers? (i.e. if you like this series, you will enjoy my new series)
IM: Definitely Adventure Time, a series I've always loved, and even Bravest Warriors (which I used to be the main artist on). I also recommend Bee and Puppycat and The Amazing World of Gumball, heck, even Invader Zim rocks right now. There are a lot of cool all-ages books out right now, too many to list, but I think fans of those books will really enjoy WELCOME TO SHOWSIDE, for sure. I'm really excited to see the response from readers!