IDW Announces Dungeons & Dragons: Infernal Tide at D&D Live 2019
IDW Publishing has announced today during D&D Live 2019 that they will launch a new series called Dungeons & Dragons: Infernal Tide this November. The story will feature the talents of writer Jim Zub and artist Max Dunbar, the five-issue miniseries will kick off in November 2019 as fan-favorite Minsc and his friends find themselves in the middle of a new situation involving a devil-tainted corruption that has taken hold of Baldur's Gate. The book will not only serve as an entry point for fans to get into IDW's line of D&D books, but also have a ton of fan service for those who have been following along with the series. Here's a few quotes from people involved with the new series.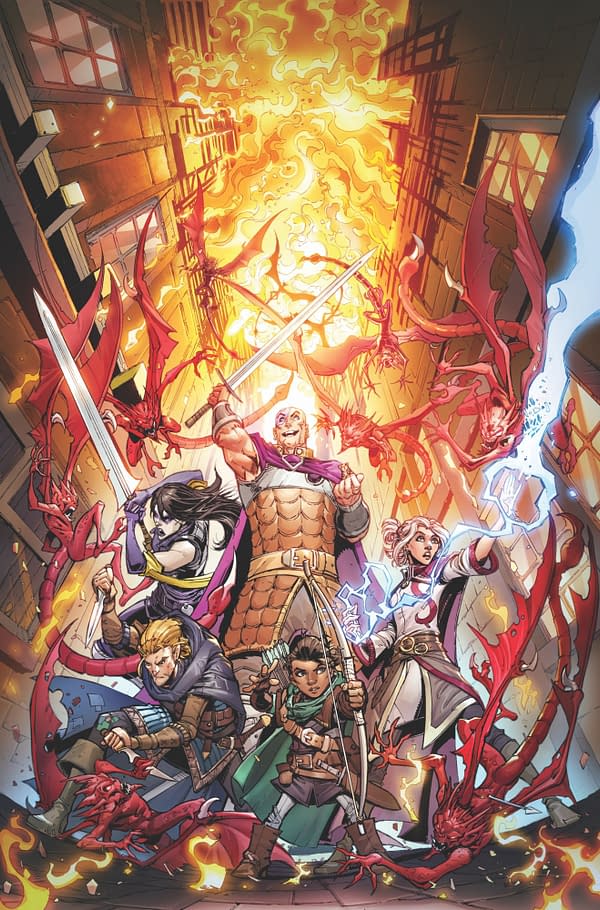 "Dungeons & Dragons: Infernal Tides is a wild ride through some of my favorite parts of D&D lore," says Jim Zub. "Getting the chance to help develop the story and setting for a brand new D&D sourcebook directly with the D&D team, having Max Dunbar contribute key concept art to that adventure, and then getting both of us back at IDW to create a brand new comic story that propels Minsc and the rest of the Baldur's Gate heroes into the same kind of devilish danger is an absolute dream come true. This comic is going to be pure D&D-fueled adrenalin. I can't wait for readers to see how it all rolls out."

"I am so thrilled to be able to return to D&D comics with Jim Zub in Dungeons & Dragons: Infernal Tides," says Max Dunbar. "This story plunges our Heroes of Baldur's Gate into an adventure of a scope and scale we haven't seen yet in these comics. We'll dive into the heart of locations and events that are absolutely legendary to D&D. I feel incredibly lucky to be working with Jim Zub, incredible colorist Sebastian Cheng, IDW, and Wizards of the Coast on this vast and diabolical story!"

"We are so excited to be bringing back the original Baldur's Gate creative team for this new series," says David Hedgecock, associate publisher at IDW. "What an incredible privilege it has been to watch these creators and this story become such an important part of D&D canon!"