The world-eating Transformer Unicron was the name given to this year's Free Comic Book Day Transformers comic book, out the first Saturday of May.
It will be followed by a bi-weekly six issue event from July as Unicron heads to Earth…
And, at WonderCon 2018, they announced that Transformers: Unicron by John Barber (Optimus Prime), Alex Milne (More Than Meets The Eye) and Sebastian Cheng (Revolution) would be the end of the Transformers comic universe. At least, the current one.
"TRANSFORMERS: UNICRON is a culmination of the years of TRANSFORMERS comics I've been a part of… and the conclusion of one of the longest continued narrative in TRANSFORMERS history" said Barber. "This is a story of heroism in the face of impossible odds; of a reckoning for an entire universe. I couldn't be luckier than to have Alex right here with me on this—if you know Alex, you know nobody puts more into the TRANSFORMERS than he does, and nowhere before has he drawn drama, action, and pathos at this scale. Tying it all together is the incredible palette of Sebastian Cheng. We've never held back before on our TRANSFORMERS comics, but this time we're pushing ourselves—and each other—harder than ever."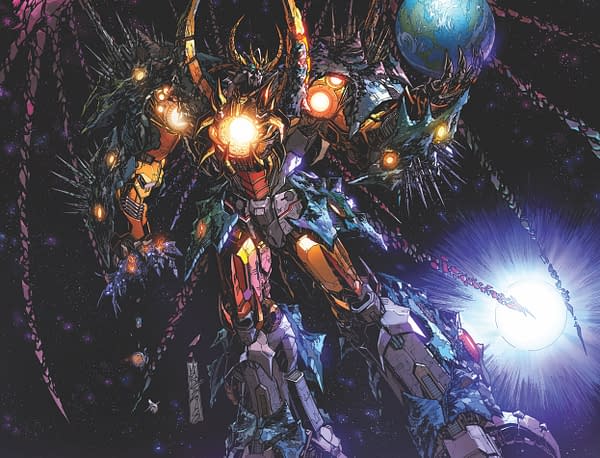 IDW has published Transformers comics for twelve years and will be bringing back familiar names for variant covers, including Andrew Griffith, Nick Roche as well as Bill Sienkiewicz reinterpreting his classic cover to Transformers #1 as a special variant, along with a new cover by Francesco Francavilla.
"TRANSFORMERS: UNICRON is a grand finale to the past 12 years of TRANSFORMERS comics at IDW and to really celebrate that and to celebrate the people who have made it such an amazing ride, we're getting some amazing, beloved artists to contribute to what I'm sure will be our biggest—literally—TRANSFORMERS story ever," said David Mariotte, Associate Editor. "This is an event years in the making and one that only works because of the years fans and creators have invested in the comic."
The action kicks off on Free Comic Book Day, May 5th, with the #0 issue,
FCBD 2018 TRANSFORMERS UNICRON #0
(W) John Barber (A) Alex Milne (CA) Sara Pitre-Durocher
Not a whimper, nor a bang-the end comes with a squall of entropy shrieking from the ravenous maw of death itself. The message is clear: Unicron has arrived. The Transformers lock into a desperate bid to save Rom's homeworld from the world-killer – but why has Unicron chosen this world on his path to Cybertron… and Earth? The biggest story in the history of Transformers starts now: for Unicron's arrival can mean nothing less than the end of a universe.
Teen Audiences.
Enjoyed this article? Share it!