Image Comics have cancelled the unpublished issues of the mini-series Jook Joint. 
A five issue mini-series by Bingo Love's Tee Franklin and World Of Wakanda's Alitha Martinez, the series saw two issues published in October and November of last year, but there had been no sign of the third issue, solicited for December. Issue #3 solicitations had been updated to be published in February, and then March, but as of today, Image Comics and Diamond have removed solicits for #3 and #4 completely.
When contacted, Franklin told me,
While Jook Joint touched thousands of lives and helped several women leave their abusive relationships, it's with regret that Jook Joint is being shelved for now. Heloise and Mahalia's story will continue when the time is right. Thank you for your support. I'd like to thank Image for giving me a platform for this series that dealt with sexual assault and domestic violence, in addition to supporting me through this unfortunate cancellation. Thank you to the amazing team for bringing Jook Joint to life.
Here's what was solicited – and what may return at some point in the future.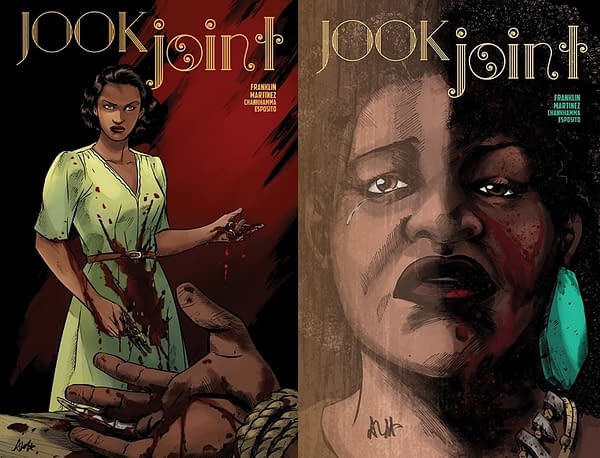 JOOK JOINT #3 (OF 5)
WRITER: TEE FRANKLIN
ARTIST / COVER: ALITHA E. MARTINEZ
DECEMBER 5 / 32 PAGES / FC / M / $3.99
Now it's Heloise's turn to show her husband how it feels to be beaten! It's the 1800s, and Mahalia gives us a glimpse into her past—and why revenge is important.
Plus, this issue includes an original backup story by SHAWN PRYOR (F.O.R.C.E.) and GEORGE KAMBADAIS (THE DOUBLE LIFE OF MIRANDA TURNER)!

JOOK JOINT #4 (OF 5)
WRITER: TEE FRANKLIN
ARTIST / COVER: ALITHA E. MARTINEZ
FEBRUARY 13 / 32 PAGES / FC / M / $3.99
Mahalia makes a house call. Meanwhile, Heloise must deal with the consequences of her revenge-seeking.
Enjoyed this article? Share it!