Improbable Previews: Bill Watterson Returns to Comics in Weapon X #19?!
Every so often (but seemingly less so since we started this column), comic book publishers accidentally send out unlettered previews, showing us what the characters are doing but not what they're saying. What a boner! In Improbable Previews, we correct this mistake by putting the words back in, using our best guess at what they are based on decades of time wasted reading comic books. We can't guarantee 100% accuracy, of course.
In this issue of Improbable Previews, we've acquired an unlettered page from the upcoming Weapon X #19 by Greg Pak, Fred Van Lente, and Yildiray Cinar. Will this issue contain the greatest comic book crossover of all time? All signs point to: yes! Check out the preview below, and look for Weapon X #19 in stores on June 6th!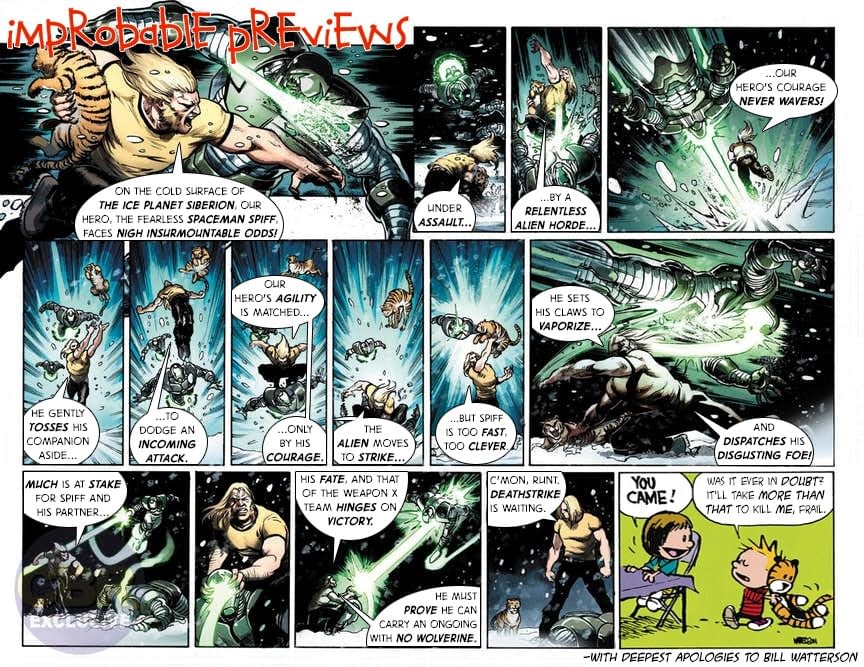 WEAPON X #19
GREG PAK & FRED VAN LENTE (W)
YILDIRAY CINAR (A)
Cover by RAHZZAH
SABRETOOTH'S IN CHARGE CONCLUDES!
• OMEGA RED…Agent of S.I.C.K.L.E.?
• Can SABRETOOTH, DOMINO and LADY DEATHSTRIKE really oppose the full might of the Russian government?
• And without WARPATH around to keep them honest, what's stopping this crew of killers from slaughtering every Ivan, Lev, and Anton in their path?
32 PGS./Rated T+ …$3.99
Read more: