Coming this February, Marvel has revealed its latest scheme to spike sales by convincing retailers to order more copies of their comics than people will actually read so they can get special variant covers to sell on eBay. The concept this time: corner box variants, pitched as images that could have been used in the corner box that used to be in the top left corner of comic book covers back in the day. Joe Jusko will be drawing all of the corner box variants, which will be present on the following titles:
AMAZING SPIDER-MAN #24
AVENGERS #4
CAPTAIN AMERICA: STEVE ROGERS #11
DAREDEVIL #17
HULK #3
INVINCIBLE IRON MAN #4
INHUMANS VS. X-MEN #4
ULTIMATES2 #4
CHAMPIONS #5
DEADPOOL #26
DOCTOR STRANGE #17
GUARDIANS OF THE GALAXY #17
THE MIGHTY THOR #13
NOVA #3
SPIDER-GWEN #17
THANOS #4
THE MIGHTY CAPTAIN MARVEL #2
THE PUNISHER #10
UNCANNY AVENGERS #20
VENOM #4
However, as it turns out, with the first eight covers revealed by Marvel media partner ComicsBeat, the concept isn't really being utilized to its full potential. This is because of an unfortunate set of circumstances, including the fact that, when blown up, the images are the same size as regular cover except a little thinner, resulting in black borders on either side, as well as the fact that most comic book covers nowadays are just pinups of the characters anyway, making these seem like more of the same. Pretty much the only thing that differentiates them from any other variant cover gimmick is the weird photoshop filter that makes it look like someone… uh… the previous owner had a little too much fun with these, if you know what we're saying.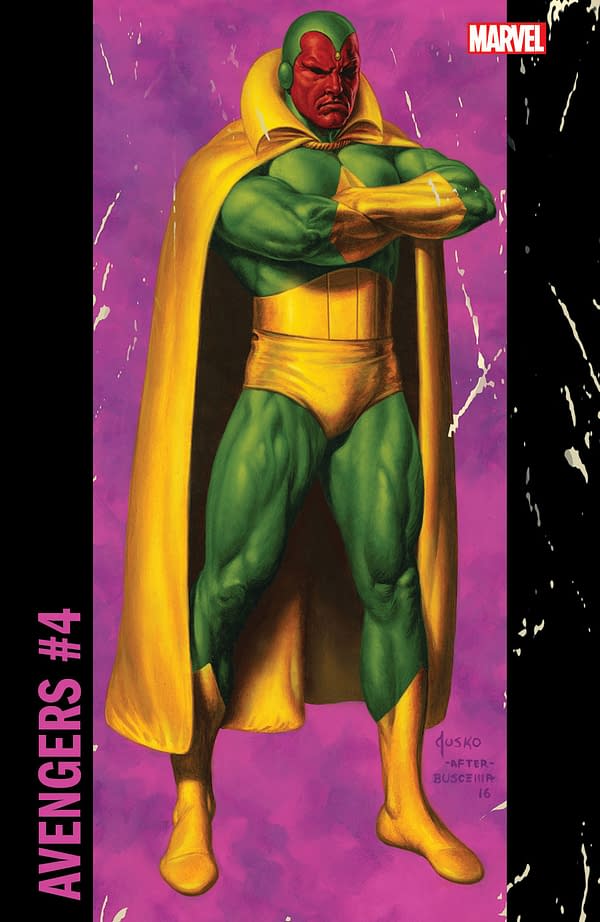 We have to admit to being somewhat disappointed with Marvel for not doing as much with this gimmick as they could have… almost as disappointed as we are in ourselves for still wanting all of these. Hey! Don't judge us! They look so good!
Enjoyed this article? Share it!