An Intriguing Twist On Batman – All Star Batman #8 Review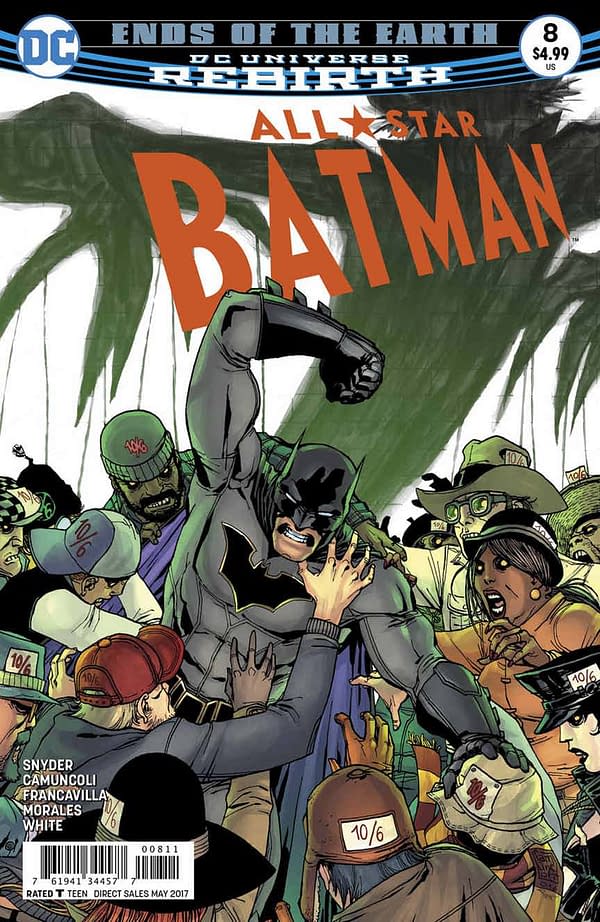 [SOME SPOILERS FOLLOW]
All Star Batman from Scott Snyder and a rotating cavalcade of artists is really living up to the promise of it's initial announcement. The road trip story arc with John Romita Jr. was fun and all, but I really was sold on the concept of this series entirely on the prospect of Snyder being able to show off his ideas for all of Batman's extensive rogues gallery, all with an incredible array of artists to help him.
The second arc is what has really delivered on that promise, with each issue focusing on a different villain and each issue with a different artist turning in their A game work. Moreover, this second arc is really experimenting with the storytelling methods of the comics too, as Snyder explores different ways of writing the adventures of the Dark Knight. All of it, the exploration, the experimentation and the statements on classic villains have been some top notch stuff.
The latest issue sees the creators eye fall on Mad Hatter, with art by Giuseppe Camuncoli.
Mad Hatter, let's face it, is not one of Batman's most intriguing villains generally. There are about forty villains who'd come to mind first before you'd even think about Mad Hatter as a serious threat. He is after all a man obsessed with hats and Alice in Wonderland, and whom fairly recently was even suggested that his hat fetish was sexual. Mad Hatter, at the very least in the comics, is something of a joke.
Not so in this issue. Mad Hatter, yes, doesn't look threatening at first. He's unassuming. He's goofy looking even. But that's part of how Snyder really makes Hatter work as a truly frightening threat to Batman.
As we see the insidious way Hatter works his particular scheme, it feels so terrifying to the reader because what he's trying to make Batman believe, the trap he wants the Dark Knight to fall into, feels so terribly possible. What if Batman is all a figment of his own imagination? Batman falters himself, and so does the reader, as it feels just as possible as a man training himself to peak human fitness and dressing as a flying rodent.
Moreover, what I find truly interesting in this issue is how it plays with a well-known critical theory exploration of Batman: namely, that all of Batman's villains are examples of psychological disorder, and in a way, that is what Batman is fighting. Catwoman is kleptomania, Two-Face is split personality disorder, The Ventriloquist is schizophrenia, and Joker is a full blown sociopath. In this issue, Snyder twists it on its head, presenting each of these characters as outside agents trying to help Batman but his own psychology has turned them into enemies, each themed on a particular neurosis.
The back-up story, with art by Francesco Francavilla, continues to explore Duke Thomas and his growing into a superhero, and exploring the idea of Batman's training wheel, and what could make Duke different from all his previous allies. What I think is especially great with this instalment is for the first time we the reader really get to see what it could be that will set Duke apart, and we learn it the same time as the character. It's such a bold and oddly obvious idea, too, making it kind of amazing that it hadn't been thought of until now.
All in all, this issue of All Star Batman is fantastic, and does all of what the series promised: provided an intriguing new take on a classic villain, made them a genuine, credible threat once again, and also showed the many ways the Dark Knight can be explored in the medium.
And if that's not enough, it also has Batman hitting someone in the face with a flamingo. 'Nuff said.