Once upon a time, Nelson Mandela was a terrorist. Then he was a symbol for passive resistance. Then an icon of peace and reconciliation.
Not everyone saw this change in perception as a consistent and, between his release and the first elections of universal suffrage in South Africa, there was a fear of civil war breaking out. But Mandela was a master at stratagems and was playing all sides. And a new comic book by the screenwriter of Invictus, John Carlin and artist Oriol Malet, looks at just one of those relationships.
Between Mandela and General Constand Viljoen, former chief of apartheid South Africa's military, and leader of a right-wing party, the Afrikaner People's Front, opposed to Mandela's African National Congress. The comic book Mandela And The General tells the story of their secret meetings, in the hopes of keeping their followers and radical fringe elements from acts of violence, despite the advice of those politically closest to them, with the aim of putting aside their differences for the good of the country.
Viljoen is credited by some with making overtures which helped lead to white South Africans' acceptance of universal suffrage and free elections, as with a speech to the Broederbond annual assembly, saying of the black South Africans in his army, "If they can fight for South Africa, then they can vote for South Africa!"
In November, Plough Publishing will tell the full story. And they have a few quotes they'd like to share which we will run with some artwork from the book.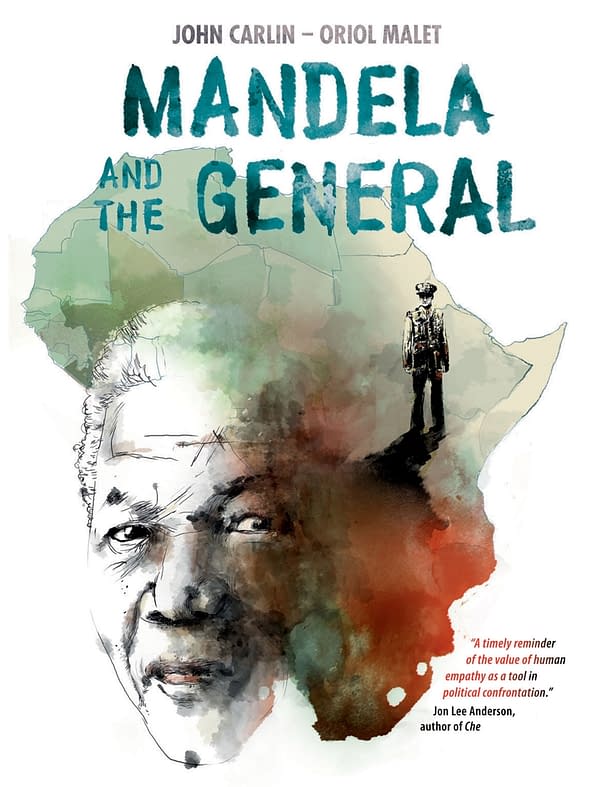 "A simply wonderful book.Mándela and the General suspensefully reveals how Mandela's spirit of reconciliation prevailed over fear and violence in post-apartheid South Africa. John Carlin's privileged access makes this an especially exciting read. Coming out as it does at a time of gathering global intolerance, this book is a timely reminder of the value of human empathy as a tool in political confrontation." — Jon Lee Anderson, author of Che Guevara: A Revolutionary Life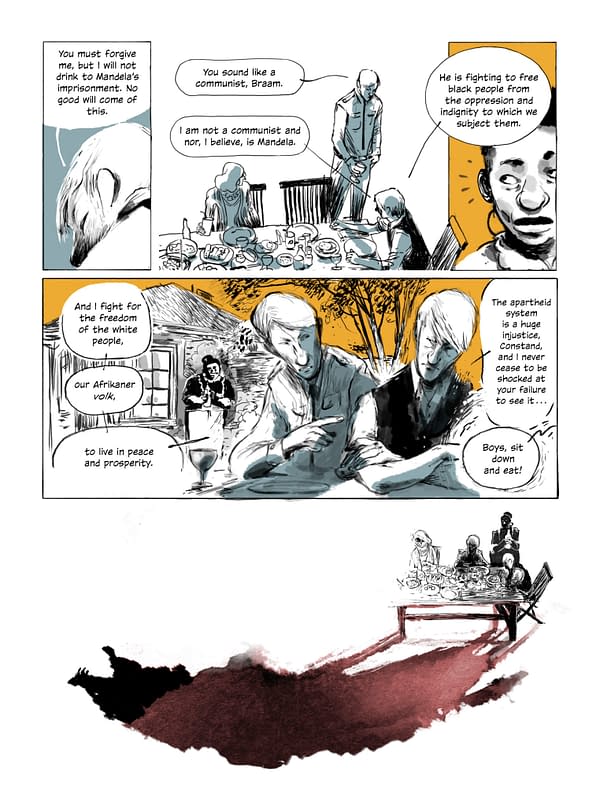 "John Carlin elegantly crafts a powerful, balanced narrative well served by the evocative imagery and sequential talents of Oriol Malet. Mandela and the General is an important read for all who seek peace." — Andrew Aydin, co-writer of the National Book Award-winning March
"A riveting read. Carlin 'gets' Mandela. He captures powerfully Mandela's political astuteness and vast generosity. Masterful storytelling!" — Academy Award-winner Morgan Freeman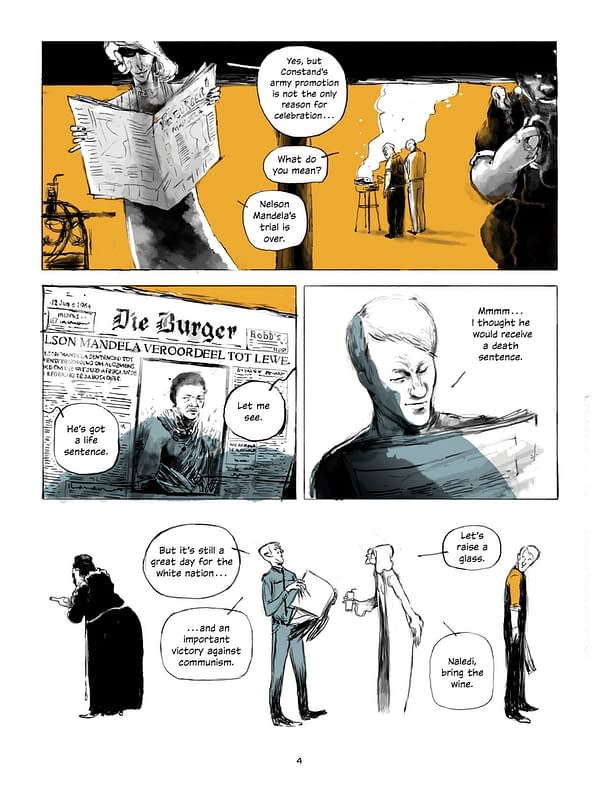 "Incredibly engaging and well worth your time. The art by Oriol Malet has so much energy and beauty that it drew me in immediately." — Jamal Igle, illustrator of Black, creator of Molly Danger
"Fascinating." — Kirkus Reviews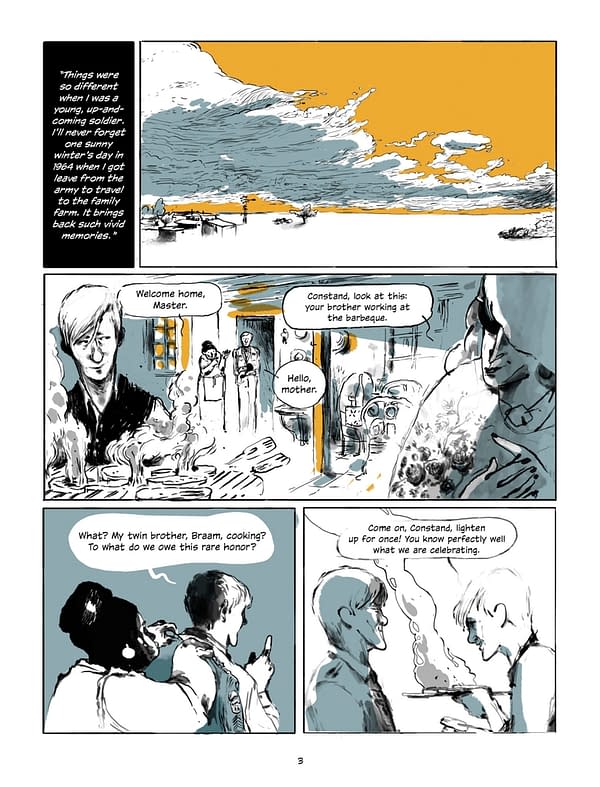 "Wonderful, accessible distillation of the genius of Mandela. In an increasingly divided political landscape, should be required reading for people of all ages everywhere." — Academy Award-winner Matt Damon
"At the core of Mandela and the General is the notion that reason and empathy are the foundations of progress and peace." — Vita Ayala, writer of The Wilds and Livewire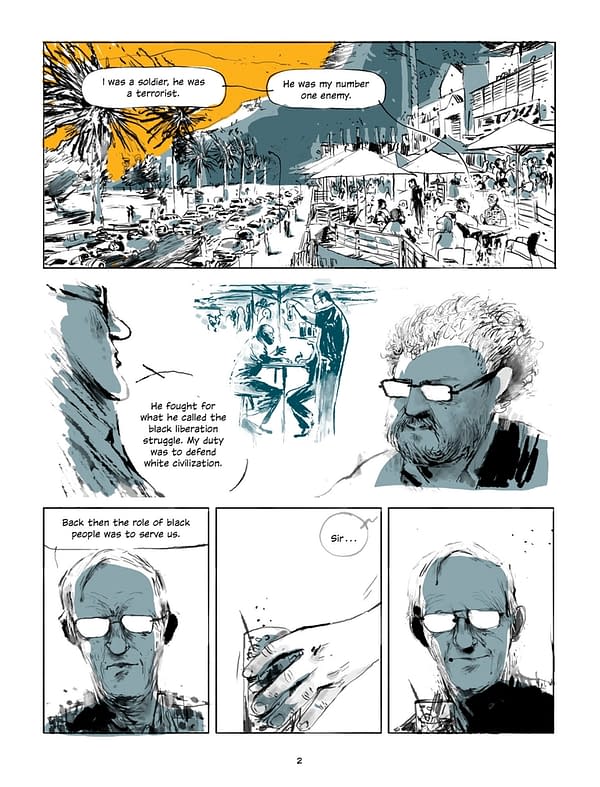 "Excellent…a well-told, perceptive view of both sides in the conflict." — Foreword Reviews
"Malet's visuals capture Carlin's intense narrative in shades of gold, blue, red, and black, mixing photographic details with looser images and breaking panel borders to underscore immediacy. His multihued maps of the African continent are especially affecting." — Booklist
"A must read for US Americans in our current era of cultural conflict – Mandela and the General reminds us of what can be achieved when we view each other as human." — Kwanza Osajyefo, co-writer of Black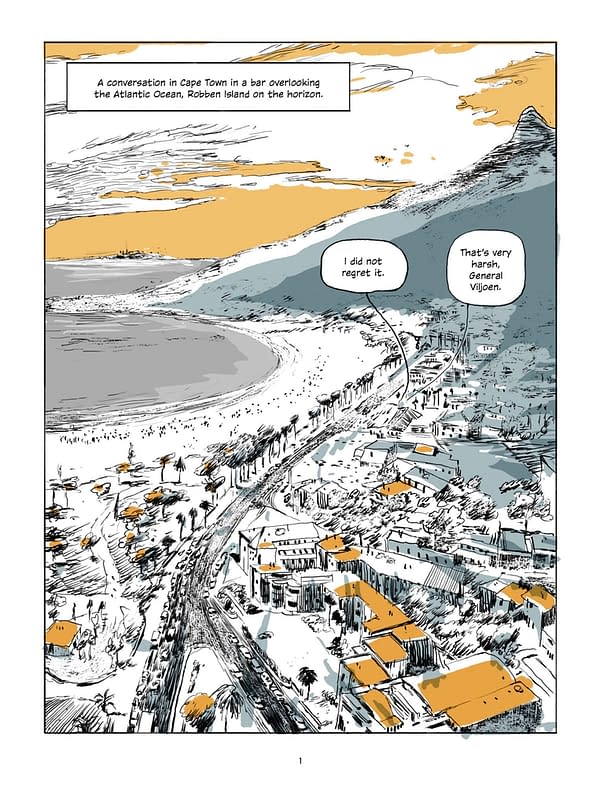 Enjoyed this article? Share it!