Is That Alan Moore In Neil Gaiman & Mark Buckingham's Miracleman?
In Miracleman: The Silver Age, we meet Tom Caxton, the fiurst superhero, now living as a hermit, with a big beard and long hair...
---
In Miracleman: The Silver Age #3, we met Tom Caxton, the first human chosen to be made into a superhuman by Miracleman. Living as a hermit, with a big beard and long hair, this might seem a trite act to automatically jump to this being a version of Alan Moore in the Miracleworld, but today's Miracleman: The Silver Age #4 by Neil Gaiman and Mark Buckingham, following on from Alan Moore's decade-long run across publishers, and itself thirty years waiting to be told, doubles down on that a little.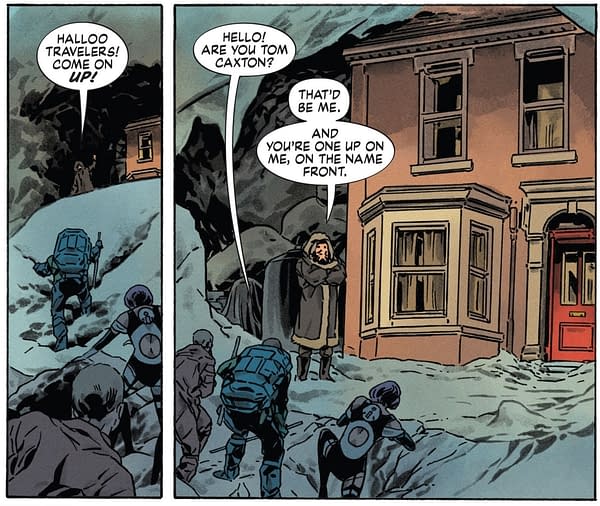 Because, yes, that really looks a bit like Alan Moore's terraced home in Northampton, though without the carvings of snakes and gargoyles that have popped up in recent years.
Tom Caxton lucked into being Mister Master but, after enjoying the role, became disillusioned by the expectations, and the reality of the lack of power distribution that he thought it might create, and retired, asking Miracleman to remove his powers.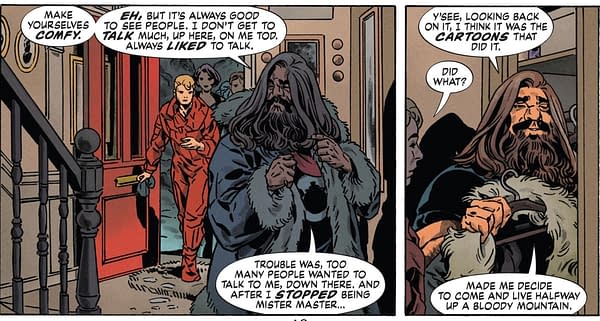 Though in Miracleman: Silver Age #4, Northampton appears to have become Loughborough. Only about an hour away by car, sixty miles to the north, both part of the East Midlands.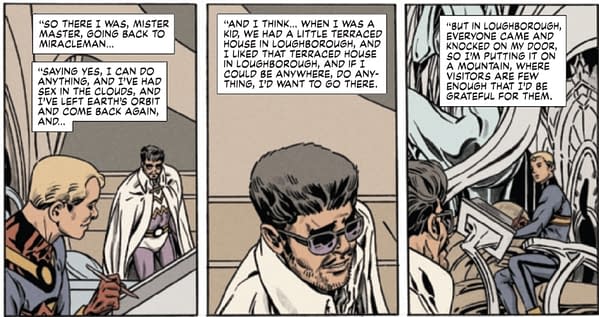 And too many people turning up on his doorstep in Loughborough. You know, like Donny Cates did in Northampton back in 2018.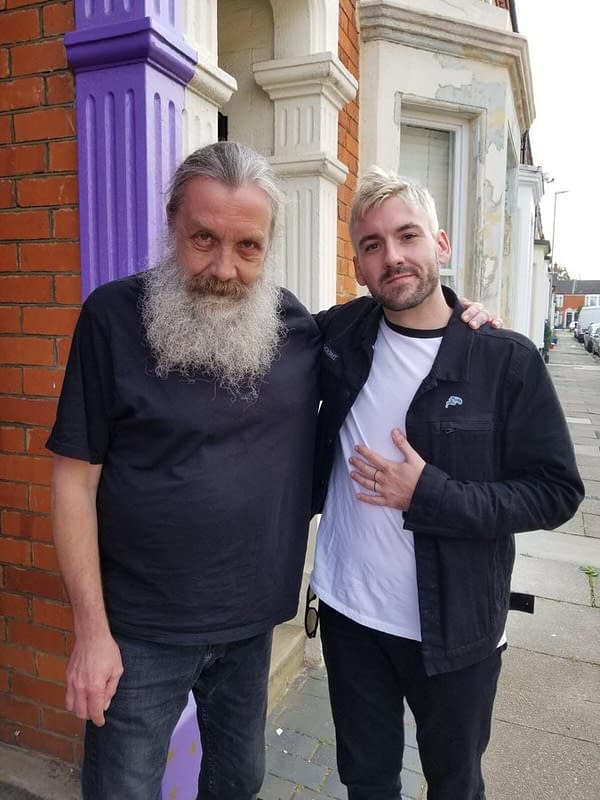 Looks like the house has had a bit of paint job in the thirty years since though – and the neighbouring house needs one. It's feel a bit of a lazy thing to portray Alan Moore as a "hermit" just because he doesn't travel outside of the UK, and doesn't go to comic book conventions. He's just had a film out in which he co-starred, he's been promoting the release of his new collection of short stories, Illuminations, across all known media, he was the narrator voice for the BBC sitcom Damned Andrew, he's always got several projects on the go, always making personal appearances, speeches, introducing folk, he's really, really busy. And he walks around town with a cane, a cape and massive rings on his fingers wherever he goes. He might not be able to do any of that if he'd moved his home halfway up a mountain. It is, however, very funny indeed, if placed in pathos in today's Miracleman.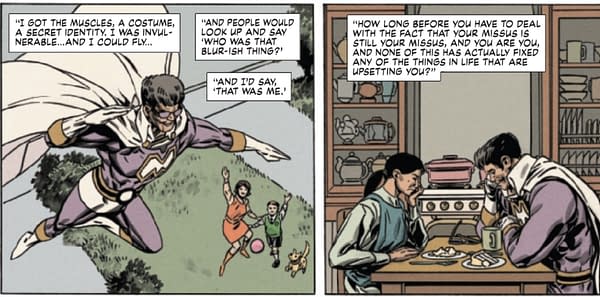 And if there were any doubt, Alan Moore's discussions of the concept and execution of the superhero coming from Nazi eugenics and the vigilante actions of the Ku Klux Klan in disguise, as seen in Birth Of A Nation, are very much in synch with Tom Caxton's views.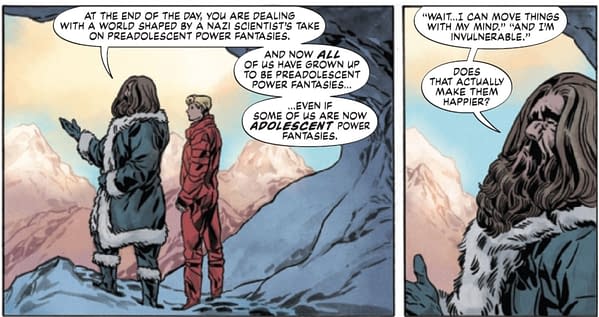 It may also be noted that William Caxton introduced the Caxton press, the first printing press in England, in 1476 and was the first seller of printed books in English, notably Chaucer's The Canterbury Tales, Aesop's Fables, Ovid's Metamorphoses, Thomas Malory's Le Morte d'Arthur and the first verses from the Bible printed in English. His work helped standardise the English language across the country. Indeed, Caxton addressed the issue in one of his own introductions, that the English language differed so much, that the word for "eggs" differed from town to town, with people of Kent presuming that visitors from Sheffield were speaking French. Did Alan Moore have as much impact on comics as Caxton did on books? Oh, also, Tom Caxton is a famous British brand for homebrew beer… so take your pick!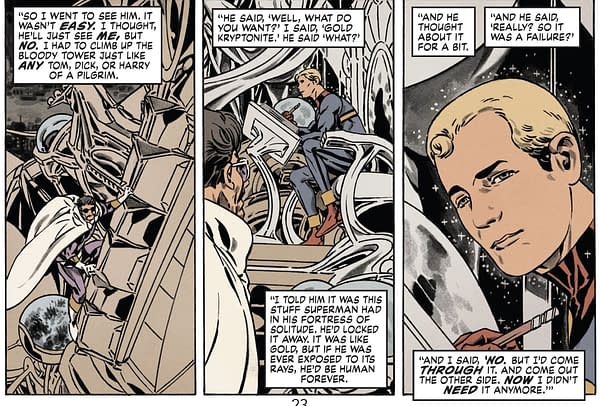 This is also a Tom Caxton, who knows his Silver Age Superman as much as he does his Beatles and Elvis Costello, who is happy with his lot. Just as Alan Moore generally is. Unless a nosey journalist presses him on why he doesn't want to write superhero comic books any more and what he really thinks of the Killing Joke now.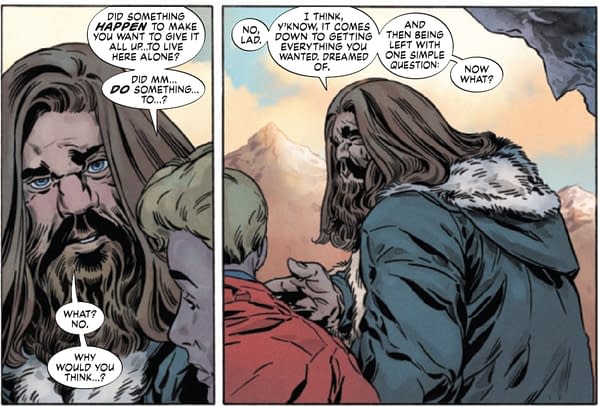 MIRACLEMAN SILVER AGE #4
MARVEL COMICS
OCT221123
(W) Neil Gaiman (A/CA) Mark Buckingham
What are the Black Warpsmiths? Young Miracleman's journey continues, and he finds companions on his quest to learn more about the world and about himself. They may not be the companions that Miracleman would have chosen, but will they be who Young Miracleman needs? Gaiman and Buckingham continue to reinvent not only this world, but all of comics while they're at it. Mature In Shops: Feb 08, 2023 SRP: $4.99