Isaac Perlmutter Signed Off On Spider-Gwen – Is A Movie Next?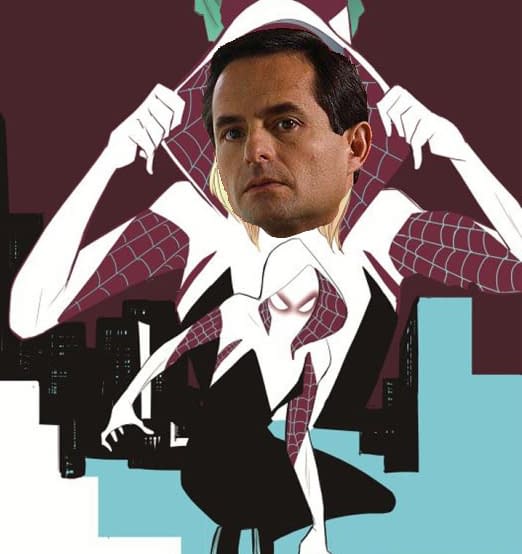 The Spider-Gwen comic book series has become quite the phenomenon at Marvel Comics. But no one seemed to expected it. A character that debuted seen in Spider-Man writer Dan Slott's Spider-Verse crossover event with her own story in the second issue of Edge Of Spider-Verse from Jason Latour and Robbi Rodriguez, that was meant to be that. Peter Parker's girlfriend Gwen Stacy, who in a parallel universe was the one who was bitten by the radioactive spider instead of Spider-Parker, and became the Spider-Woman in her own world and suffered the death of Peter as a result. But such was fan demand that she got her own series from the same creative team, amid a couple of other female Spider-Man characters such as the Marvel Universe's Spider-Woman and Silk, also with their own series. Coming out of Special Edition: NYC, I understand from well-connected sources that moving Spider-Gwen into an ongoing series was a decision that came directly from Isaac Perlmutter, CEO of Marvel, the man who saw Marvel Studios start making live action movies, who sold Marvel to Disney, who is Disney's largest single shareholder, who moved the Star Wars comics license to Marvel – and who is always packing.
Recently, the Sony Wikileaks e-mails revealed a man who seemed reticent to make female-starring superhero movies, citing failures in the past. However later that year, he greenlit a Captain Marvel movie starring the Carol Danvers character.
It may have been a power play over Sony's plans to make an "Untitled Female Superhero Spider-Man Movie" in 2017. Many presumed it was the classic Spider-Woman character from the seventies, while some suggested Catwoman-alike character The Black Cat from the comics.
However Bleeding Cool has already reported writer/producer Lisa Joy writing to Sony exec Rachel O'Conner, back in May 2014 saying,
Also, congrats on a fantastic opening weekend! Jonah and I snuck out for a date night to see the movie and had a blast. RIP Gwen Stacy — gone but never forgotten. Can we bring her back as Spiderwoman? Or can I just be best friends with Emma Stone? Solicitations for Edge Of Spider-Verse #2 were released in early June 2014… while too small a gap, even for conspiracy theorists, this could have been enough for Isaac Perlmutter to make sure any Gwen Stacy Spider-Woman was capitalised on by Marvel Comics first ahead of Sony.
But also, he knew a sure one when he saw it. So expect plenty of Spider-Gwen going on post-Secret Wars. Guest spots, spinoff series, the works. She has the Perlmutter seal of approval.
Which, for me, is the most likely sign that in 2017, Sony will be making a Spider-Gwen movie.