At Nine Worlds in Hammersmith, London, I was at one panel about the Toxicity of Fandom that looked at the blurring of creator and fan boundaries in the social media generation. It talked about the practice of dogpiling, where the comments of a critic, often with a small social media following, are taken by a professional and directed towards their own fans, encouraging them to "dogpile" on the critic. This often includes fans with rather toxic views. Sometimes it's not intentional, and the panel talked about how this was often worse when a fan became a professional, and the lines are blurred. However, over time the "quote tweet" or the directed retweet has been used to silence criticism or encourage social media retaliation.
Yesterday one student comics critic tweeted "When is putting J. Scott Campbell's artwork on a cover going to be understood as the wrong thing to do when you're trying to sell comic books to women." This was in relation to the X-Men Black one-shots from Marvel featuring Emma Frost and Mystique written by Leah Williams and Seanan McGuire.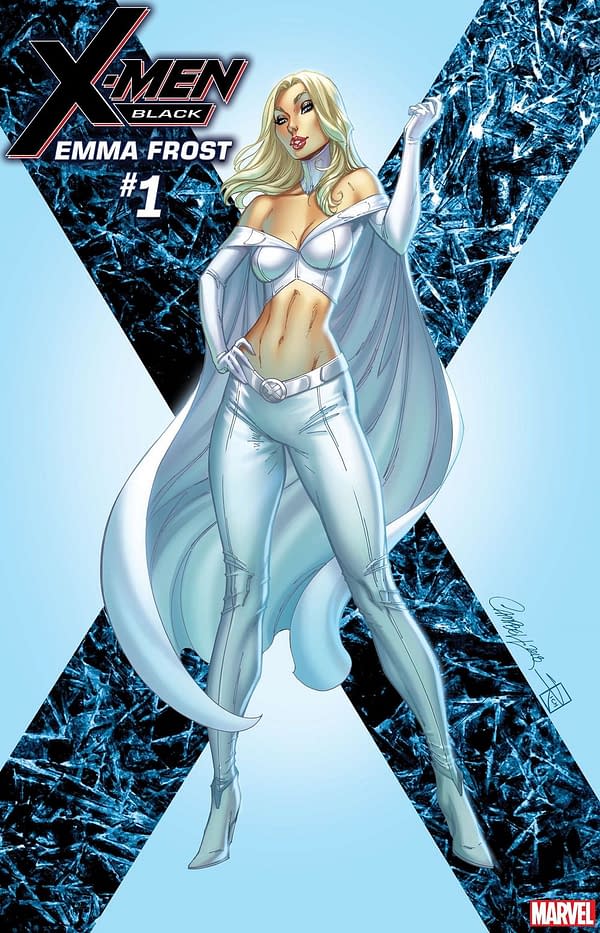 Campbell has a style that has been described as belonging to the "good girl" school, with an emphasis on cute, sexualised characters, such as seen in his Gen-13 and Danger Girl work. He was responsible for the much-criticised Mary Jane imagery from Spider-Man.
However, while the general consensus is that this would (and does) appeal to the stereotypical male fanboy of old, it has also been observed that he does indeed have a large female fanbase who also enjoy his depiction of the female form — and everything else. It seems to go against certain expectations, but it's true of a number of creators in a similar ballpark including Frank Cho, Adam Hughes, Art Adams, Stanley "Artgerm" Lau, and a number of Zenescope comic book creators.
But rather than point this out, J. Scott Campbell invited his fans to point it out to the student for him. And in a now-deleted tweet, he manually quote tweeted the original critic, including her Twitter handle.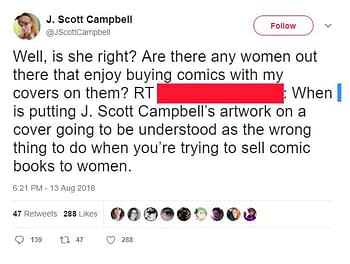 And other famous comic creators lined up to agree with Campbell.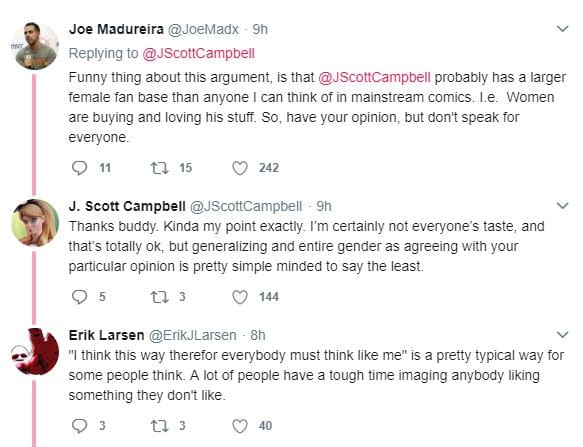 This saw not just many women contacting her to point out that they were fans of Campbell's work, but also a flurry of abuse from all sorts of people — known as a dogpile.
As we pointed out, once he was made aware of what was happening, Campbell deleted his original tweet. But the spreading of the original tweet from J. Scott Campbell's 70,000 Twitter followers and 400,000 Facebook followers has and continues to impact on one student's account, usually followed by just over a hundred people.
Campbell did point out that he didn't instruct anyone to attack her, also saying that "we all get attacked on twitter. It's just an unfortunate aspect of voicing one's opinion on a public forum. You take the good with the bad."
But it may also be worth pointing out that, in the words of a character that J. Scott Campbell is also famous for drawing, with great power comes great responsibility. Something I've been guilty of falling foul of myself.
Enjoyed this article? Share it!