Jason Fabok Apologies For Comic Shop Charging $50 To Sign Three Jokers
Three Jokers artist Jason Fabok attended a signing at Woodbridge Heroes in Woodbridge, Ontario, for Batman: Three Jokers. He is touring a number of comic book stores, but this one didn't go well. There was a $50 minimum signing fee, and Jason didn't seem to know about that.
When he found out, he posted a video to his Instagram feed apologising and added regret and upset to his Instagram post that promoted the signing. Both have now been deleted, but the video can still be watched on YouTube.
Jason Fabok stated in the video:
I just learned that this store here was up charging you guys an insane amount of money for a signature and that's not what I'm about. I originally asked… I just wanted ten bucks, I was going to do two for free and ten after that and I learned that these guys are charging way too much money. So if you were charged the money to do this that you came out here and you paid the full price what these guys are charging come back out here. I'm going to stay till 6 30 or 7 and I'm going to sign whatever books that you have… if you paid the full price I'll do five books for free so come out. I'm sorry, like I just learned about this stuff and I see you guys are angry and I disagree with what they've done, totally disagree that's not who I am and if you can't come back out email mandy@comicssketchart.com and ask her about their little deal that they're doing and you guys can either mail in the books they'll pay for postage uh to their signing later on or they'll maybe hook you up with a deal or send you back some money or whatever, because i want to make it right."
After two days of contact with Woodridge Heroes, they told Bleeding Cool that they had decided not to comment on the situation at this time. Here are the signature prices in question so that you can judge for yourself. And read the Instagram posts for all the comments over deleted comments…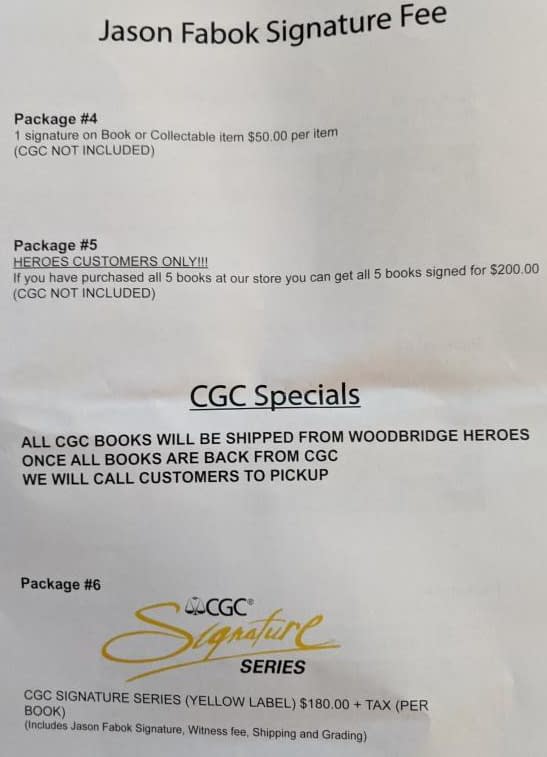 And how much those books cost if you bought them that day at the store. $25 a copy (plus tax) – and that's without the cost of the signature.