Jason Pamment is an animation production designer and illustrator based in Adelaide, South Australia, where he has worked on animated short films, commercials, music videos, TV shows and video games. You can see some of his work here.
Well, he has now sold his first graphic novel, a middle-grade book The Treasure in the Lake at an auction, bought by Andrew Arnold at HarperAlley. Publisher's Weekly describes the graphic novel thus; Iris and Sam, once best friends, now growing apart, discover a hidden city in a mysteriously dry lake, and must reconnect before they're swept away. The Treasure in the Lake will be published in the winter of 2022 and that Sara Crowe at Pippin Properties negotiated a two-book deal between Pamment and HarperAlley for North American rights. Pamment posted the news with a little example of the artwork from the comic book.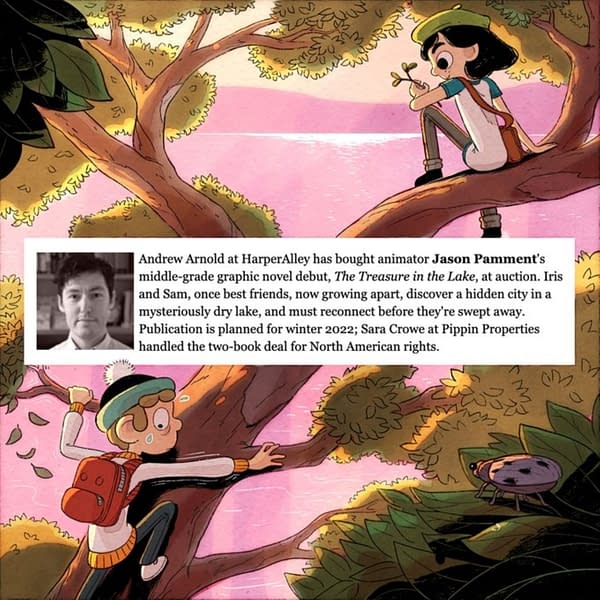 He also added "Huge thanks to my amazing new agent @saraagent at @LovethePippins for bringing this home, and to editor Andrew Arnold and his team at @HarperCollins #HarperAlley, who I'm thrilled to be working with. Can't wait to share more soon!"
HarperAlley is a graphic novel imprint launched from HarperCollins Children's Books under the direction of former art director and acquiring editor at First Second, Andrew Arnold last year, described as a "collaborative, creator-focused publisher" that will specialize in graphic novels for "readers of all ages." The new line is "looking to publish books that readers of all ages can enjoy, from the youngest readers to teens and adults. We believe that a good story is a story that any reader can relate to. That's what we mean when we say "readers of all ages." HarperAlley is looking to publish about ten books a season, or about thirty books a year and is one of a number of mainstream book publishers that has been rapidly increasing the number of graphic novels for younger readers. And Jason Pamment has given them another two.
Enjoyed this article? Share it!