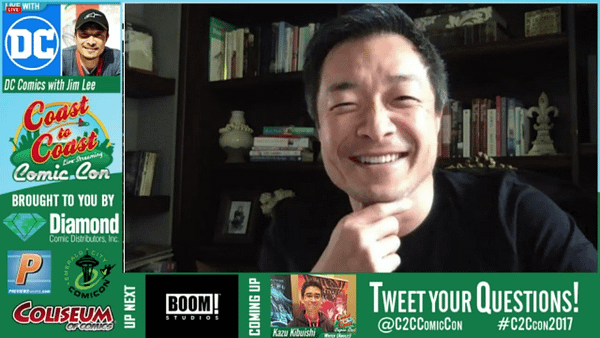 At Coast-To-Coast Comic-Con, Jim Lee talked about The Wild Storm. In a New 52 style reboot, he dropped words like blackmail, skelteons in closets and making offers that Warren Ellis couldn't refuse.
And how The Wild Storm sees one character, The Engineer and her exposure as a supercharacter unlocks a chain of events of powers creating superhuman technology, which turns into a challenger quest. That's what Warren saw as the underpinnings of the Wildstorm universe, with new versions of all the familiar names and characters.
Questions are coming in – The future of Ragman? "Every character has some level of development on it." I'm going to take that as a no.
And the Young Animal line will be continuing, Jim Lee stated that Gerard Way is committing to the line beyond the original agreement and DC will be committing extra promotional drive to the books.
And talking The Button crossover with Batman and The Flash holding the button from "some other series". We note, he won't say the word "Watchmen". But the lenticular image got thousands of comments on social media…
He called it "the start of a much bigger story that Geoff has in mind". No confirmation on "smiley face buttons" being created for promotional reasons, but he did state there are certain promotional items in the works. Obviously won't be available outside North America for copyright reasons of course…
And Jim Lee was more than happy to keep out over Mark Russell and Steve Pugh's work on The Flintstones right now.
And you can keep up to date with Bleeding Cool's other Coast To Coast Comic Con coverage right here.
Enjoyed this article? Share it!