"What We Did Today is Going to Change DC Comics Forever," Says John Cunningham (VIDEO)
DC Comics launched their new imprints DC Ink and DC Zoom aimed at younger readers at the American Libraries Association earlier this month and has now released the video from that presentation. We've been going through it today, isolating projects, listening to the creators talk about them, and running little summations.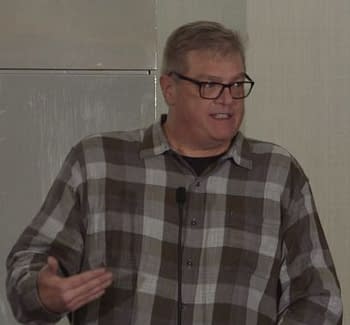 But we also got to hear John Cunningham, who has really come into his own as a presenter. I remember when he was (sorry, John) pretty dull in front of a crowd. Bored. Annoyed. Wanting to be anywhere else. Like Bob Wayne without the irony.
The John Cunningham we saw at the American Libraries Association presentation is a man transformed.
Enthused, an activist, a believer. Burbank clearly suits him. As to the Zoom and Ink imprints. In this presentation I have never seen him so animated, so enthused, so ideologically committed to what is being presented. He cares. He got me caring. What's going on? He concluded saying:
"In 12 years of working for DC, I've sat through more panels and more creator pitches than I would care to talk about… I've never heard anything in one place than I've heard today.

Our job is to keep Batman alive and to keep Superman alive. The fact that these fictional characters have more cultural relevance now than they did when they were created all those years ago is unheard of.

What I heard today gives me that faith not only for the books they're going to create for kids, but looking down that road, the books these guys and other creators we're going to bring in are going to create new readers with new expectations of material that's going to transform the main DC line. What we did today is going to change DC Comics forever. Forever. There's no going back anymore."
Hyperbole? Watch it yourself; he really means it.
To get more details on these announcements, check out the ASA category tag.