Three Batman comic books concern the Joker today. And also concern themselves whether he is dead, alive or looks like him. Batman Annual #3 hardly does, so if you want to avoid the Joker, head in that direction. Alfred has made soup.
The Joker not knowing about Batman's soup is as close as you get.
Batman Who Laughs from Metal-writer Scott Snyder and Jock has parallel versions of Batman, the Grim Knight and the Joker-infected Batman Who Laughs invade Arhkam Asylum. And kill the Joker.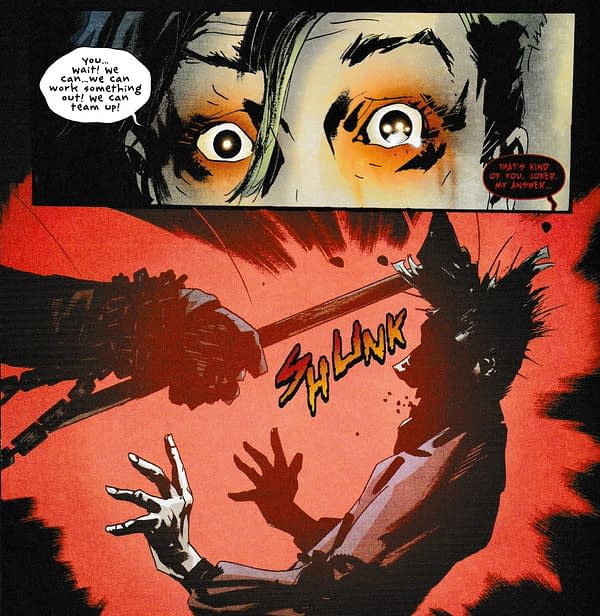 Except that wasn't the Joker, but one of his many doubles. Or triples. Or quadruples. And Batman gets to explain to Commissioner Gordon (and the audience) just what the Batman Who Laughs is.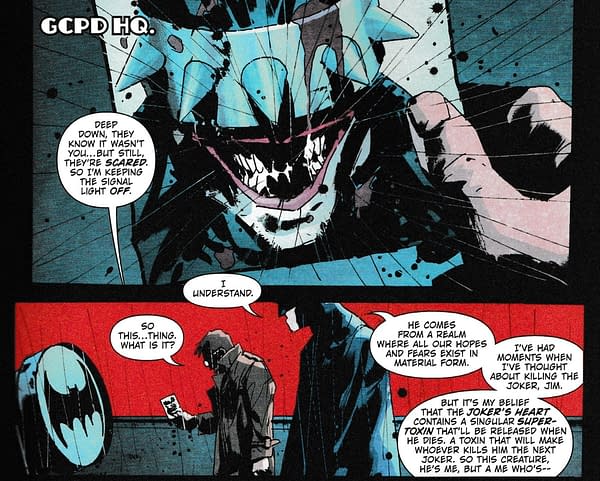 And so we have a Joker, being pursued by the Batman Who Laughs who decides to test Batman's belief.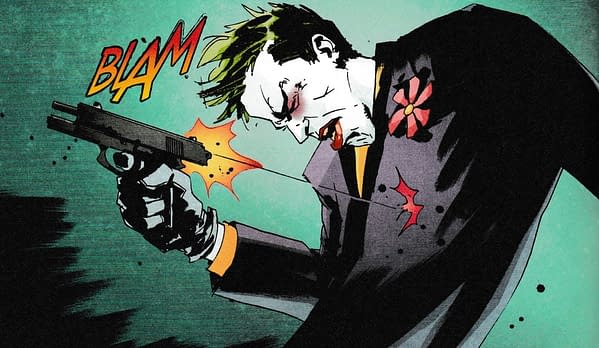 …kill himself…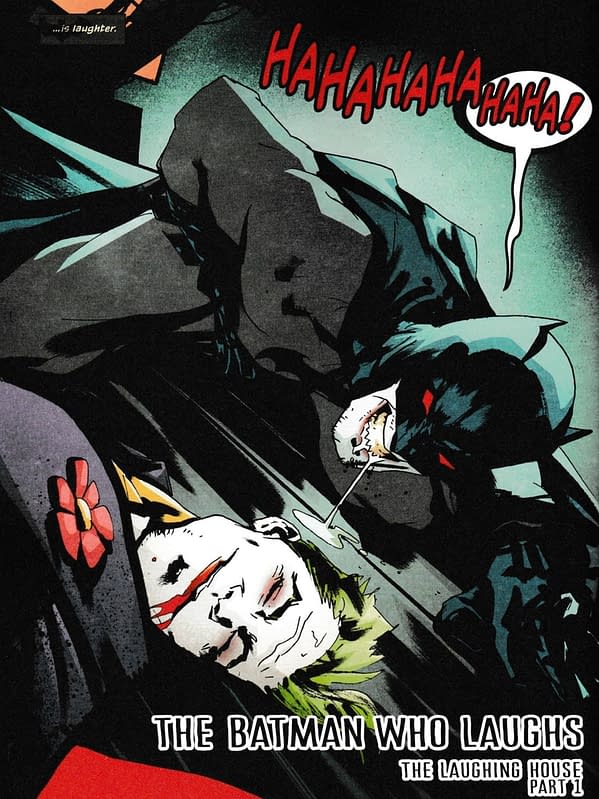 …and trigger a second Batman Who Laughs in order to defeat the first. Joker-style logic, of course.
While over in Detective Comics #994, the first in a run by Peter Tomasi and Doug Mahnke, the rec ently de-aged Leslie Thompkins working at the Park Row Community Centre with a Mr Giordano (named after her creator, Dick Giordano) ends up with a monster attacking her with a Bat Signal to get to Batman…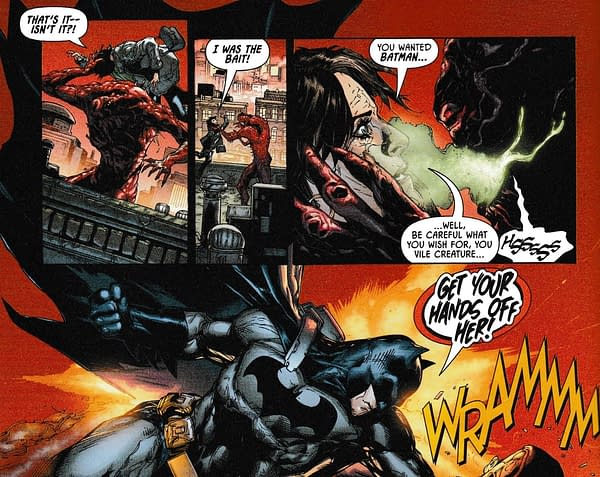 But leaves her with a green gaseous substance that has the expect you think it might given that this article concerns the Joker…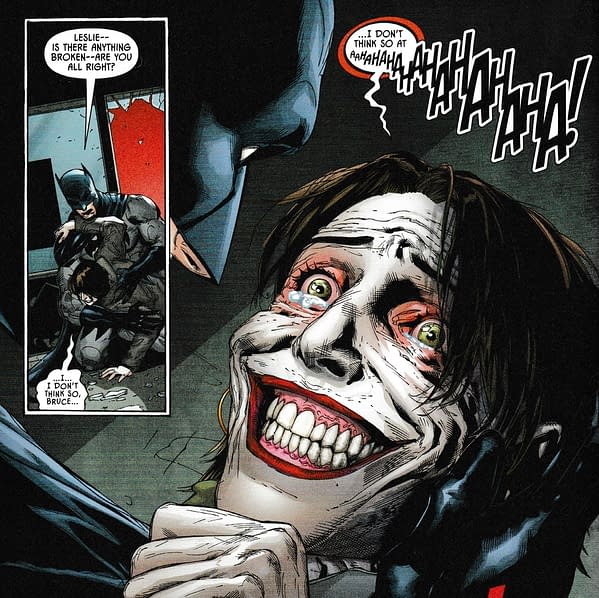 Was the monster sent by the Joker? Is he alive or dead right now? Is this a permanent rictus grin for Leslie or is there a way out?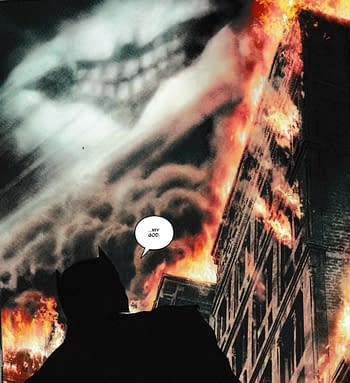 Batman Damned #2 still has a Joker who is dead. But as the cover suggests, a Harley Quinn who is stepping up to that role.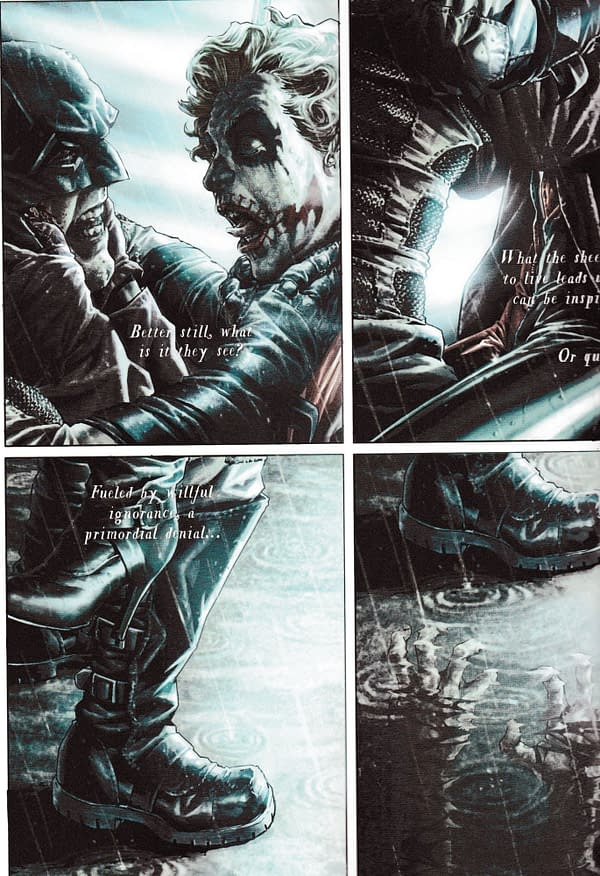 And a Batman who seems to want to take her back to the end of Alan Moore and Brian Bolland's The Killing Joke, via the raindrops on the puddles on the ground…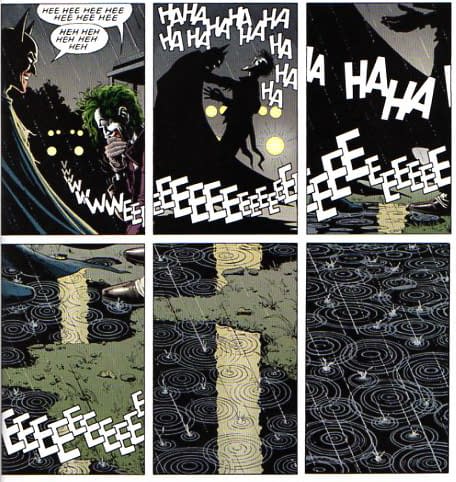 However you want to interpret that…
BATMAN DAMNED #2 (OF 3) (MR)
(W) Brian Azzarello (A/CA) Lee Bermejo
As Batman's descent into the madness of Gotham City's decadent underbelly continues, he must try to exorcise some of his demons…and who better to help than the Demon, Etrigan himself. And where there's demons, there's also a Deadman, a Spectre, an Enchantress and a host of other supernatural friends and foes-it's a veritable Grand Guignol! In Shops: Dec 12, 2018
SRP: $6.99

BATMAN WHO LAUGHS #1 (OF 6)
(W) Scott Snyder (A/CA) Jock
Left rattled by the events of DARK NIGHTS: METAL, Bruce Wayne must come face to face with the nightmares spawned from the Dark Multiverse. But even though evil devoured evil in the collapse of Challengers Mountain, the Dark Knight still has his doubts. He discovers that the Batman Who Laughs not only survived the fight with The Joker at the end of METAL, but now he is enacting a sinister plan across the Multiverse-something both terrifying and oddly familiar. But when Bruce Wayne realizes the only way to stop this madman is to kill him, he must consider violating the very rule Batman won't break…the same rule that created this insatiable villain-the Batman Who Laughs!In Shops: Dec 12, 2018
SRP: $4.99

DETECTIVE COMICS #994
(W) Peter J. Tomasi (A/CA) Doug Mahnke, Jaime Mendoza
Batman's strangest case begins as the new creative team of writer Peter J. Tomasi and artist Doug Mahnke take over DETECTIVE COMICS!
Commissioner Gordon calls in the Dark Knight Detective when there's a murder at the Gotham City Aquarium-staged to look exactly like Thomas and Martha Wayne's crime scene, right down to the Playbill and pearls. How does this bizarre homicide tie into the shadowy monster that attacks Dr. Leslie Thompkins? This creature looks to wage a war on Batman-and it's using Joker Gas to do it!In Shops: Dec 12, 2018
SRP: $3.99
Enjoyed this article? Share it!