How The Justice League Really Despise Each Other (Spoilers)
Last month saw the release of Justice League #44 from Robert Venditti and Xermanico, which saw the Justice League influenced to reveal their innermost resentments towards each other. And like a celebration of Festivus, they call come to the fore, courtesy of The Spectre going wild with his spirit of vengeance stuff. With each member of the Justice League having their own resentments to share. Batman to Superman over Clark not telling Bruce that he was going to spill the word about his secret identity to the world.

While John Stewart, the Green Lantern of the Green Lantern Corps has a bit of an inferiority complex when it comes to Superman.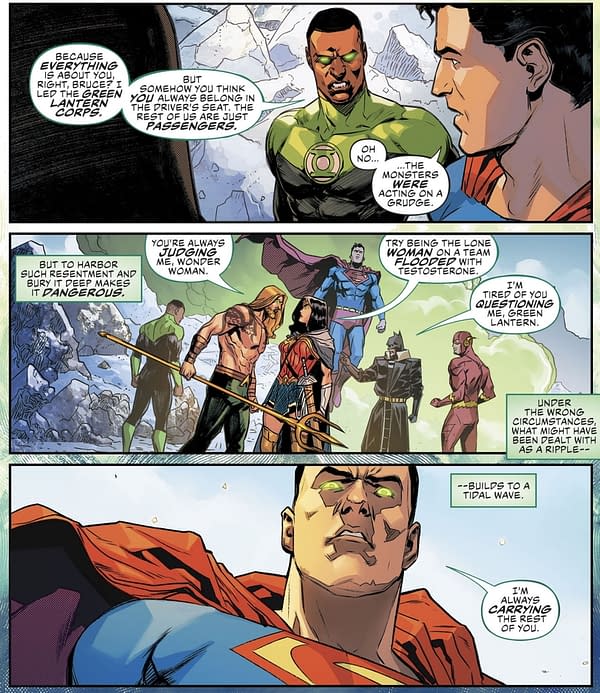 One that Superman agrees with. So it continues in today's Justice League #45, now drawn by Eddie Barrows, with the vengeance of the Spectre exhibiting itself physically. Luckily Batman was wearing his big boy suit.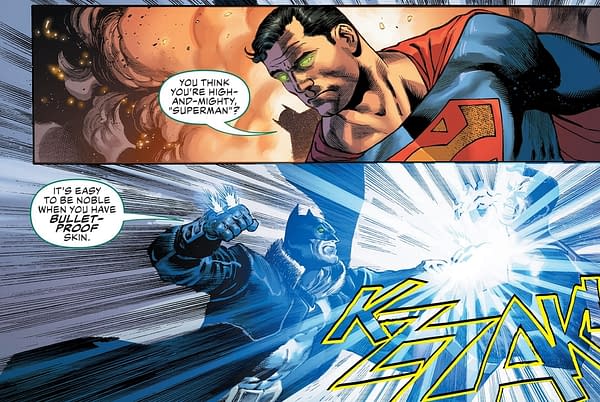 Flash going against the Green Lantern's military background and being taken for granted…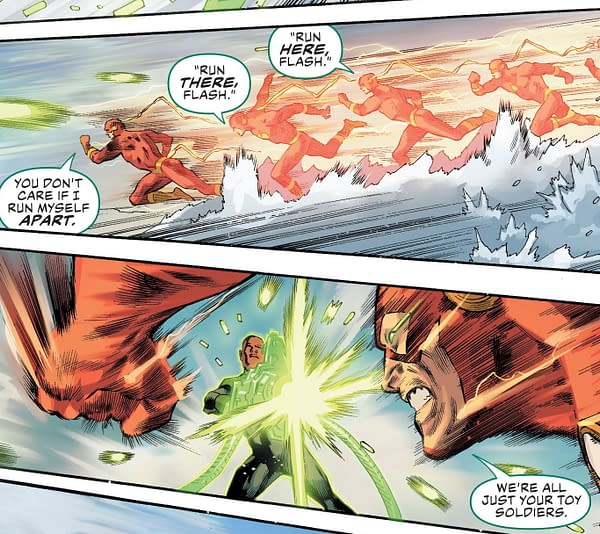 The royals engaging in a monarchy-off.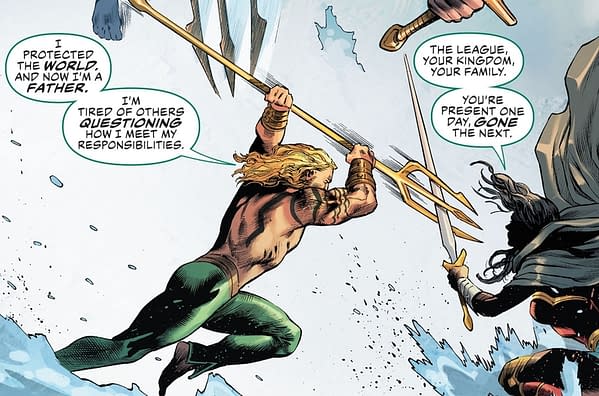 Batman burns Green Lantern with his own green flame.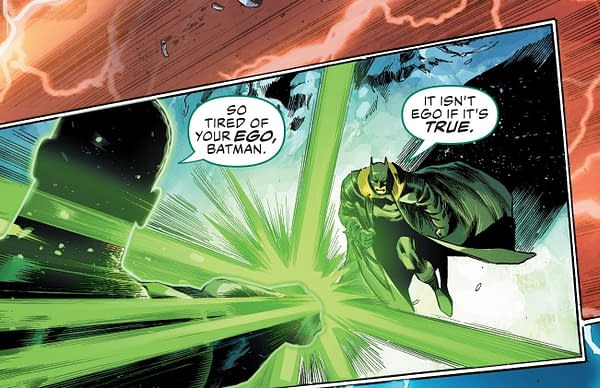 Superman and Flash have a fastest-ever grudge going back decades…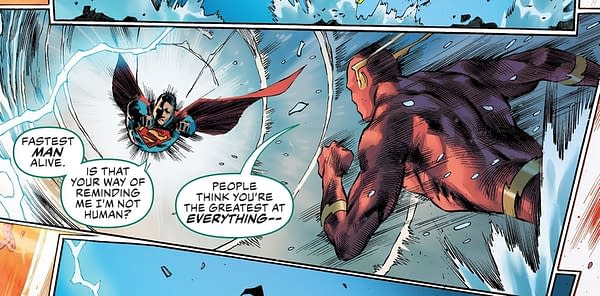 While Bruce Wayne is a big old hypocrite.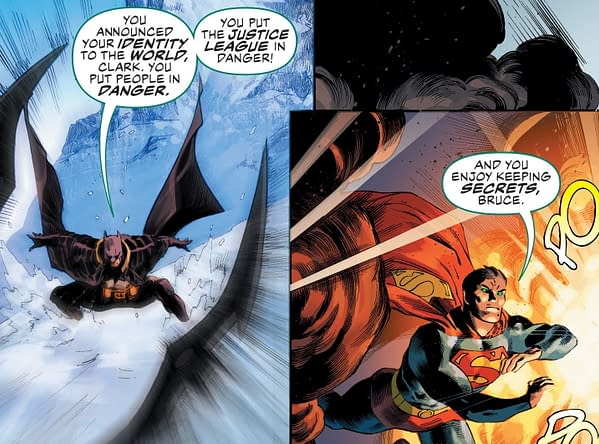 Green Lantern brings the burn back to the Flash.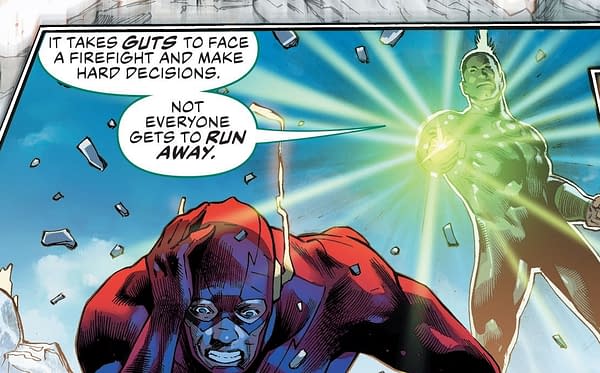 While Batman gets to have the last word.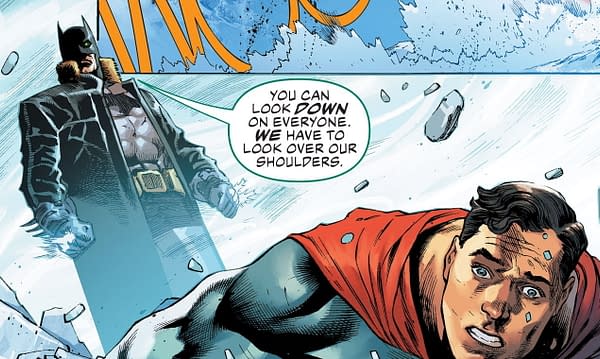 Obviously everything gets sorted out. But something does make be want this all the time. Should Batman and Superman be friends, even if their mothers have/had the same name? Also, that reminds me, when is Clark going to tell Batman that his parents are alive again? Also, that they don't have to be contained in a Hannibal Lecter get-up?
JUSTICE LEAGUE #44
(W) Robert Venditti (A) Xermanico (CA) Francis Manapul
Cold war kickoff! After receiving a distress signal from Aquaman, the Justice League travels to Antarctica, where they discover an ancient prison at the bottom of the legendary pit of Tartarus. But who picked the locks within? Freed from their shackles, creatures of myth and horror emerge to battle the team, while the League must confront their own personal demons. What exactly lies at the base of this well, and what will be left of the Justice League when they discover its secret?In Shops: May 20, 2020 SRP: $3.99

JUSTICE LEAGUE #45
(W) Robert Venditti (A) Eddy Barrows (CA) Francis Manapul
The Spirit of Vengeance goes global! After spending untold time in isolation, the Spectre is back, and his thirst for retribution will ripple across the Earth! As old wounds are reopened under the Spectre's unstoppable influence, it's up to the Justice League to stop the conflict. But how can they act on a global stage when they must first contend with their own resentments?In Shops: May 27, 2020
SRP: $3.99