Ken Kristensen has a lot of comic book-related projects. Some involving actual comic books. An Academy Nicholl-award-winning screenwriter, he was story editor/writer on Happy for SyFy, based on Grant Morrison and Darick Robertson's Image comic, story editor and writer on Marvel's The Punisher for Netflix, and back in the day he was Location Manager for Brian Singer's Superman Returns.
He is currently developing a TV adaptation of his Image comic Todd, The Ugliest Kid On Earth for FX, he served as Consulting Producer/writer on the ill-fated Marvel/Hulu Ghost Rider show, he is developing an adaptation of Tony Hillerman's best-selling Leaphorn/Chee crime novels for HBO and is currently Supervising Producer/writer of a big unnamed action series for another premium cable network.
He also wrote comics such as the aforementioned Todd, Michael Chabon's The Escapist, Fairy Godbrothers, Indestructible and Oblivi8n. But not for DC. Well, Bleeding Cool has learned from well-connected sources that it is expected Kristensen will be a major figure in upcoming DC Comics titles. Like Tim Sheridan who we mentioned earlier, he is one of a number of new creators to DC Comics that Bleeding Cool will be profiling in the days ahead, brought into DC by Dan DiDio in recent months. Possibly 5G/Generation Five titles, possibly Black Label titles, that kind of detail will come later. Ken is part of DC's Big Change that we were talking about over the weekend, a move at DC Comics away from the usual comics writer talent base, to TV, film and animation writers, with the intention to bring in new energy – fans of the comics but people who who have pursued that interest in other directions, with other influences and voices.
What books Ken would be working on, I don't yet know.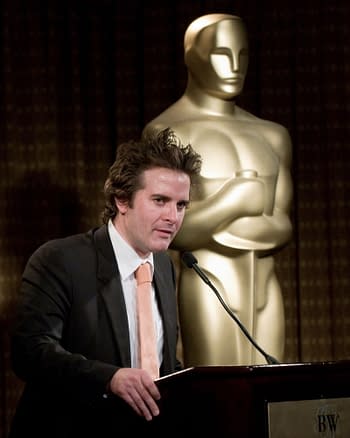 Keep up with what – and who – Bleeding Cool are reporting about DC's Big Change in the next few days, with this tag.
Enjoyed this article? Share it!