Kenneth Rocafort off Sideways #6 as Well? DC Nation Says Brett Booth is On…
The DC solicitation for Sideways #6 says:
SIDEWAYS #6
(W) Justin Jordan, Dan DiDio (A/CA) Kenneth Rocafort
Thanks to his dimension-hopping powers, Derek James is having a terrible, horrible, no good, very bad week. As life-changing secrets are revealed, one missed phone call will set in motion a tragedy so personal for Sideways that no one will see it coming (you've been warned). A can't-miss issue, as Sideways' life continues to go…well, you know.In Shops: Jul 11, 2018
SRP: $2.99
However the listing in DC Nation #2 says: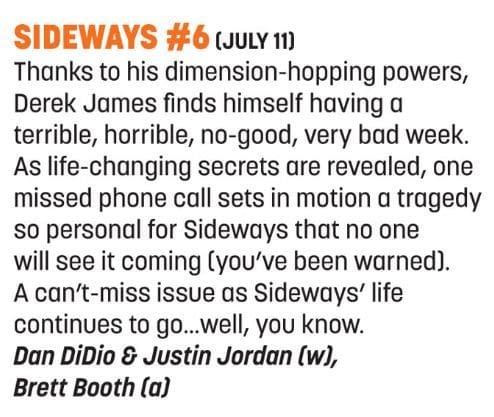 Brett Booth, not Kenneth Rocafort?
The reason that this is a thing is that Kenneth had gone the longest on one of the New Age of DC Heroes than any of the other artist creators on the books — a line that was intended to reward artists more, give them creator participation, lead billing, and give them more storytelling duties, working from a plot rather than a script. Jim Lee didn't last an issue on Immortal Men. Replaced by Ryan Benjamin, who was then joined by Richard Friend and then replaced by Tyler Kirkham.
With its sixth issue Damage was on its fourth artist team, initially Tony Daniel and Danny Miki, then Cary Nord, then Clayton Henry, and now Diogenes Neves and Trevor Scott since.
Ryan Sook, initially promoted as solo artist on The Unexpected is now co-artist with Cary Nord with the first issue, who seems to be rescuing the DC New Age of Heroes titles one at a time. Nord draws all of issue two and three as well.
The Terrifics dropped Ivan Reis and Joe Prado for Evan Doc Shaner. Then replaced by Joe Bennett and Sandra Hope. And then Dale Eaglesham.
Silencer dropped John Romita and Sandra Hopefor Viktor Bogdanovic. And then Patch Zircher.
And New Challengers drawn by Andy Kubert for three issues, has V. Ken Marion draw the fourth issue.
And Sideways #5 dropped Kenneth Rocafort for Robert Gill. Kenneth managed a then-record four issues and was solicited as returning for the sixth. But now looks like Brett Booth is stepping in. So who is right? DC in Previews or DC in DC Nation?
While Curse of Brimstone? All five solicited issues are drawn by Philip Tan. The king of the DC New Age of Heroes titles…
UPDATE: Brett Booth says DC Nation is incorrect…
Sorry, that's not correct. https://t.co/AyuE0oMDeC

— Brett Booth (@Demonpuppy) 9 June 2018