You can't say we didn't warn you time after time after time that Kieron Gillen and Dan Mora's Once & Future #1 was trending to be a big hit for Boom Studios, filling that void of the soon-departing The Wicked + The Divine.
They blew away expectations with a 50% jump at FOC resulting in over 31,000 copies ordered, putting them in similar territory to Gillen's recent Image launch of the hit series Die, but it turns out that demand was even greater than that number indicated – and Once & Future #1 has sold out at Diamond, just under two weeks before it goes on-sale August 14th.
It's not surprising given the popularity of both creators involved with Once & Future – and the sales from $25-$80 for the special SDCC limited edition version of issue #1.
Early sell-outs aren't uncommon for big launches from Marvel – think House of X #1 and Powers of X #1 getting second printings – but it's rare to see a creator-owned series do similar, with only one cover and full returnability offered for retailers.
Expect Boom to announce a second printing very shortly, partly because they'll need copies of Once & Future #1 in stores soon to meet demand and partly because they still need to get to that glorious 6th print if they're to take the edge in the never-ending battle of Dr Kieron Gillen vs Not-A-Doctor-But-Perhaps-A-Timelord-Nonetheless Kieron Gillen.
But we're now living in a world where Boom Studios and Image Comics are in direct competition by launching multiple creator-owned series over 30,000 units in a year and each time finding the resultant demand causes immediate sell-outs – so this can only be good news for comic stores and fans everywhere. If they can get a copy.
Now perhaps we can negotiate a peace summit between Ross Richie and Eric Stephenson , or Arune Singh and Kat Salazar to get a Die Once & Future crossover?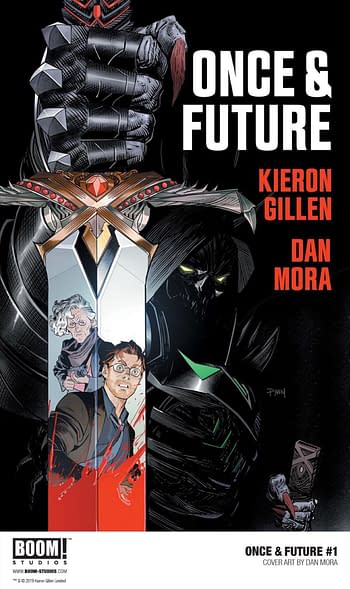 Enjoyed this article? Share it!