When the latest January 2019 solicitations were released, there was one question on many people's lips.
@DCComics @geoffjohns no shazam in January?

— Kevin Black (@lgaz123) October 16, 2018
An absence of Shazam #3 by Geoff Johns and Dale Eaglesham.
@daleeaglesham @geoffjohns any chance either of you can share any information as to why January solicitations do not include Shazam! #3?

— Steve (@McPractical) October 16, 2018
But though many people asked the question…
@geoffjohns why wasn't #Shazam #3 in DC's January Solicitations?

— Shani Shlapobersky (@Kepempem) October 16, 2018
… no one was answering.
@geoffjohns … PSST.. why was there no Shazam book mentioned in January solicitations Sir? (said in a whisper in case I missed it and dont want others to know I just skimmed the solicitations)

— All Things Hulk Talk! (@allthingshulk) October 16, 2018
That's where Bleeding Cool comes in. Because we can tell you that Shazam #1, scheduled for the 21st November 2018, is slipping a couple of weeks to the 5th of December.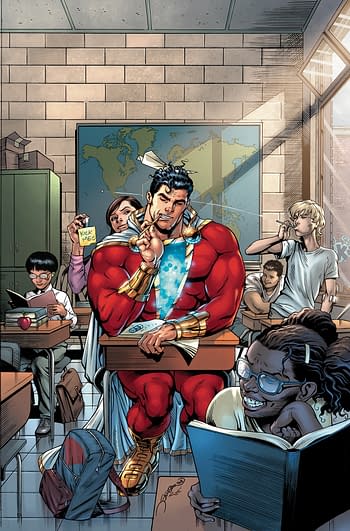 Now issue 2 is still scheduled for December 19th, but we all know that won't happen. It will be pushed into January 2019. Shame, as it has a Christmas-themed cover…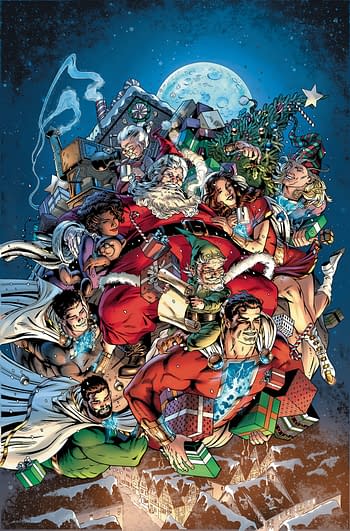 And that is why no Shazam #3 was solicited for January, there will be a Shazam #2 in that month and DC Comics is trying to wriggle the schedule around to accommodate the late series. So look for #3 to pop up in February – a month after #2…
SHAZAM #1
(W) Geoff Johns (A/CA) Dale Eaglesham
The superstar team of writer Geoff Johns and artist Dale Eaglesham reunite to launch the first all-new SHAZAM! monthly title set in the DC Universe in almost 20 years! (What took you guys so long?!)
Teenager turned super-hero Billy Batson struggles to balance school and superheroics! (Guess which one is more fun?) But when Shazam unlocks a shocking secret deep within the Rock of Eternity, it challenges everything he knows about the worlds of magic and his family's future as its champions! Also, witness the bizarre team-up of Dr. Sivana and Mr. Mind as they set off to build a society all their own! Don't miss the start of an epic run in the making as "Shazam and the Seven Realms" begins!

SHAZAM #2
(W) Geoff Johns (A/CA) Dale Eaglesham
"Shazam! and the Seven Kingdoms" part two! The acclaimed team of writer Geoff Johns and artist Dale Eaglesham continue the first all-new ongoing SHAZAM! title in decades!
Billy Batson has uncovered a secret deep within the Rock of Eternity that sends him on his most personal mission yet-one that threatens to tear apart his family! Meanwhile, the truth behind the Rock of Eternity's purpose and its forbidden past unveils new and familiar worlds (that Dale may go mad drawing)! Plus… talking animals?!
Enjoyed this article? Share it!