Corey Pruitt writes for Bleeding Cool,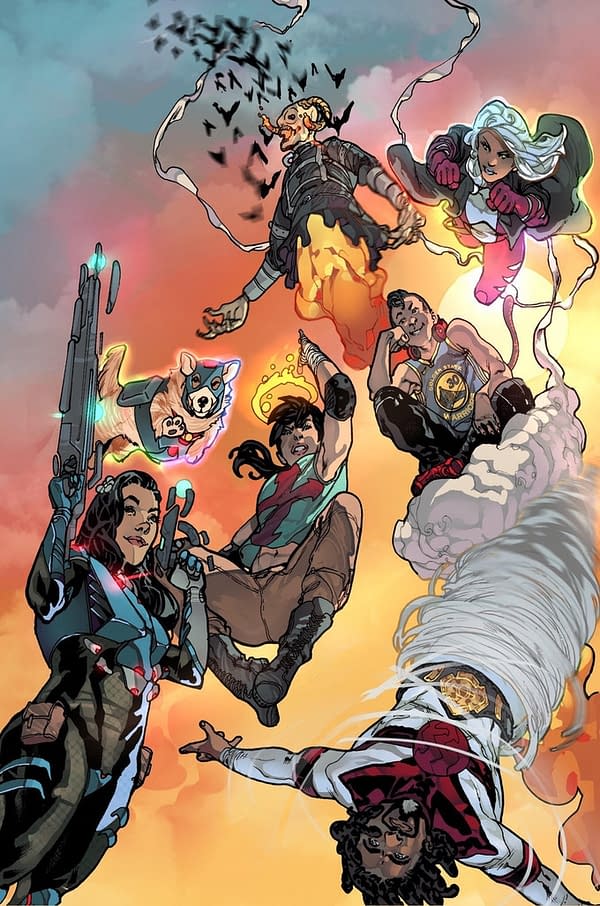 "Leaders of the Free World" is an ongoing comic written by me, Corey Pruitt, drawn by Eli Johnson and lettered by Toben Racicot. In our story we ask, "What if you had the power to save the world, but to do so you would have to break the law. Would you do the right thing? What is the right thing?" Those questions are the driving force in each issue of our comic, "Leaders of the Free World." We launched a successful Kickstarter last year and are now campaigning for issue 2!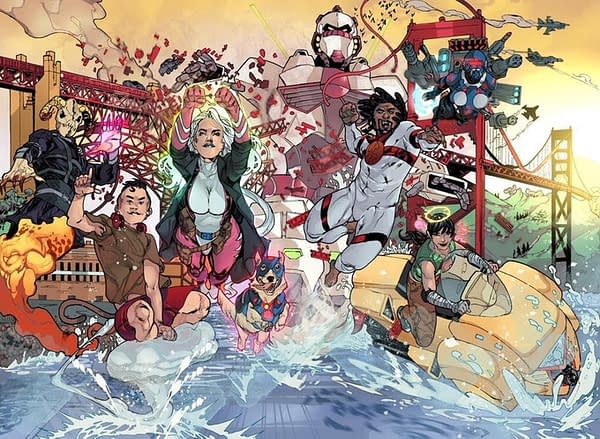 They came out the sky, seven beings with incredible powers referring to themselves as "The Godsend". They came to our planet to help evolve us into something greater, something more. Using their advanced technology, the Godsend bestowed upon us great powers and abilities. But with that same power came greed, corruption and destruction. Using our new abilities, the human race went to war over who should rule the Earth and billions were killed. The Godsend intervened but were too late, the damage had been done. Teaming up with the United Nations, the Godsend are now enforcers of the Archetype Papers, a law that prohibits super powered beings(named Archetypes) from operating outside of their respective countries. And then the world went back to normal, but at what cost? And what happens when the whole world is in danger and it takes a team from all over the world to save it?
What makes my comic different from others is that diversity IS the driving force behind the book. Six beings from around the world answer the call to become a supergroup to save the world. But once the world is saved, what happens next? The team is forced to unite the world against all odds. They have to face the Godsend, the United Nations and almost every superhero in the world to fight for what they believe in. Now without further ado, here are your Leaders of the Free World:
Surreal the Monkey King:
Cong Li didn't ask for any of this. But then again, every descendent of the legendary warrior Sun Wukong didn't either. Since as far as man can remember, there has always been a Monkey King. And when he passes a new one is born. Each incarnation of the Monkey King has always been of Chinese descent. Cong is the first incarnation of the Monkey King that wasn't born in China. Instead, Cong was born and raised in China Town, San Francisco. An old school hip-hop head, Surreal brings a light heart and fun to the team.
Eco
Illyas Godfrey is the son of Gaia and a Haitian fisherman. He has traveled the world looking for a place to belong. And he found it in the Archetype Wrestling Federation. As the AWF champion, Illyas now feels like he has found his place in the world. But little do the Federation know that Illyas is actually a Demigod and NOT an Archetype. Gaia has tried to convince her son that he is meant to do more than just entertain. Looks like he'll need more convincing. Eco uses his strength, speed and Nature manipulating abilities to assist the team.
Tech-Neek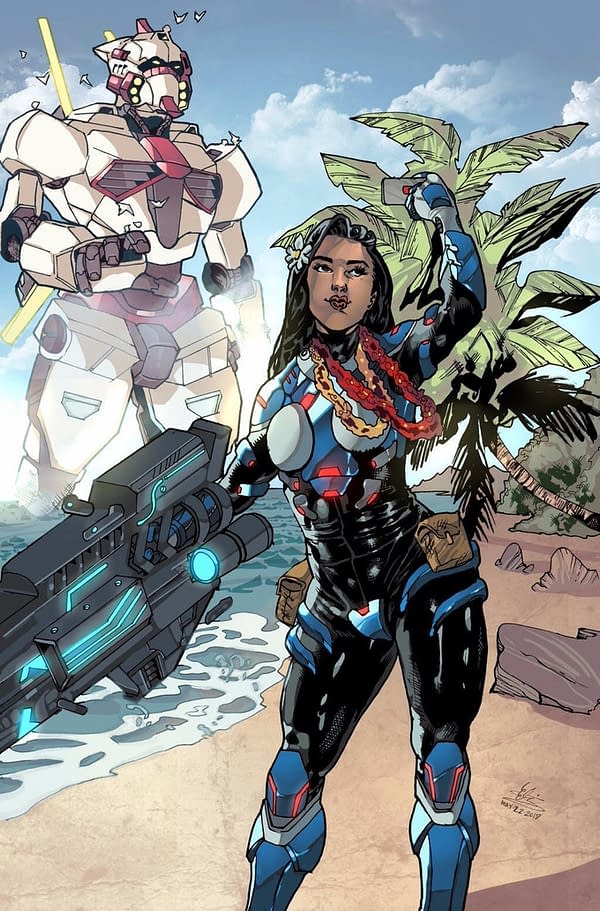 The twins Noah and Neekiah Tupuola are two of the smartest people in the world. Their mastery in robotics and technology have made the island of Samoa the most technologically advanced nation in the world. They have created technology that has assisted the world, everything except the ability to gain super powers. Not one to be outshined, Noah decided to build his own suit that rivals the Archetypes. But instead of giving it to the world he kept it too himself to protect Samoa as the superhero Tech-No! But a huge accident left him incapacitated, and now his sister must take the reigns in a suit she doesn't know how to control as Tech-Neek! Will she be able to use her control over technology and technomorph abilities as good as her brother? Looks like she'll need some help…
Doohickey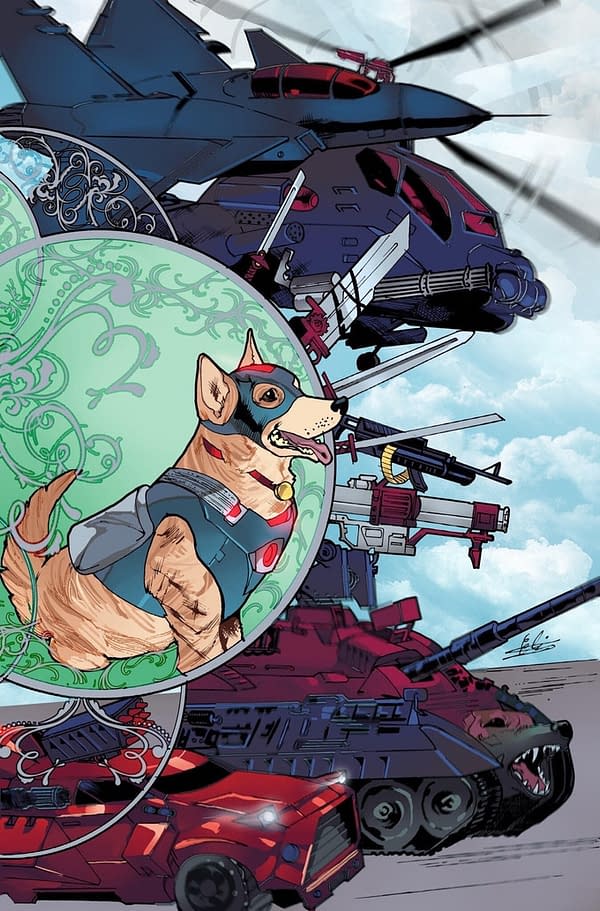 Noah and Neekiah's first creation Doohickey is actually a reanimated cyborg version of their mom's late dog named Doodad. Noah used Doodad as a lab rat to test out the material that he would eventually use to make the Tech-No suit. Unfortunately Doodad passed away from the process. However the material morphed into a version of Doodad. But this version is a shape shifter that can change into any type of weaponry or vehicle. Renaming him Doohickey, the twins go into battle with everyone's favorite Cyborgi for assistance!
Doctor Séance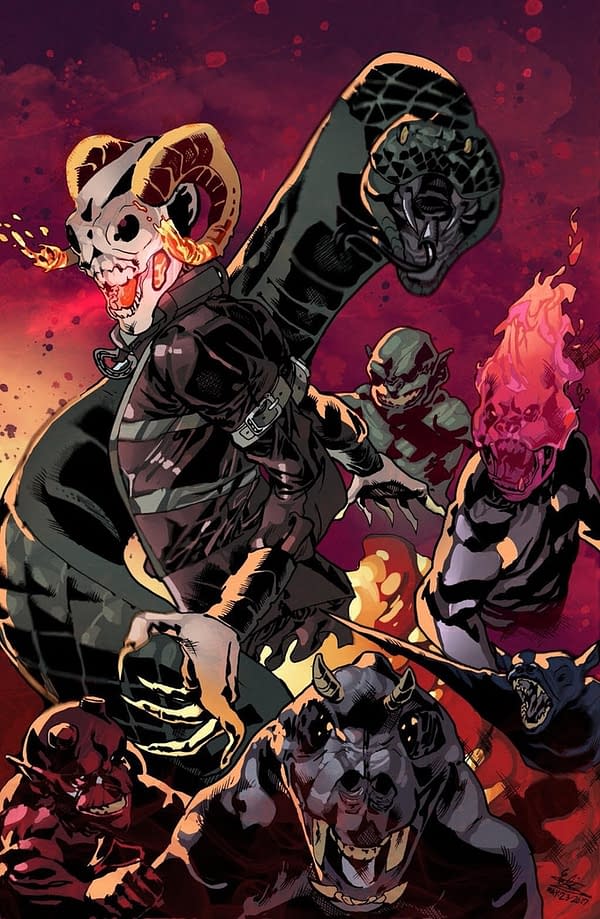 Moises Cristobal is Mexico's greatest Magician. He comes from a long line of Sorcerers, Witches and Warlocks. Going by the name "Spellcheck", Moises has assisted Mexico's Mightiest Heroes as one of their more powerful members. But what the team doesn't know is that Spellcheck is holding a dark secret. The origin of his powers come from the evil entity known as "Doctor Séance" who has been imprisoned in a skull for hundreds of years. And when he inevitably escapes, him and his minions will rule the Earth once more…so why is he on a team with a bunch of superheroes? Stay tuned…
Medic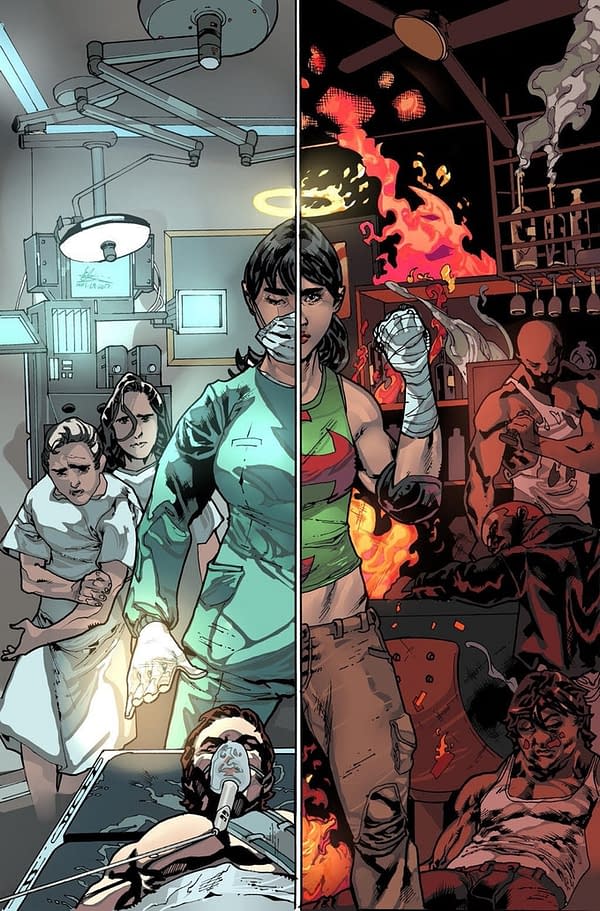 Analyn Mendoza is the daughter of an Angel of War and an Angel of Mercy. During the New War in Heaven, the two Angels met and fell in love. Knowing that what they've done is forbidden, they took the human form of a Filipino couple and settled in the Philippines. Eventually Heaven found out about the fugitives an they were called home, leaving a 12 year old Analyn to fend for herself in the streets of Manila. Inheriting both parents ability to heal and destroy, Analyn grew up to be a doctor and protector of the weak.
Moonshine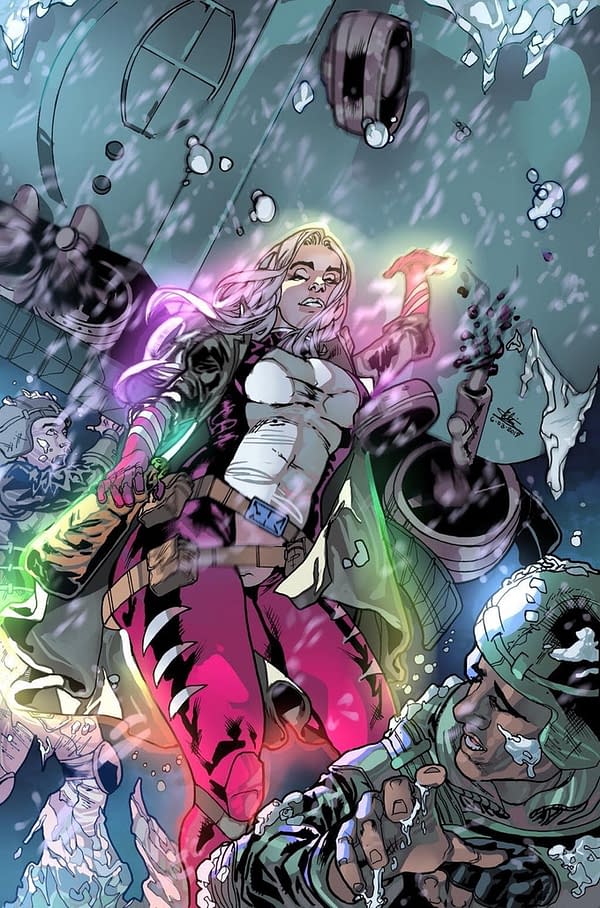 Pantheon is the leader of the Godsend, beings of immense power from another world. Him and his wife Lunar have made Earth their home. Unfortunately Lunar has fallen to a lot of the ways of man. Partying, drinking, showing up to fights drunk, Lunar just can't seem to get it together. So Pantheon decides to leave her to be with someone else. Lunar feels abandoned and exiled from the Godsend, so her addiction gets even worse. So she decides to do her own line of super heroic work. Using her amazing strength, flight, speed and cryogenic powers that are dependent on the moon Lunar(renamed by the public as Moonshine because of her drinking) joins the team as the resident powerhouse.
Now that you've met the team, a little about myself. I've been reading comics for over 30 years and I can say that there's never been a better time to read them. Through the internet we can reach out to people and share ideas about how we'd write a creation of your own. And through Kickstarter we are now able to make our ideas to life! So after being told "Well why don't you make your own?" I decided to do just that.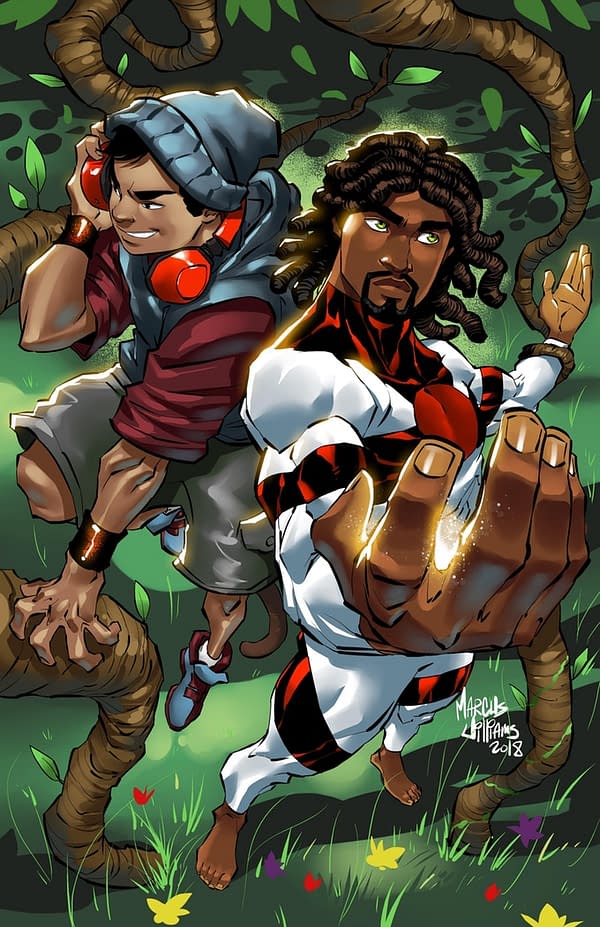 There's nothing harder than creating something and then asking people to give you money to help make it come to life with promises of incentives. So to ensure that we are legit, we have already completed a Kickstarter and fulfilled all pledge rewards! We aim to do it again with the 2nd campaign, so hopefully you can join us!
I've also been blessed to find a hard-working artist in Eli Johnson who I met off Reddit. He's just the man crazy enough to bring my ideas to life on paper. He's in his early 20s and I'm in my 30s, so if he can get a career in doing comics I'd be satisfied. I'm a married man with kids already and a full-time job. Would I like to do this full time? Absolutely. But if not if I can at least get Eli a hired by a comic company? I'd be satisfied.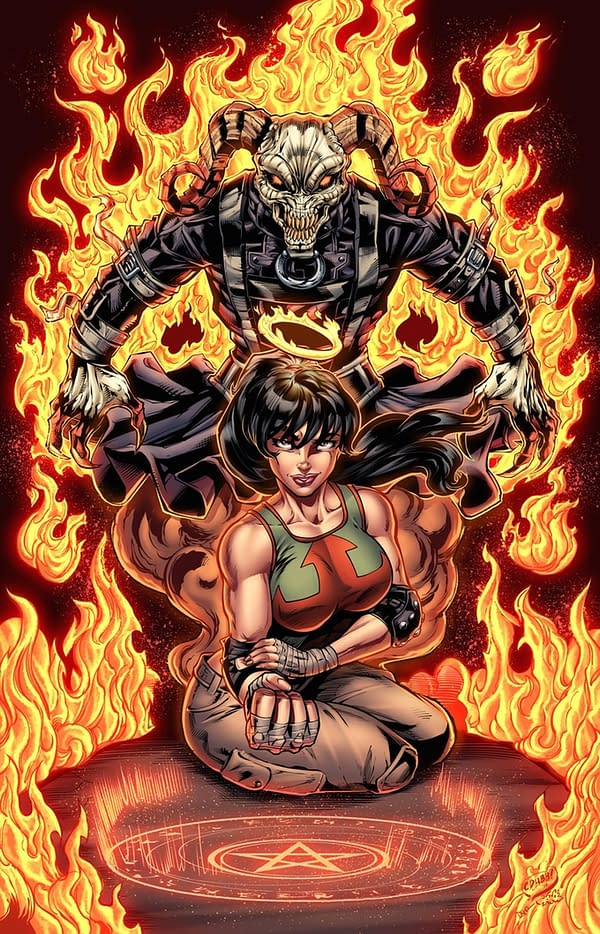 One of the most overlooked talents in making comics is the letterer, and Toben Racicot is one of the best in the business. He works VERY fast, offers great communication and is very professional. I couldn't ask for a better team on this journey.
So please check out the Kickstarter for Leaders of the Free World Issue 2 going live right now. And if you can't pitch in, it's all good. Thanks for reading and please tell a friend! But if you CAN pitch in…
WEEKEND INCENTIVE FOR BLEEDING COOL READERS!!!
This weekend only, if you submit to the campaign for this weekend only, I will send you a PDF of issue 1 INSTANTLY. So whether we complete the campaign or not, you still get to read the first issue! And if I reach over $2750 I'll also include EXCLUSIVE art of the team done by numerous artists! HELL of a deal if I say so myself. So what do you have to lose? Help a couple brothers make the greatest comic you've ever read and pledge today!
Thank you all SO MUCH for reading this, and keep Rocking in the Free World!
Corey…
Leaders of the Free World Issue 1 on Comixology
Leaders of the Free World Issue 2 campaign on Kickstarter
Enjoyed this article? Share it!