Live! The Women Of Marvel Panel – 'You Fight Because You Have To And Because We Need You'
By Madeline E Ricchiuto and Rich Johnston,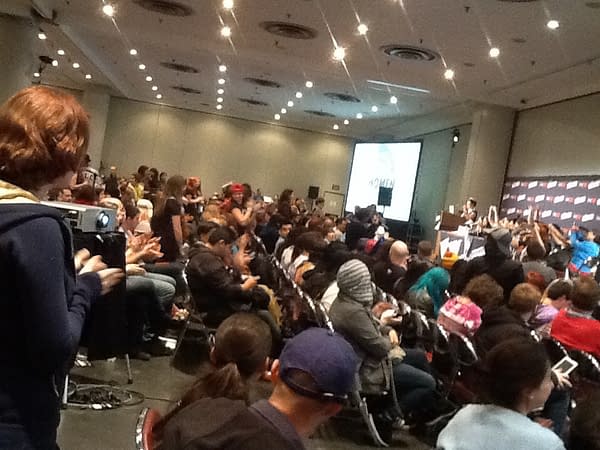 We start with Kelly Sue's traditional address to those women who read comics to raise their hands, to dispel any questions as to how to get women to read comics. They do. Then for those who want to write comics to stand up.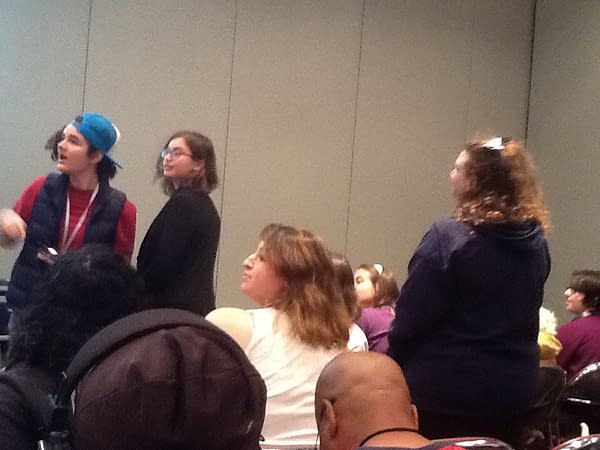 And then the exhortation to do it. To write, draw create comics, not just to have an idea.. "The only way out of the woods is through… Be brave, do it. We believe in you!"
We met those on stage. Jeanine Schafer, Senior Manager of Talent Relations, editors Sana Amanat and Kate Kubert, associate editor Ellie Pyle and Emily Shaw, producer and photographer Judy Stephens of Marvel.com, social media manager Ari Cowan who also runs the Women Of Marvel podcast, writer of Captain Marvel, Kelly Sue DeConnick, writer of Angela, Marguerite Bennett, writer of Ms Marvel, G Willow Wilson, writer of something about to be announced Margaret Stohl, artist of Squirrel Girl, Erica Henderson, artist on Angela, Stephanie Hans, artist on something also to be announced Stacey Lee, artist on Guardians Of The Galaxy, Ultimate Spider-Man and more, Sara Pichelli, and collected editions editor Jen Grunwald… the introductions took up almost half the length of the panel.
In Stacey Lee the artist on the new Spider-Gwen series to be announced at the Spider-Verse? With Ellis Pyle as writer? That's what it's looking like.
Kelley Sue Deconnick started with a short speech against the usual questions asked at women in comics panels, including my favorite pet peeve "how did you get into comics," and then moved quickly into a motivational speech for those would-be creators in the crowd. "The only way out of the woods is through… Be brave, do it. We believe in you!"
"This panel gets bigger and bigger every year!" Which is perhaps the most important thing to take away from the panel. Also: there is a Women of Marvel podcast every week. Check it out. It;s on iTunes andwww.marvel.com/WomenofMarvel
So they announced Nicole Perlman writing Gamora, the #WomenOfMarvel variant covers, Margaret Stohl writing a Black Widow novel and G Willow Wilson writing X-Men.
Talking about the incessant sexism of the comics industry, and industries in general, Kelly Sue pointed something that just appeared on her timeline.
@kav_p @femfreq @radicalbytes I WILL KILL ANITA TODAY AT #GGC14

— Anita Christian (@AnitaOfJesus_) October 12, 2014
Encouraging the audience to engage in blocking.
"Don't let them win."

"You fight because you have to and because we need you"

"I used to work in video games, and people would say 'hey there's a stripper here!'… You call them out for calling you a stripper and you move on."

"You find your people and you move on"
Questions about the use of the Scarlet Witch getting an ongoing series, got a nervous reception and a reference to the No More Mutants image….
An Invisible Woman book was also raised, with less impossibility, with a number of creators interested.
The question was asked why there are so many women on this panel, but only one on the Cup O Joe panel the other day.
Kelly pointed out that the female presence of women at Marvel is booming, but that's not who you see on that kind of stage. And how she used to know every woman working at the Big Two, and she doesn't now. And that next year expect a much stronger female presence at the panel.
Agents Of SHIELD and Agent Carter were raised as encouraging lead female characters, as well as Jessica Jones, with the idea that these may reflect back into the comic books.
Jeanine Schafer implored for people not to stop asking. And yes, that includes for a Black Widow movie.
They encouraged the use of certain books as gateway comics to get young readers into becoming regular audiences – G Willow Wilson's Mystic was mentioned. The movies were a good way to bring people into the world. The audience suggested handing out comics in cinemas. But book clubs were also seen as a way to get comics into new reader hands.
The Valkyries network of women owned comic shops were also hailed as a radical new alternative way of changing the demographic of comic readers – and apparently they get exclusive looks ahead at things…
"it starts with you, the more women and girls we have reading comics, the more women and girls we have in comics."
"We have a lot of younger teens reading online. With the YA stuff, Marvel is hardcore about it, its not watered down."
"I see on social media that a lot of young girls get into the movies but don't know where to start with the comics, so thats a good waypoint."