If You Love Wrestling And Comics, Brother, Get In The Ring With This Interview With Headlocked's Michael Kingston
With the endorsement of so many pro wrestlers, it's hard to argue that Headlocked isn't at least *in the conversation* for GOAT in the category of pro wrestling comic books (and yes, that includes the Ultimate Warrior comic with all that weird Santa stuff). After being recommended Headlocked by Ring of Honor World Champion Christopher Daniels himself, we caught up on some back issues and sat down to talk with Headlocked creator Michael Kingston about the latest volume of the pro wrestling coming of age story, The Hard Way, which is on Kickstarter now.
The book features a star-studded card, with interior art by Michel Mulipola, covers by Jerry "The King" Lawler, additional short stories by Ric Flair, Mick Foley, Cody Rhodes, and Kenny Omega (so far), plus pin-ups by Fred Ottman, Lince Dorado, Ed McGuiness, Robbi Rodriguez, Andy Belanger, and Rafael Albuquerque. Check out our interview, and head over to Kickstarter and preorder your copy, pick up some back issues, and maybe some rewards that are too sweet. ---
From what I hear, you were never a part of the wrestling business, but I have it on good authority from the Ring of Honor World Champion Christopher Daniels himself that your comic "spoke to him" and that a lot of wrestlers feel the same way. What makes Headlocked the most authentic wrestling comic in the business?
Authenticity is paramount for us. Wrestling is such a fascinating subculture to me and even the veterans will tell you, there's always something to learn. Luckily I've been able to amass a virtual library of wrestling knowledge just in the contacts I've developed. I know stars, rookies, veterans etc. I don't often have questions, but when I do, it's pretty much just a text away.
In addition, I've done a ton of my own research. I've tried to seek out a variety of voices in the wrestling industry to get their perspectives on things. I've read all the books, watched the docs, read the sheets, talked to the boys…and since I did want to have a feel for some things, I spent a weekend with some independent workers in Virginia taking bumps and running the ropes. So I have a bit of a physical understanding too.
But my real secret weapon is our interior artist, Michel Mulipola, who wrestles in New Zealand under a mask as Liger. Even with all the knowledge at our disposal, we still need to display it the right way. You can only get so far with an artist and YouTube clips. But Michel has done it all…he was a tag champ with Haku, for Pete's sake! He's the guy that can make sure that Mike Hartmann is demonstrating proper technique when he bumps and the right way to lock up. His art just ties everything together.
For a comic about pro wrestling, there's very little in-ring action in the comic. What is Headlocked about?
To me, Headlocked is two things: it's a coming of age story set in one of the craziest environments to come of age. It's a kid chasing his dream. I feel like for the most part, that's something everyone can relate to. Obviously, a girl getting on the bus to Hollywood has a very different experience than a guy signing up at The Monster Factory…but I think the mental/emotional journey for them is very much the same.
Also, when it's all said and done, Headlocked will be my defense of my wrestling fandom. If you've been a fan of wrestling for any length of time, you have to defend it to at least half of the people you know. I'm not sure there's anything else that's so instantly polarizing in entertainment. By using a college theater major as my main character, we're able to explore the craft of professional wrestling through the eyes of a performance artist and show people that it's so much more than oiled up dudes pretending to hit each other. I've already had a bunch of people who've read the book tell me that it's changed their perspective on what wrestling actually is.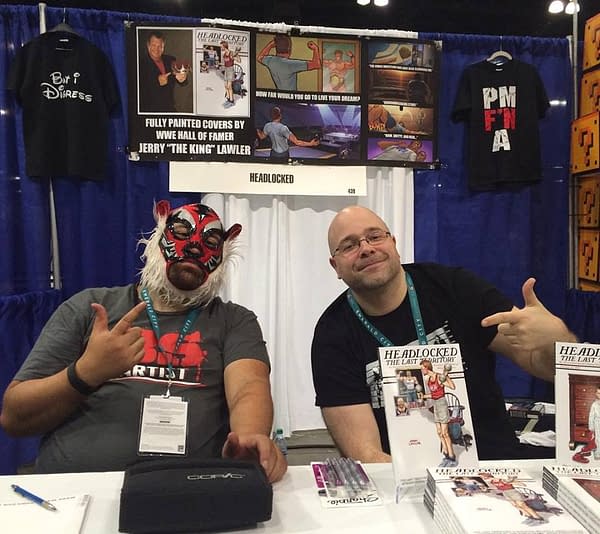 What inspired you to tell this story?
To me, comics never did wrestling the right way. As a lifelong fan of both mediums, I always felt like wrestling comics were created by companies that wanted to cash in on wrestling when it was popular. But those books weren't for wrestling fans…at best, you could argue they were for WWE fans but even then, they always felt hackneyed or forced. At some point, it became apparent that no one was going to make the wrestling comic that I wanted to read, so I made it myself.
You've already raised more than $20,000 on this Kickstarter, and it's not your first successful one either. That seems like the kind of success a lot of indy comics creators would do anything for. Why does crowdfunding work so well for this book?
Crowdfunding was a necessity for us because we were pretty much shunned by the entire comics industry. When I started this process, I pitched it to everyone….and we were summarily laughed out of the building. A representative for a top publisher straight-up laughed in my face when I pitched it him. A store in my own town refused to carry it…even on consignment…because he told me that "I can't ever see anyone reading this."
Since no one would allow me access to their audience, I had to find my own audience. Luckily, as a lifelong fan, I knew where to look. I knew what shows to attend, I knew what message boards to post on, I knew what news sites to contact. I spent a couple of years slowly building an audience one reader at a time. And in that time, a lot of wrestlers who liked comics… Hurricane, RVD, Christopher Daniels… really liked what we were doing and offered to help any way they could. Then I was able to get Jerry "The King" Lawler to be the series cover artist and Jill Thompson to design our credits pages. So once Kickstarter became a viable option of bringing a book to marketplace, we were able to make the leap with a decent fan base and some star power attached.
What do you follow now in terms of wrestling? What defines you as a wrestling fan?
I love everything. I can watch two guys in a high school gym having their 3rd match and find just as much entertainment as I can watching Wrestlemania. Obviously, I have favorites. Lucha Underground and Progress are my current favorites but I've also really enjoyed Smackdown since the brand split. There's so much great stuff out there.
One cool side effect of doing this is that it's made wrestling real for me again. I've made so many real friendships in the business and a lot of these guys are finally getting their due…so when I watch them, I'm rooting for them to win because I know it's better for their career. For example, I got super emotional watching Christopher Daniels win the Ring of Honor title last month. I mean, there's a guy will never get the full recognition for everything he's done for the wrestling business…so seeing him get that title was really a great moment. What about comics, same question?
Comics is tougher. I hardly read any superhero stuff anymore unless its written by my friends…the last superhero book I read was Tom King's Vision. I read a lot of independent creator owned stuff because I think that's really the vanguard of original storytelling. I like Southern Bastards, Descender, American Vampire, Monstress, Astro City, Bitch Planet, Moonshine to name a couple. I also try to support a lot of books on Kickstarter since I know what that struggle is like.
Comics and wrestling are similar in a lot of ways, as evidenced by the big crossover audience for the two. Why do you think that is?
Ultimately, wrestling is just a live action comic book. Larger than life characters in colorful costumes in a battle of good vs. evil. It always trips me out when someone says they like one but thinks the other is silly. I think the more interesting parallel is that as mediums, they are both dominated by a singular aesthetic that has essentially defined them to the public at large. To the mainstream, pro wrestling is a code word for WWE and comic books pretty much means superhero.
Mike Hartmann, the main character in Headlocked, views wrestling as an art form, essentially no different than the theater, which is probably the way a lot of fans these days see it too. But it seems like most of the comic deals with Hartmann getting his ass kicked, literally and figuratively, because of his naivety. So is he wrong about wrestling? And if so, what is pro wrestling if not the "performance art" Hartmann initially believes it is?
Frankie Kazarian once told me, "I wrestle for free. They pay me for all the bullshit." Headlocked is ultimately a love letter to the craft of wrestling and the main heel is the wrestling business, itself. I think that's the way it goes with most commercial art forms. What makes wrestling such a unique art form is that it essentially started as a con in traveling carnivals and has evolved to this place where a man can flip another man with his penis. But there's so much history and nonsense tied up in the in-between and that creates a lot of these conflicts. I think there's definitely a lot of wisdom in the old school point of view but I also think what Joey Ryan is doing right now is brilliant…this is the type of thing we'll be exploring as we move through the series. You have a lot of serious talent working on Headlocked with you. Can you tell our readers who's involved and what they're doing on the book?
So people understand, each Headlocked book has five chapters of Headlocked, which is Mike Hartmann's story. In the Kickstarter variants, we have short stories and art contributed by wrestlers that help flesh out the larger universe. We've been fortunate to have some big names contribute to previous books (AJ Styles, Samoa Joe, RVD, Booker T, Hurricane, John Morrison, Daniels & Kaz, MVP etc)
With that being said, this lineup is the biggest lineup we've ever had. We have Ric Flair, Mick Foley, Cody Rhodes, and Kenny Omega contributing short stories (if we get to 25K, we'll also have Penta El Zero M contribute a story). We also have Fred Ottman (Tugboat/Shockmaster) and Lince Dorado contributing pinups. And on the comics side, Ed McGuiness, Robbi Rodriguez, Andy Belanger, and Rafael Albuquerque are all contributing pinups. From front to back, this book is a murderer's row of talent.
A lot of people probably to match up the fictional characters in Headlocked with real life wrestling personalities. Is that a fruitless effort? Are any of your characters based on real people, or you dealing more with archetypes, or something else entirely?
No one is meant to be anyone. We definitely have some archetypes just so people have somewhat of a reference point but we're not talking about anyone in particular. There are, however, a ton of easter eggs for the keen-eyed wrestling fan…I'll write some in the script and then Michel will sneak some in the art. For example, we have a pair of strippers names Beau and Blake wearing Beverly Brothers themed outfits. It doesn't mean anything…it's just something we do to pop ourselves.
Does Hartmann's story have a planned ending? Do you ever see yourself doing a different comic?
I know how the story ends but how long we take to get there is completely up to the readers. Wrestling is such an amazing art form and subculture…I could write it forever if folks will support it.
As for another comic? Maybe. It's tricky. I work 70 hours a week at a regular job and then I'm out every weekend pushing Headlocked. I don't think I could handle another creator-owned series right now but If I could get some work for hire stuff that allowed me to ease up on the hours at my shoot job, then I'd definitely be down for it.
And this sounds crazy but my dream gig after Headlocked is to write a comic based on the horror franchise Leprechaun. There was a rough adaptation a few years ago that probably killed its viability as a comic property but I'd love to take a crack at it. For anyone not yet convinced to check out Headlocked, what are some of the sweet rewards they can get for backing the Kickstarter?
My favorite tier is the tiers that get people drawn into the book as wrestlers. From the beginning, Headlocked has been an entirely grassroots movement. So I love that fact that the people that have helped us the most have actually become part of the series. And then, as we grow and create ancillary products, your character grows. For example, we inked a deal with Filsinger Games to make a Headlocked expansion pack for their tabletop wrestling game and three of the eight cards are for characters that were created off Kickstarter backers. Jill Thompson has created original art featuring four different Kickstarter backer characters. I mean, that's pretty cool.
The main thing I would tell people is that you get a better book through Kickstarter. If you buy the book from me at a con or off our webstore, you're missing out on the extra content. And even though we're kickstarting our fourth book, you can back to get the first book or you can get all the books…it's completely accessible in price, format, and to new readers.
And if this don't get you pumped, I don't know what to tell you…
---
Head over to Kickstarter to get your hands on Headlocked.