Lucius Fox to Play a Big Role Next Year in Batman Comic – Is Luke Fox Being Teased?
Thanks to man-on-the-spot, Jonathan Sellers for this one. He's at the Batman Day event at Barnes & Noble at Union Square in New York, with Dan DiDio, James Tynion IV, Scott Snyder, Brad Walker and Peter Tomasi where he saw them announce the new Batman ongoing series team of James Tynion IV, Tony Daniel, Danni Miki and Tomeu Morey. But there was more to learn…? As well as the return of Nightwing – you know, proper Nightwing. Getting his Dick back.
Such as DC Comics publisher Dan DiDio saying that longstanding character Lucius Fox, the man who makes all of Batman's wonderful toys, will be playing a major role in Tynion's run – but then stopping himself from speaking any further.
Bleeding Cool has been reporting that DC Comics plan to replace Bruce Wayne under the cowl later in 2020. Their intention for it was to be a black male character and I understand that they had settled on Lucius Fox's son, Luke Fox, better known as Batwing. And that this was after considering Mr Terrific, a depowered Black Lightning and a brand new character, in the manner of Miles Morales.
Could this be a tease that this storyline is indeed underway? Is that the story that James and co are going to tell?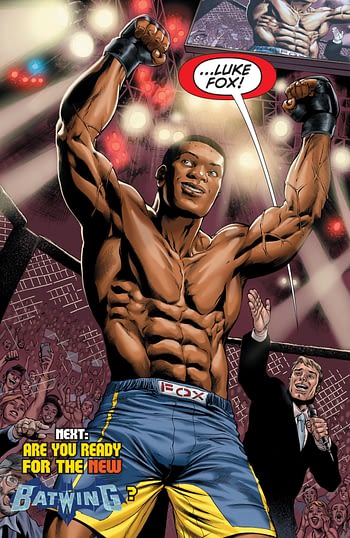 More as we hear it. Keep an eye with this Batman Day tag for more Bleeding Cool coverage.