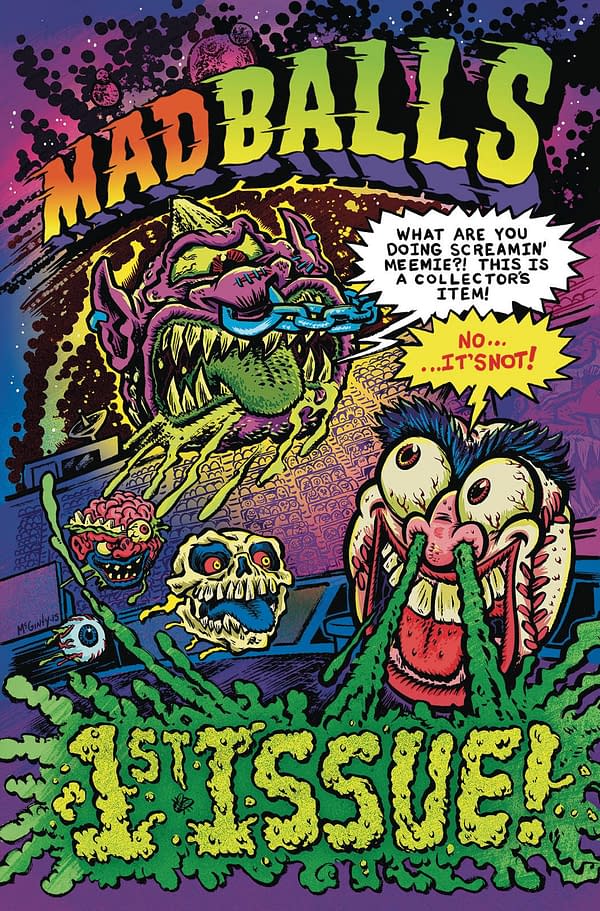 It was announced in 2014. And now, a couple of years later, the comic book industry will be getting what it has waited for, for so long. Or at least since Marvel stopped doing them.
A comic book based on the Madballs toys by Brad McGinty and Brian Smith. I'm not being sarcastic here, the revulsion that these things have returned from the presumed dead appears to be part of Lion Forge's pitch. From the April 2016 solicitations…
Madballs #1

(W) Brad McGinty (A) Brian Smith (CA) Brad McGinty

You thought – no, hoped – those disgusting creepy heads from the '80s were gone forever, but boy, were you wrong! When the headless Torsoids sabotage the Intergalactic Bizarro Bowl, the squabbling Madballs have to team up to take 'em down. Screamin' Meemie, Brain Bash, Skullface, and the rest of Madballs are back in this grosser-than-gross new adventure!

 4/20/2016

$2.99
At least it's under three bucks. Compared to he eBAy price for the Marvel comics which go for…
Oh.
Okay, I was already to make a joke about three for a dollar. Turns out it's more like three for twenty dollars.
Fine, as you were, then. Madballs #1, out in April….
Enjoyed this article? Share it!