Marvel Give Away 700 Issue One Digital Comics And Crash ComiXology, Launch Infinite Comics Weekly And Audio Adaptive Comics, Project Gamma, Hire Blair Butler For Earth's Mightiest Show, Online- SXSW UPDATE Marvel's panel has just begun at SXSW. Here comes Marvel First, the 52 Count and Project Gamma…
The panel's theme music is Queen's One Vision. Always remember it ends with Fried Chicken.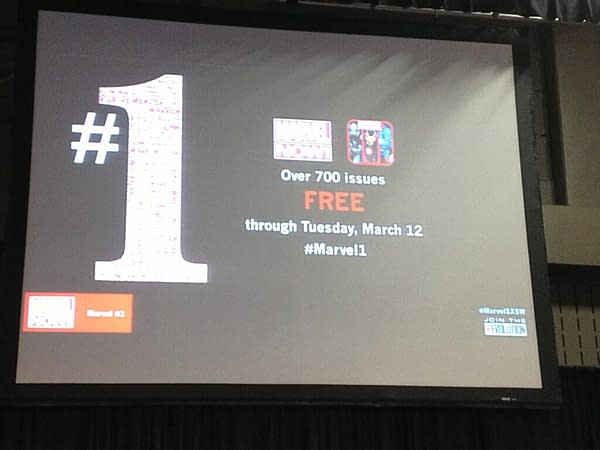 Marvel are giving away seven hundred issue ones of their comics, digitally, to everyone. Your first hit is free right now… but only until Tues the 12th. Can you download that many in that time?
They include All New X-Men, Avengers, Avengers Arena, Captain America, Cable And X-Force, Deadpool, Fantastic Four, FF, Indestructible Hulk, Iron Man, Point One, Morbius, New Avengers, Savage Wolverine, Superior Spider-Man, Thor God Of Thunder, Thunderbolts, Uncanny Avengers, Uncanny X-Force, X-Men Legacy, Young Avengers and A Plus X from Marvel NOW!, but also most every major series and volume ever published by Marvel through their history. Oh and A Babies Vs X-Babies.
Marvel are launching Infinite Comics, starting on July the 9th, with a new digital comic book every week (hence the 52 slashes). The first story for thirteen parts will be Wolverine: Japan's Most Wanted, to tie in with the new The Wolverine movie, by Jason Latour, Jason Aaron and Paco Diaz. There will be three other stories to follow.
Project Gamma is a new audio adaptive project for Marvel's comic books, including musical scores for different scenes, and will change as you move from panel to panel. "Adaptive, non-repetitive scores…"
Oh dear… ComiXology appears to be crashing as a hundred thousand readers try to download seven hundred free comics simultaneously.
Marvel are launching a new web show hosted by Blair Butler, Earth's Mightiest Show, including reality TV footage. Hey, you know Grace Randolph is still right here? Scab, scab, scab…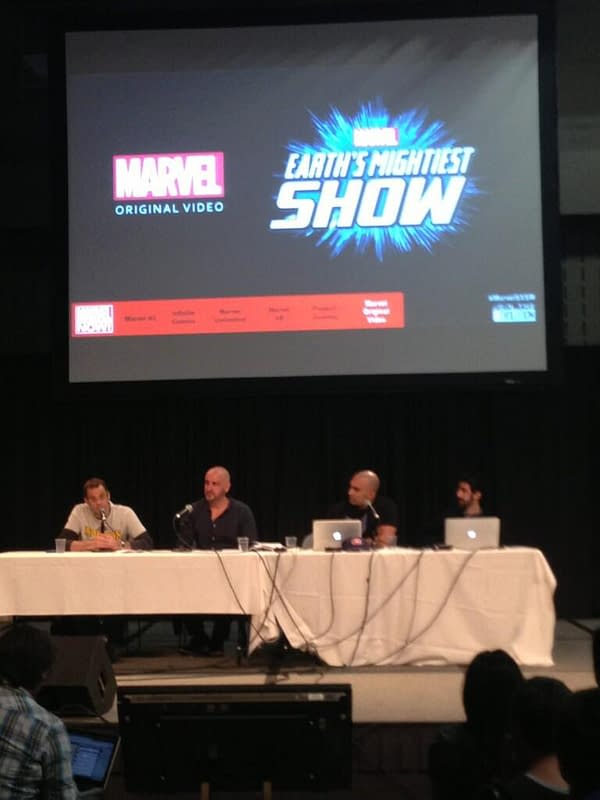 They're pushing the use of social media and Arune Singh says Stan Lee started it all by getting people involved in a Marvel community fifty years ago. They are using the new slogan "Your Universe".
Marevl are giving away an SXSW 200 copy limited edition Age of Ultron #1 to attendees…
Developing…