How Tomorrow's Marvel Comics #1000 Will Change Things (Spoilers)
Over the last few months, we have run a few articles looking at where Marvel Comics #1000, published tomorrow, may be taking the publisher in 2020. Anyone fancy a recap?
On Saturday, August 31, Marvel will officially celebrate its 80th birthday. Marvel Comics #1000 will be published on Wednesday, August 28th in commemoration of the date. Though copies were given out for free at D23, now selling for copies from around $150 to $250.
Across eighty years, each page tells a Marvel Comics story tied into a certain year and something that happened in that year – a Marvel comic or movie released, or a storyline published, or a character making a first – or last – appearance. So you get a mixture of an ongoing story told by Al Ewing and a page by celebrated creators about characters very important to them, tied into a specific time and place. And just as it is about the past, it is also about the future, focused on 2020 and beyond as much as it is 1939. If you liked the way narrative played out in both The History of The Marvel Universe, House Of X #2 and Marvels, this is made for you.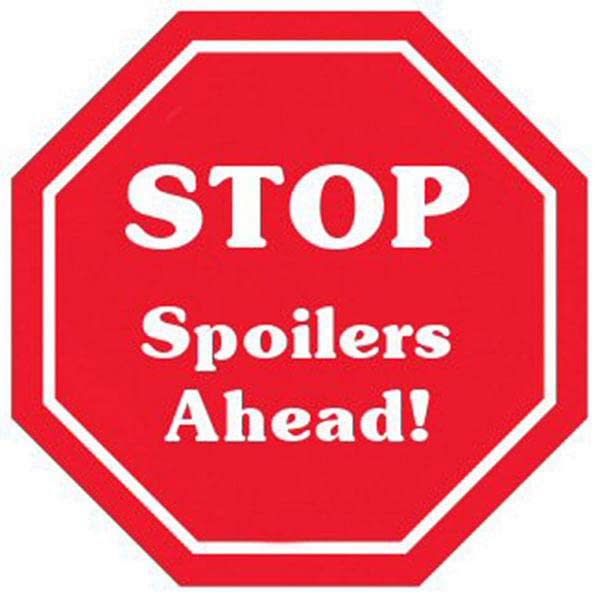 There are the deepest dives into continuity, far beyond the likelihood that 99% of readers will get all the references, but you should get the shape of them. You don't need to know Proust, or the differences between German and Greek philosophy to find Python funny. But it may encourage you to find more. So Bleeding Cool will give you a few heads up, nevertheless.
1. It Begins With A Mask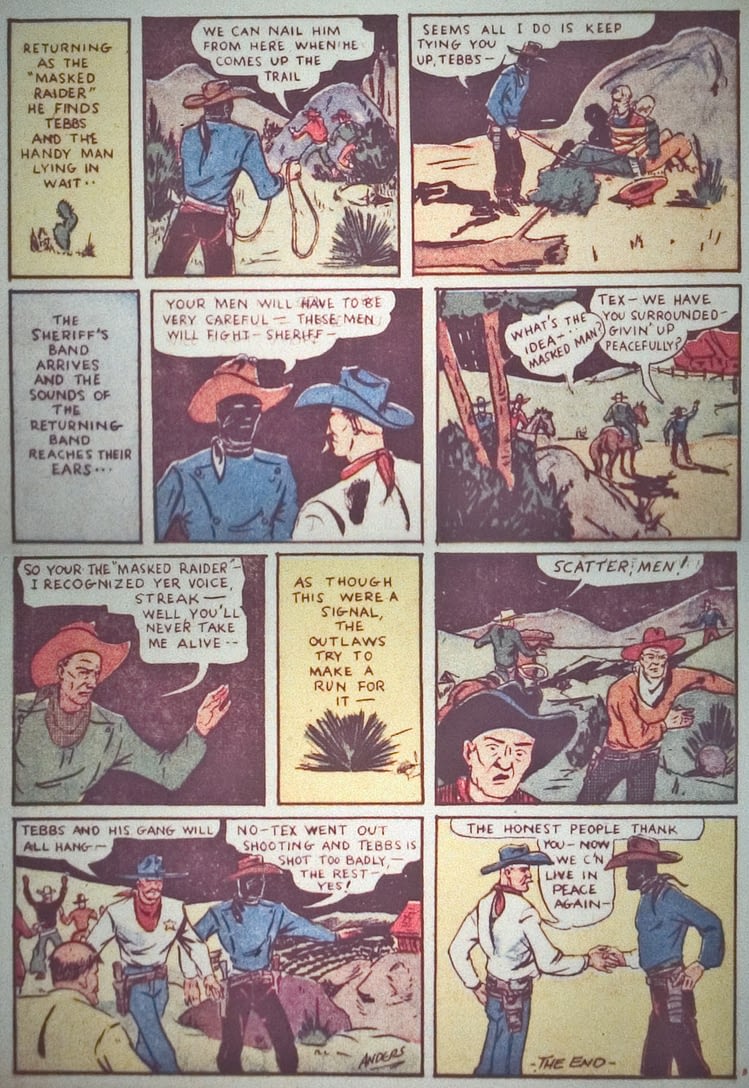 Bleeding Cool already looked at the history of the Masked Raider or Masked Rider, and how that would lead to a new series for the character who predated Marvel Comics in prose and appeared in adapted form in Marvel Comics #1.
2. It Is Enlightened With A Flame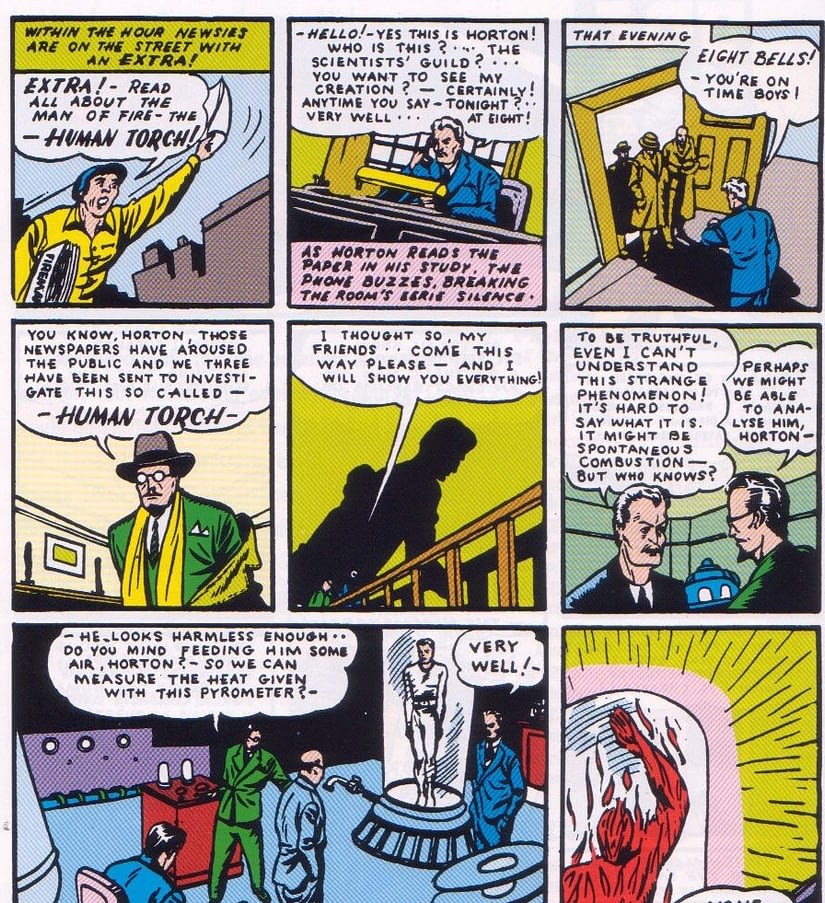 And there is lots of that original comic in Marvel Comics #1000. Marvel Comics – later Marvel Mystery Comics, was the first comic to use the name 'Marvel' that would one day name the company publishing it, and including the first appearances of the Human Torch, Ka-Zar and the Sub Mariner. And so Ewing with Steve Epting reprise the first time the Human Torch was shown to the Scientists Guild in Marvel Comics #1 in the first page, set in 1939. But how does this all join together?
3. The Very First X-Men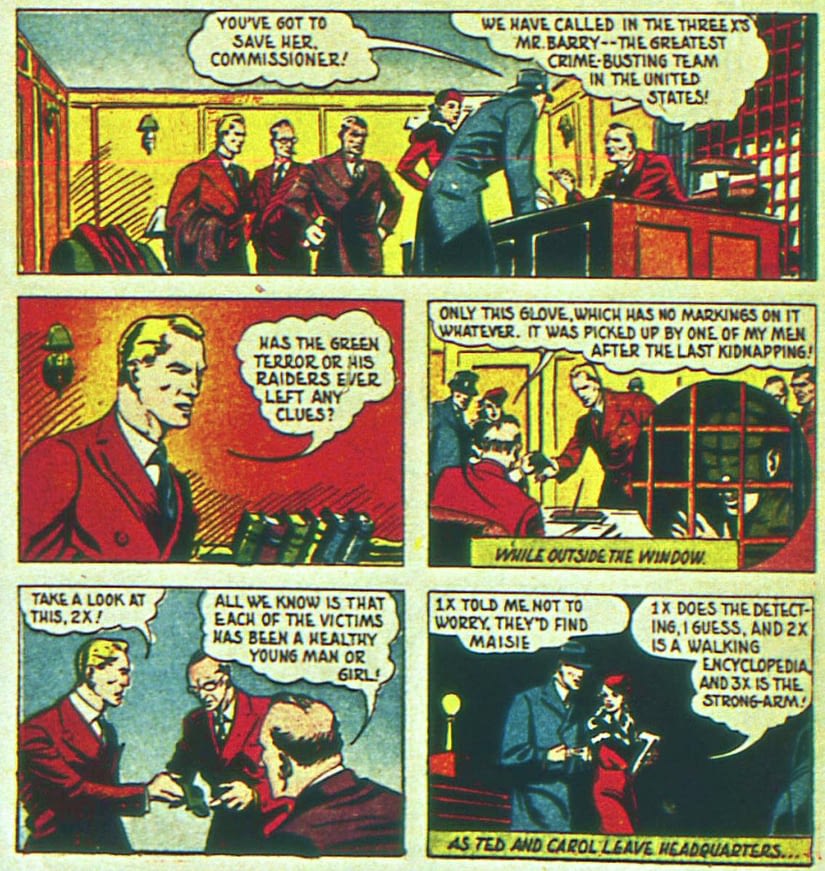 Page two, by Ewing and Patrick Zircher features The Ferret from Marvel Mystery Comics #4 in 1940 (shared with The Human Torch, Angel, Ka-Zar and Masked Raider) being visited by the Three Xs from Mystic Comics #1, published at the same time. Who also happen to be same people in the Scientists Guild.
4. That's Not All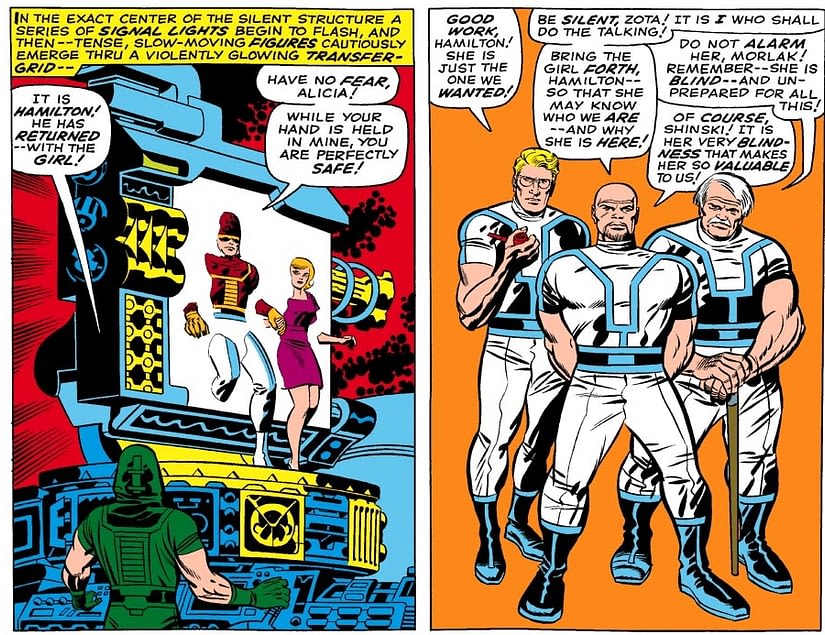 And later in Marvel Comics #1000, named as Dr. Jerome Hamilton, Maris Morlak, Professor Wladyslav Shinski, and Carlo Zota, otherwise known as the Enclave… and you may more readily recall what – or who – they got up to.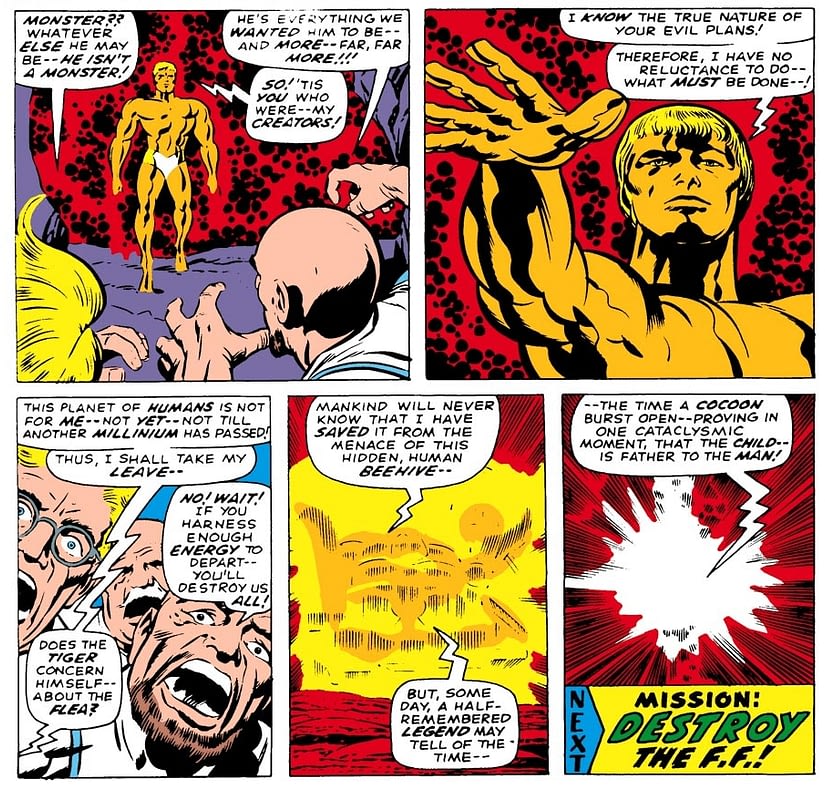 Three separate groups, all the same people. But what are they after?
5. The Eternity MacGuffin
We mentioned the Masked Raider. And The Ferret. Turns out their black mask was the same mask, based along the lineage. Al Ewing's stories mostly concentrate around the Eternity Mask throughout history. Real events, but also worn by the fictional. And worn by Marvel characters in medieval to modern times, including the medieval Black Knight, Thunderer, Black Rider and more – the paucity of designs and printing definition in early comics is used as a strength here, with items and characters being reinterpreted as being the same one across companies and continuities. I reckon if Al Ewing would have had his way, it would have been worn by Zorro as well. And then catching up to the present and heading into the future…
6. You Can Go Back Again
Lots of people get to revisit what they once gave to the world, or pay homage to those no longer able to, and look for new takes.
Kieron Gillen and Doug Braithwaite revisit Loki for the year of the first Journey Into Mystery, with all the Lokis over the decades tempting each other. Whatever your favourite version he, or she, will be here.
Priest and Brian Stelfreeze from two Black Panther runs, get to criticise some of the superficial reactions to the Black Panther movie and the Wakanda Forever memes
Little Blackagar in Slumberland recreates the Inhumans via Winsor McCay by Jonathan Lethem, Everett Lethem, Desmond Lethem and Paul Hornschemeier.
The friendship of Gwen Stacy and Mary Jane is encapsulated from their storyteller Gerry Conway and Greg Land.
Roy Thomas with Rod Reis are recreating the moment of the creation of Wolverine – and all the hands that went into him.
Miracleman by Neil Gaiman and Mark Buckingham not interacting with Marvel Comics continuity – instead they are reading it. Similarly, Darth Vader's appearance by Charles Soule and Terry Dodson bears no correlation to the rest of the story – or rather, at least as much as Gail Simone with David Baldeon celebrating Deadpool's first appearance.
While Being Human creator Toby Whithouse and Alan Davis celebrate Dez Skinn, Richard Burton and David Lloyd's creation Night Raven seems to set up huge swatches of stories yet to be told – is there any chance they might?
Donny Cates and Geoff Shaw give a brand new take on one of Spider-Man's most famous powers. While Joe Quesada revisits Daredevil and Marvel Knights with Kevin Nowlan, Peter David and Adam Kubert revisit their final issue of Hulk, Chris Claremont and Steve Larocca return to their X-Men story via Sage, Allan Heinberg and Jim Cheung on Young Avengers while J Scott Campbell on Mary Jane revisits – and dismisses – *that*cover,
Oh and JMS has himself regretting Sins Past.
All this is just the tiniest of what Marvel Comics #1000 goes for. Not every page lands, but a hell of a lot of them do. And whatever level of Marvel Comics fan you are, you'll regret not picking this up at the end of the month. Best make sure your store has a copy waiting aside…
7. Return To The Cocoon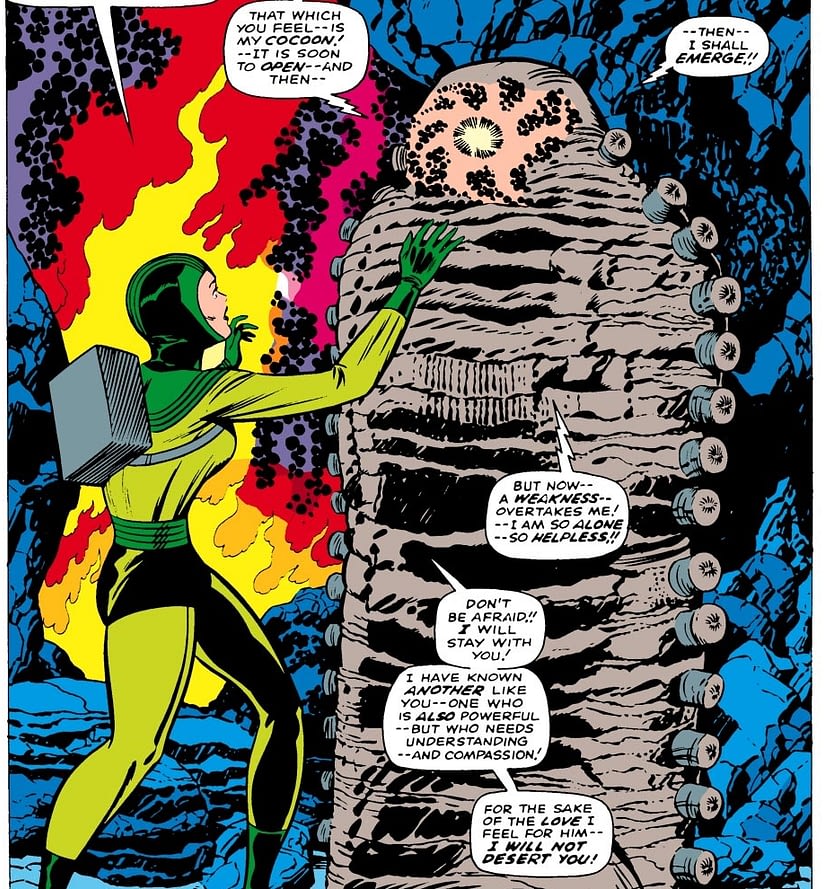 We have the return of a new Enclave born out of the old. Up to their own Adam Warlock-creating tricks. And also tying their work into the multidimensional traveller Korvac – also created by Jim Starlin. Time for another origin to be rewritten? Is Marvel Comics #1000, a cocoon full of new life, about to blow?
8. Return Of The Mask
And for 2020, the return of The Masked Raider to Marvel Comics.
MARVEL COMICS #1000
(W) Various (A/CA) Various
THE GREATEST TALENT EVER ASSEMBLED FOR ONE STORY!
THIS IS THE BIG ONE! In celebration of Marvel's 80th Anniversary, we have gathered together the greatest array of talent ever to be assembled between the covers of a single comic book! Names from the past, from the present, and even the future! Every page is filled with all-new work from this cavalcade of comic book luminaries!
There is a mystery that threads throughout the Marvel Universe – one that has its origins in MARVEL COMICS #1 and which unites a disparate array of heroes and villains throughout the decades! What is the Eternity Mask, and who is responsible for the conspiracy to keep it hidden? And what new player will make their startling debut as these secrets are peeled away?
Featuring the entirety of the Marvel Universe of characters!
Rated T
PERFECTBOUND FORMAT!In Shops: Aug 28, 2019
SRP: $9.99