Marvel Comics Tops 50% in April 2019 Marketshare For The First Time in Over Ten Years
The last time I think this happened was in September 2008. And I don't recall it happening before or since. But in April 2019 marketshare, released by Diamond a couple of weeks after the March marketshare, Marvel Comics has taken over 50% of the marketshare for sales numbers for that month. It's not the only remarkable note for the month's statistics but it will be a big one. It is notable that Marvel had twice as many titles as DC, but this also included Marvel's extensive True Believers dollar reprint line. In 2008, the competitive state of DC was a lot lower, with only All-Star Superman and All-Star Batman in the top fifteen. With The Stand and Dark Tower in the top ten, and Buffy outselling all but one DC comic, it was a different world.
Also notable will be the news that Immortal Hulk now outsells Batman. A combination of Knightmare fatigue and intense interest in Al Ewing and Joe Bennett's transformation of the Hulk title, this is a real coup for Marvel, possibly even more than the half marketshare.
Added to that, Detective Comics #1000 from the previous month makes fourth place on the dollar chart. Helped by a ten dollar price point, this is the first time I can recall that a previously published comic made the top five for the following month.
Interesting times.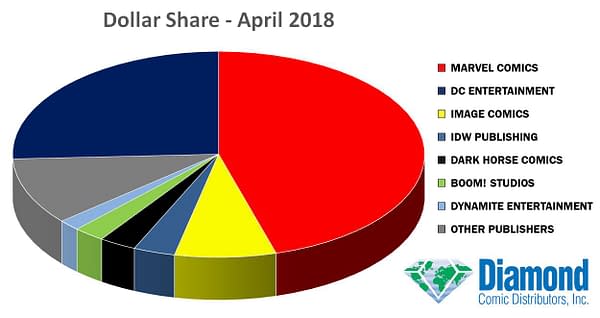 Marvel Comics was April's top publisher with a unit share of 50.70% and a dollar share of 45.50%. This compares to March when they had but a 40.94% market share in items sold and a 34.46% market share in dollars. That's a full ten point increase, month on month. Or 44.48% and 40.20% in February and 41.29% and 39.24% in January. Looks like April has continued to boost Marvel.
DC Comics placed second with a 25.89% unit share and a 24.73% dollar share. A hell of a crash from their Detective Comics #1000 height with a 34% unit share and a 36.20% dollar share, compared to a February unit share of 30.64% and dollar share of 28.69% and a January unit share of 33.39% and dollar share of 29.7%. And while in March, DC had seven books in the top ten, April had only four to Marvel's six.
Image Comics have seen their usual ten percent share drop to a 7.93% dollar share and a 7.60% unit share. IDW Publishing ranked fourth, dropping slightly with a 3.26% dollar share and 2.76% unit share, followed by a more significant drop for Dark Horse Comics with a 2.89% dollar share and a 1.92% unit share, BOOM! Studios have a slight increase with a 2.46% dollar share and a 2.75% unit share, as do Dynamite Entertainment with a 1.71% dollar share and a 1.53% unit share.
War of the Realms #1 took first place, with Symbiote Spider-Man #1 in second, with The Batman Who Laughs as DC's best seller in third place. And, yes, most extraordinary, Immortal Hulk #16 beat out both Batman #68 and #69 in a real chart reversal.
Year on year so far, 2019 is beating 2018 – just. Revenue has increased by 0.41%, though the numbers of comics actually sold is down 5.4%. In a continuing boost for toys/statues/collectibles in comic book stores, there's a 19.14% in revenue and a 27.48% in the numbers of items sold.
Among the premier publishers, Image Comics' The Walking Dead #190 ranked #31, BOOM! Studios' Buffy the Vampire Slayer #4 ranked #78, IDW Publishing's Marvel Action: Black Panther #1 ranked #115, Dynamite Entertainment's Red Sonja #3 ranked #136, and Dark Horse Comics' Neil Gaiman's American Gods: The Moment of the Storm #1 ranked #150.
Mark Millar and Olivier Coipel's The Magic Order Volume 1 from Image Comics was the best-selling graphic novel of April. Also in the top ten from Image Comics was Gideon Falls Volume 2: Original Sins at #3 and Unnatural Volume 2 at #9. Marvel Comics had three titles in the top ten: Venom by Donny Cates Volume 2 at #2, Star Wars Volume 10: Escape at #6, and Jessica Jones: Purple Daughter at #10. Dark Horse Comics had two titles in the top ten, Gerard Way and Gabriel Bá's The Umbrella Academy Volume 1: The Apocalypse Suite at #4 and The Umbrella Academy Volume 2: Dallas at #8, thanks to the new Umbrella Academy television series on Netflix. DC Comics also had two titles in the top ten: Catwoman Volume 1: Copycats at #5 and Batman: Detective Comics Volume 9: Deface the Face at #7.
No Game No Life Volume 8, a light novel from Yen Press, was April's best-selling book. Graphix's Share Your Smile: Raina's Guide to Telling Your Own Story, a how-to book on writing and drawing from best-selling graphic novelist Raina Telgemeier, ranked #2. Marvel Comics' The Road to Avengers: Endgame — The Art of the Cinematic Universe ranked #7. Dark Horse Comics' Hellboy: The Art of the Motion Picture ranked #9.
Based on Blizzard Entertainment's best-selling video game, the Overwatch: Torbjörn "Classic Skin" Nendoroid was the best-selling toy of April. Funko's POP! DC Heroes: John Constantine Vinyl Figure, a PREVIEWS exclusive figure of the hard-boiled mage released for Free Comic Book Day, ranked #2 for the month. DC Collectibles had three products in the top ten: the Batman Black & White: White Knight Batman Statue by Sean Murphy ranked #3, the DC Bombshells: Batwoman "Away Uniform" Statue ranked #8, and the DC Designer Series: Green Lantern by Ivan Reis Statue ranked #10. Diamond Select Toys also had three products in the top ten: the Marvel Gallery: Symbiote Spider-Man Statue, a PREVIEWS exclusive statue released for Free Comic Book Day, ranked #4; the Aliens Colonial marines: Armored Personnel Carrier 1/18-Scale Vehicle ranked #4; and the John Wick 2 Gallery PVC Figure ranked #9.
Hasbro's Dungeons & Dragons: Stranger Things Edition, a version of the classic tabletop role-playing game inspired by the events of the hit Netflix series Stranger Things, was the best-selling game product of April.
TOP COMIC BOOK PUBLISHERS
PUBLISHER

DOLLAR

SHARE

UNIT

SHARE

MARVEL COMICS

45.50%

50.70%

DC COMICS

25.73%

25.89%

IMAGE COMICS

7.93%

7.60%

IDW PUBLISHING

3.26%

2.76%

DARK HORSE COMICS

2.89%

1.92%

BOOM! STUDIOS

2.46%

2.75%

DYNAMITE ENTERTAINMENT

1.71%

1.53%

VIZ MEDIA

1.07%

0.40%

VALIANT ENTERTAINMENT

0.76%

0.91%

AFTERSHOCK COMICS

0.70%

0.71%

OTHER NON-TOP 10

7.99%

4.83%
COMPARATIVE SALES STATISTICS
DOLLARS

UNITS

APRIL 2019 VS. MARCH 2019

COMICS

-11.12%

0.07%

GRAPHIC NOVELS

-19.02%

-27.69%

TOTAL COMICS/GN

-13.26%

-2.22%

TOYS

-11.38%

-8.24%

APRIL 2019 VS. APRIL 2018

COMICS

-14.67%

-13.92%

GRAPHIC NOVELS

-25.37%

-31.39%

TOTAL COMICS/GN

-17.65%

-15.24%

TOYS

15.41%

18.74%

YEAR TO DATE 2019 VS. YEAR TO DATE 2018

COMICS

1.83%

-5.35%

GRAPHIC NOVELS

-3.18%

-6.11%

TOTAL COMICS/GN

0.41%

-5.40%

TOYS

19.14%

27.48%
NEW TITLES SHIPPED
PUBLISHER

COMICS SHIPPED

GRAPHIC NOVELS SHIPPED

MAGAZINES SHIPPED

TOTAL

SHIPPED

MARVEL COMICS

106

37

0

143

DC COMICS

52

32

1

85

IMAGE COMICS

47

13

0

60

IDW PUBLISHING

32

9

0

41

BOOM! STUDIOS

20

11

0

31

DARK HORSE COMICS

19

7

0

26

YEN PRESS

0

24

0

24

DYNAMITE

16

4

0

20

AFTERSHOCK COMICS

11

4

0

15

VALIANT ENTERTAINMENT LLC

9

1

0

10

OTHER

101

133

18

252

TOTAL

413

275

19

707
TOP 10 COMIC BOOKS BY UNITS SHIPPED
| | | | | |
| --- | --- | --- | --- | --- |
| RANK | DESCRIPTION | PRICE | ITEM CODE | VENDOR |
| 1 | WAR OF THE REALMS #1 | $5.99 | JAN190870-M | MAR |
| 2 | SYMBIOTE SPIDER-MAN #1 | $4.99 | FEB190822-M | MAR |
| 3 | THE BATMAN WHO LAUGHS #4 | $4.99 | FEB190484-M | DC |
| 4 | THE IMMORTAL HULK #16 | $3.99 | FEB190849-M | MAR |
| 5 | BATMAN #69 | $3.99 | FEB190480-M | DC |
| 6 | BATMAN #68 | $3.99 | FEB190478-M | DC |
| 7 | THANOS #1 | $4.99 | FEB190810-M | MAR |
| 8 | HEROES IN CRISIS #8 | $3.99 | FEB190462-M | DC |
| 9 | WEB OF VENOM: CULT OF CARNAGE #1 | $4.99 | FEB190858-M | MAR |
| 10 | AMAZING SPIDER-MAN #20 | $3.99 | FEB190837-M | MAR |
TOP 10 COMIC BOOKS BY DOLLARS INVOICED
| | | | | |
| --- | --- | --- | --- | --- |
| RANK | DESCRIPTION | PRICE | ITEM CODE | VENDOR |
| 1 | WAR OF THE REALMS #1 | $5.99 | JAN190870-M | MAR |
| 2 | SYMBIOTE SPIDER-MAN #1 | $4.99 | FEB190822-M | MAR |
| 3 | THE BATMAN WHO LAUGHS #4 | $4.99 | FEB190484-M | DC |
| 4 | DETECTIVE COMICS #1000 | $9.99 | JAN190542-M | DC |
| 5 | WEB OF VENOM: CULT OF CARNAGE #1 | $4.99 | FEB190858-M | MAR |
| 6 | THANOS #1 | $4.99 | FEB190810-M | MAR |
| 7 | THE IMMORTAL HULK #16 | $3.99 | FEB190849-M | MAR |
| 8 | BATMAN #69 | $3.99 | FEB190480-M | DC |
| 9 | BATMAN #68 | $3.99 | FEB190478-M | DC |
| 10 | WAR OF THE REALMS #2 | $4.99 | FEB190759-M | MAR |
TOP 10 GRAPHIC NOVELS & TRADE PAPERBACKS BY UNITS SHIPPED
| | | | | |
| --- | --- | --- | --- | --- |
| RANK | DESCRIPTION | PRICE | ITEM CODE | VENDOR |
| 1 | THE MAGIC ORDER VOLUME 1 TP (MR) | $19.99 | FEB190095-M | IMA |
| 2 | VENOM BY DONNY CATES VOLUME 2 TP | $17.99 | JAN191101 | MAR |
| 3 | GIDEON FALLS VOLUME 2: ORIGINAL SINS TP (MR) | $16.99 | FEB190077 | IMA |
| 4 | THE UMBRELLA ACADEMY VOL. 1: APOCALYPSE SUITE TP | $17.99 | SEP108136 | DAR |
| 5 | CATWOMAN VOLUME 1: COPYCATS TP | $16.99 | JAN190665 | DC |
| 6 | STAR WARS VOLUME 10: ESCAPE TP | $17.99 | JAN191095 | MAR |
| 7 | BATMAN: DETECTIVE COMICS VOL. 9: DEFACE THE FACE TP | $16.99 | JAN190661 | DC |
| 8 | THE UMBRELLA ACADEMY VOL. 2: DALLAS TP | $17.99 | DEC098005 | DAR |
| 9 | UNNATURAL VOLUME 2 TP (MR) | $16.99 | FEB190120 | IMA |
| 10 | JESSICA JONES: PURPLE DAUGHTER TP | $19.99 | JAN191027 | MAR |
TOP 10 GRAPHIC NOVELS & TRADE PAPERBACKS BY DOLLARS INVOICED
| | | | | |
| --- | --- | --- | --- | --- |
| RANK | DESCRIPTION | PRICE | ITEM CODE | VENDOR |
| 1 | INFINITY WAR OMNIBUS HC | $125.00 | OCT181002 | MAR |
| 2 | THE DEATH & RETURN OF SUPERMAN OMNIBUS HC | $150.00 | SEP180566 | DC |
| 3 | THE MAGIC ORDER VOLUME 1 TP (MR) | $19.99 | FEB190095-M | IMA |
| 4 | INFINITY BY STARLIN & HICKMAN OMNIBUS HC | $125.00 | OCT181005 | MAR |
| 5 | AVENGERS: EARTH'S MIGHTIEST BOX SET SLIPCASE | $500.00 | OCT181006 | MAR |
| 6 | MARVEL MASTERWORKS: AVENGERS VOL. 19 HC | $75.00 | OCT181009-M | MAR |
| 7 | VENOM BY DONNY CATES VOLUME 2 TP | $17.99 | JAN191101 | MAR |
| 8 | PAPER GIRLS DELUXE EDITION VOLUME 2 HC | $34.99 | NOV180079 | IMA |
| 9 | GIDEON FALLS VOLUME 2: ORIGINAL SINS TP (MR) | $16.99 | FEB190077 | IMA |
| 10 | BATMAN/SUPERMAN SILVER AGE OMNIBUS VOL. 2 HC | $99.99 | SEP180539 | DC |
TOP 10 BOOKS BY UNITS SHIPPED
| | | | | |
| --- | --- | --- | --- | --- |
| RANK | DESCRIPTION | PRICE | ITEM CODE | VENDOR |
| 1 | NO GAME NO LIFE VOLUME 8 LIGHT NOVEL SC | $14.00 | DEC182289 | YEN |
| 2 | SHARE YOUR SMILE: RAINA'S GUIDE TO TELLING YOUR OWN STORY HC | $12.99 | FEB191785 | SCH |
| 3 | BLOODBORNE OFFICIAL ARTWORKS SC | $44.99 | MAR172148 | UDO |
| 4 | THE SHADOW DOUBLE NOVEL VOLUME 140 SC | $14.95 | JAN192066 | SAN |
| 5 | MARVEL ENCYCLOPEDIA HC (NEW EDITION) | $40.00 | JAN191813 | DK |
| 6 | SAMURAI PIZZA CATS OFFICIAL FAN BOOK SC | $39.99 | NOV182128 | UDO |
| 7 | THE ROAD TO MARVEL'SS AVENGERS: ENDGAME: THE ART OF THE CINEMATIC UNIV HC SLIPCASE | $50.00 | JAN191086 | MAR |
| 8 | FAMILY TRAITS HC | $29.99 | DEC182218 | UDO |
| 9 | HELLBOY: THE ART OF THE MOTION PICTURE HC | $39.99 | JAN190452 | DAR |
| 10 | FLCL ARCHIVES TP | $39.99 | DEC182217 | UDO |
TOP 10 TOYS BY DOLLARS INVOICED
| | | | |
| --- | --- | --- | --- |
| RANK | DESCRIPTION | ITEM CODE | VENDOR |
| 1 | OVERWATCH: TORBJRN NENDOROID | SEP188531 | GOO |
| 2 | POP! DC HEROES: JOHN CONSTANTINE FCBD 2019 VINYL FIGURE | NOV180015 | FUN |
| 3 | BATMAN BLACK & WHITE: WHITE KNIGHT STATUE BY SEAN MURPHY | SEP180641 | DC |
| 4 | MARVEL GALLERY: SYMBIOTE SPIDER-MAN FCBD 2019 PVC STATUE | AUG188000 | DST |
| 5 | ALIENS COLONIAL MARINES: ARMORED PERSONNEL CARRIER 1/18-SCALE VEHICLE | APR182281 | DST |
| 6 | HELLRAISER 3: HELL ON EARTH: PINHEAD BISHOUJO STATUE | JUL189121 | KOT |
| 7 | SPIDER-MAN LEGENDS 6-INCH ACTION FIGURES | NOV188096 | HAS |
| 8 | DC COMICS BOMBSHELLS: BATWOMAN "AWAY UNIFORM" STATUE | SEP180642 | DC |
| 9 | JOHN WICK 2 GALLERY PVC FIGURE | JUN182313 | DST |
| 10 | DC DESIGNER SERIES: GREEN LANTERN BY IVAN REIS STATUE | SEP180631 | DC |
TOP 10 GAMES BY DOLLARS INVOICED
| | | | |
| --- | --- | --- | --- |
| RANK | DESCRIPTION | ITEM CODE | VENDOR |
| 1 | DUNGEONS & DRAGONS: STRANGER THINGS EDITION | JAN198565 | HAS |
| 2 | DC HEROCLIX REBIRTH BOOSTER BRICK | NOV182895 | NEC |
| 3 | MY HERO ACADEMIA CARD GAME | JUL183082 | SHI |
| 4 | STARFINDER RPG: CORE RULEBOOK HC | JUN173371 | PAI |
| 5 | PATHFINDER PAWNS: BESTIARY BOX | FEB168541 | PAI |
| 6 | PATHFINDER RPG: CORE RULEBOOK | JUN091729 | PAI |
| 7 | STARFINDER ADVENTURE PATH: DAWN OF FLAME PART 2 | JAN193202 | PAI |
| 8 | CREATURE CODEX HC | JUL183073 | PAI |
| 9 | CRITICAL ROLE: TAL'DOREI CAMPAIGN SETTING HC | JUN173357 | GRE |
| 10 | STARFINDER RPG: CRITICAL FUMBLE DECK | JAN193205 | PAI |