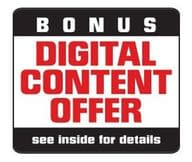 In January, it was reported that Marvel Comics would be changing its print-to-digital offering in its monthly comic books. They used to run a "buy print get digital" deal where readers would get a free digital copy of the $3.99 or $4.99 comic that they had just bought. That was then switched to three classic digital comics – the same in every comic published that week – consisting of the first chapters of currently available collections.
We received some of our largest feedback to that story, from people very upset with the new plan. Who buy a $3.99 print comic in the knowledge that they are getting a digital copy free – which they can use or sell on. For some, it's a real incentive to buy the print version, and the digital version is by definition always a comic that they are interested in reading, and don't already own digitally.
Some people also got in touch with Marvel Comics, and it's their stories we are telling today. Spoilers… there's a happy ending. And an opportunity for those still upset with the current lay of the land.
For reference, David Gabriel is Marvel's SVP – Sales and Marketing, Dan Buckley is Publisher, Jim Nausedas is Sales Director and Mark Buckweitz is Digital Products Manager. Jeff Klein is General Manager of DKC, who service Marvel.
Comic book reader Ross Haralson who shops at Heroes Cards Comics and Games in Newnan, Georgia was the first to get directly in touch with Marvel, it seems. He told Bleeding Cool,
I am an adult comics reader who works full-time in addition to being the father of a toddler, so for me, Marvel's inclusion of digital codes from 2011 onward has allowed me to buy more books over the past 5-6 years than would ever be possible in a scenario where I am restricted to print reading only.
For roughly five years I have redeemed and read my Marvel purchases on a 3rd-generation iPad, and it was with no small amount of excitement that I finally upgraded to the massive 12.9" iPad Pro this past Christmas with confidence that digital codes were here to stay. Needless to say, I was devastated when Marvel announced the retirement of their digital copy initiative in mid-January.
The change took effect during the first week of February, and beginning that very Thursday, I proceeded to send a weekly e-mail to David Gabriel, Dan Buckley, Mark Buckweitz and Jeff Klein that detailed a list of books that I had NOT purchased the previous day in direct response to the absence of digital copies; within these e-mails I tabulated the total retail cost for these books, and concluded each message with the provision of a "running total" that took into account all lost sales from 2/1/17 forward.
Though I was unhappy about the circumstances, I endeavored to keep my communications respectful while still being firm about the loss of value that accompanied the removal of digital copies; I also included commentary each week which affirmed the convenience of digital copies for folks like myself who beg, borrow and steal reading time on lunch breaks — and who wouldn't dare risk opening a print comic around a two-year-old child.
On Friday, February 24 — just two days following my fourth e-mail — I received a telephone call at my work desk from none other than David Gabriel. I have to say that the experience was amazing. David reassured me that my ongoing feedback was valuable, and explained that prior to receiving messages like mine, Marvel had received very little from readers — positive or negative — regarding the program to compliment what they were able to track in terms of general redemption percentages. Honestly, in a world where it's increasingly easy to feel small and to perceive that consumer relationships only grow more impersonal with time, David went further than just about anyone else I can think of to make sure I knew how much Marvel valued me as a customer.
I have invested an incredible portion of my disposable income on Marvel comics books over the last two decades, and with a single phone call, David Gabriel proved unequivocally that Marvel feels its fans are worth investing in as well.
You see, David went beyond sympathizing to say that he wanted to take action to restore the value of my weekly Marvel purchases and that he would do so by giving me the opportunity to e-mail a scanned copy of my receipt each Thursday that would be used to issue digital copies. Since then I have been working with Jim Nausedas and the aforementioned Mark Buckweitz each and every week to obtain digital copies of my comics, and the outcome is nothing short of the best customer service experience I've ever had regardless of industry. In fact, there hasn't been a Thursday yet where Jim has not issued my codes prior to lunchtime!
And of course, the benefits aren't just mine: Heroes Cards Comics and Games of Newnan, GA — where I have shopped for at least seven years now — has been thrilled to see me spending as much (or maybe more!) than was previously the case each week before digital copies were discontinued. One of the owners, Timothy Roberts, has also spoken with David to share feedback from additional Heroes customers who value digital copies and lamented the change. While in my initial conversation I was glad to secure David's permission for my lifelong best friend, Rich Horton, to join me in e-mailing Heroes receipts every Thursday, thanks to Tim's involvement there are now at least a half-dozen Heroes customers who are regularly contacting Marvel for digital copies and similarly spending more each week as a means of expressing their gratitude for the opportunity.
We also talked to his store's fellow customer Rich Horton, who we also know from the Bleeding Cool message boards. He told us,
To say that I was a little upset by the change over on the digital code redemption is a vast understatement. You can search the comments on BleedingCool and see my reaction very clearly. While a huge comics fan in general, I certainly gave a lot of credit to Marvel for adding the extra value to their comics with a digital code. To say a little bit about me, I am a 39-year-old working, married, father of two and all that entails; from sports to activities to (too much) work, etc., life gets very busy.
In all honesty, I was a lapsed reader of Marvel (X-Men only) from my youth, but I was pulled back in when Marvel started to include codes to their comics that were priced at $3.99 and above. I fist picked up the X-Family with AVX and then Marvel Now! (Even the $2.99 X-Men Legacy by Spurrier, though it didn't include a code). From there I started to buy the code from a friend for more and more titles because it allowed me to read the stories even though I wouldn't buy the books outright. From there I ended up buying the entire Marvel line from the beginning of All-New Marvel Now! until just after Secret Wars. The only way I could have done that was through redeeming the included code and reading the books where ever I could, be it lunch breaks or waiting on something for the kids.
Then the bottom fell out. Marvel announced that they were changing the original "Free Digital Copy" model to the "Bonus Digital Content" model and I had to seriously rethink my pull list. I went from buying 10-15 Marvel books a week to 3-8 (depending on the week). I understood that it was Marvel's model and they could do with it as they pleased, but the really galling part was the claim that it was "honoring our cornerstone of the comic book industry – the retailers." Obviously, this was a huge cut to my LCS, fortunately I was able to warn them in time. Because I know that orders are placed well in advance of the actual date of release, and orders for February were already locked in, I didn't immediately drop everything but slowly weened off to mitigate the loss based upon the orders already placed.
Once the change went into effect, I posted regularly on the comments about the loss of revenue, signed the Change.Org petition and helped to craft an ongoing e-mail saga that my friend sent directly to Marvel via previous contacts and some hunting for e-mails.
After 4 weeks, we both received calls from David Gabriel about our communication. In my conversation with him, I explained my situation and how it impacts me and my LCS. He was extremely helpful and very personable. He extended the offer to have my physical purchases supplemented with digital copies if I sent him a copy of my receipt each week and to the wonderful staff on the digital side Mark Buckweitz and Jim Nausedas. One of the things that stuck out to me was that David indicated that they had not received much indication of how the program was received, positive or negative, on the program before they changed it. I honestly believe that they thought it was an added benefit.
Needless to say, I am back to purchasing my pull list of old and both my LCS and I are very happy. When David mentioned that something was coming, although he didn't say what, it really excited me. Now that Chris reached out, I really feel that Marvel truly cares for the fans of the industry and as long as you reach out respectfully and consistently, they do listen.
We also talked to retailer, Richard Trinkle of Heroes & Villains in Hampton, Virginia. He told us,
My initial reaction was disappointment. I have a subscription service and buy to stock my shelves. This would affect my customer's buying habits as well as my own. My store is located in a military populated area. My customers enjoyed the convenience of the digital downloads due to traveling all the time and the constraints of space while deployment. Soon customers came in not understanding why the policy had changed, and started dropping titles.
The new policy would affect me as a retailer because of the volume of books I sell. This started to cost me money since customers stopped buying Marvel titles, which as a direct result influenced what I would order from Marvel in the future.
Out of frustration, I emailed Marvel with my grievance about the situation. Much to my surprise the response was quick and apologetic to me, and my customers. David Gabriel immediately responded and told me to let him know which customers were unhappy, and he would resolve the issue. Each customer was emailed directly from Marvel, and once they responded with the appropriate information they were supplied the digital copies of the books they had purchased by Jim Nausedas. After 23 years in the business, I had given up hope that a large company like Marvel would care about my customers and me. But, they did, and so much so it was unbelievable. The communication between us has been constant, even encouraging me to let them know if there is anyway they can help. They have been nothing short of courteous and respectful to my customers and me.
Word was spreading. Ryan Higgins of Comics Conspiracy in Sunnyvale, California told us,
My store is blocks away from the Apple campus in Cupertino. While many comic book stores have screamed loudly about how digital comic books will kill their business, we've long embraced digital comic books as yet another method in which this great industry can reach potential customers, as so many people in this area are incredibly tech-savvy. We've had a digital storefront through comiXology (which every purchase you make through our storefront helps support us!) since DC went digitally day and date with New 52 titles, and it's been an incredible success for us. While nowhere near the main source of income for the store, it's a nice bump we get every month, mostly from already loyal customers who purchase the comics on sale (well below what we could ever hope to offer). We also have many customers who are not local to the store and want to support us in some fashion.
Marvel's inclusion of the digital codes in their comics was a big deal when introduced a number of years back. Many customers of mine did not redeem the codes, but a good amount did. Most see it as an extra value for their purchase, and would often give away the physical comic to friends or kids while keeping the digital code as their copy. Marvel reached out to a number of retailers through ComicsPRO and informed us that a number of stores could test out a program where we could provide Marvel with receipt of the comics they purchased, and reps at Marvel would, by hand, email them a single code to redeem digital copies of all their physically-purchased comics for the given time period.
I'll admit, I was floored. This greatly benefited a number of my customers, and was a huge boon to the store, as multiple customers added back to their pull list a large number of comics they had dropped in the past few months. They even went back and filled in the missing issues, taking lots of unsold stock off our shelves. While some comic book store owners might balk at the idea of giving Marvel their customers email addresses, purchase history, and direct contact, I'm here for my customers, period. This move helped give my customers what they wanted, we sold more comics, and Marvel received feedback directly from regular brick-and-mortar customers. Marvel has been incredibly quick in replying to customers with their codes, and I have more customers who are signing up for this service through me on a weekly basis. I know there's hope to automate this process somehow, but I'm more than happy to go the extra mile so my customers get the products they want.
We're hearing there's big changes coming for Marvel's line of comics, and I can tell you as a retailer, I've never seen Marvel reach out to retailers more than they have in the past month. I'm very hopeful for Marvel's output this year.
While comic book reader Gage had a similar experience to the previous readers.
As a longtime comic reader, I have been at odds with the digital codes several times and several ways. When Marvel first started placing the codes in the books, I didn't redeem them. I was afraid peeling up that huge sticker would damage the book. But as they continued and my space dwindled, I started redeeming codes for books I liked but didn't have the physical space to keep. This created new issues when the code was damaged by the glue or otherwise difficult to read. I have stood under powerful lights using a mirror on the sticker to read the backward fragments of the code attempting to decipher what the digit should be. But, little by little, I have enjoyed the digital copies. It's a quick archive to look something up or take with me when I travel.
So when Marvel announced the change to the codes, I was very disappointed. I have not redeemed a single code since the switch. I had purchased a majority of the codes being offered, and if I hadn't, it was a book I was not interested in reading. It also was incredibly frustrating that of the current Marvel books I was reading, several came out the same week, so I wasn't getting a broad spectrum of trials, but three codes for the same 3 books.
This change didn't just represent a $1 increase to my books, but a $2 and up increase. The digital codes were worthless duplicates and to complete a digital collection, I was going to need to purchase a digital copy. Scarlet Witch has one more issue, so a collector was naturally going to buy a digital copy to finish a series.
When I walked into my comic shop, my retailer flagged me down and informed me of the program Marvel was putting in place. My retailer knew what books I had purchased and submitting the necessary info was super easy on my end. On some level, the current redemption process is easier than it was previously. And it got me back on several Marvel books. Knowing the code was being pulled, I stopped reading books at the end of a storyline, figuring a trade would be more cost effective. But, having the codes back, I went back and picked up where I left off. I will always prefer a physical comic book to a trade or a digital tablet, but I don't want to pay more for something I already purchased.
I promised you a happy ending. Marvel Comics may have switched digital/print delivery models but are working with individual stores and readers, to supply them with "buy physical, get digital" codes to match their store receipts, on an individual, hand-crafted, artisanal basis. And I understand Marvel have staff willing to do similar for other readers and stores who make inquiries to them.
I get the feeling they are about to be very busy indeed.
Enjoyed this article? Share it!