Marvel Comics Presents – The United States Of Genitalia?
When ScreenRant's lead comics writer Liam McGuire posted some PR on behalf of Marvel on Twitter for the upcoming United States Of Captain America #4, a series which introduces new takes on Captain America from across the USA, he may not have expected the backlash from such a piece of PR puffery. But he – and Marvel – got it. Tweeting "Meet Ari Agbayani. Marvel's new Filipino-American shield-bearer created by @crashwong, @Astrolimes & @AlannaWrites will debut in The United States of Captain America #4." The response was swift.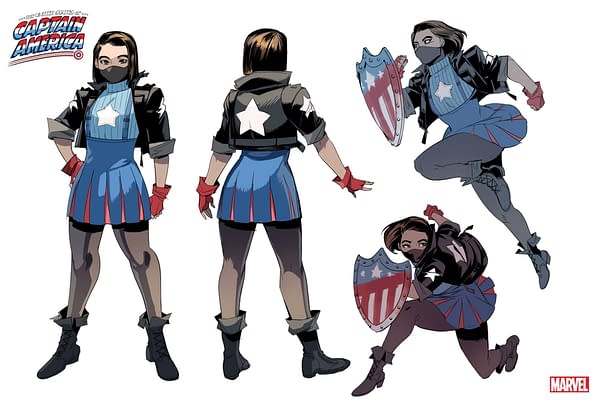 Alta sa Ciudad: You guys know what Ari means in Filipino, right
Fuk Dwight's n Yankees: No. What's it mean?
π: genitals
doc gene: Aside from her name that seems to say "Genitals are heroes", hard to see anything that makes her Filipino in the Fil-Am combo.
Elenna Alexis: Genitals can be heroes too!
PULIS ANG TERRORISTA: Were there any,,,,, filipino ppl,,,,,,in the room?????????? When u guys greenlit this?????? SKSKSKSKKSKSSKSK this is so embarrassing my dudes
And on and on. Marvel writer Alyssa Wong woke up to the response, stating on Twitter "Good morning! I woke up to a big response to our new Fil Am hero, and I'd like to thank you for sharing your voices with us. I'd also like to clarify something about her full name, which is Arielle Agbayani. She's named after a few Fil Am friends, with help from my Fil Am fam. It means the world to write a character who reflects my community. I'm honored by the support and kind words we've seen about Arielle! And as a Fil Am kid who didn't see many characters like me, I'm glad that's changing and I hope we'll continue to see many more in the future!" And in response, one user called Ari from Mainla added "Rolling my eyes over people so pressed about the name. Most, I guarantee, aren't even fluent in tagalog or know only so much about Filipino culture. No one has ever made fun of my name here in the PH nor other people I know with the same name so wtf are they talking about"
Nevertheless, expect Arielle not to be called Ari in future. Still, DC Comics has Dick Grayson. Marvel Comics made it through the superhero identity of Riri Williams being Ironheart, at the time a Japanese porn parody of Iron Man. And they renamed the Sheriff of Brightspoke, Gia Whitechapel, for similar reasons.